Where Is The Headquarters Of Pfizer?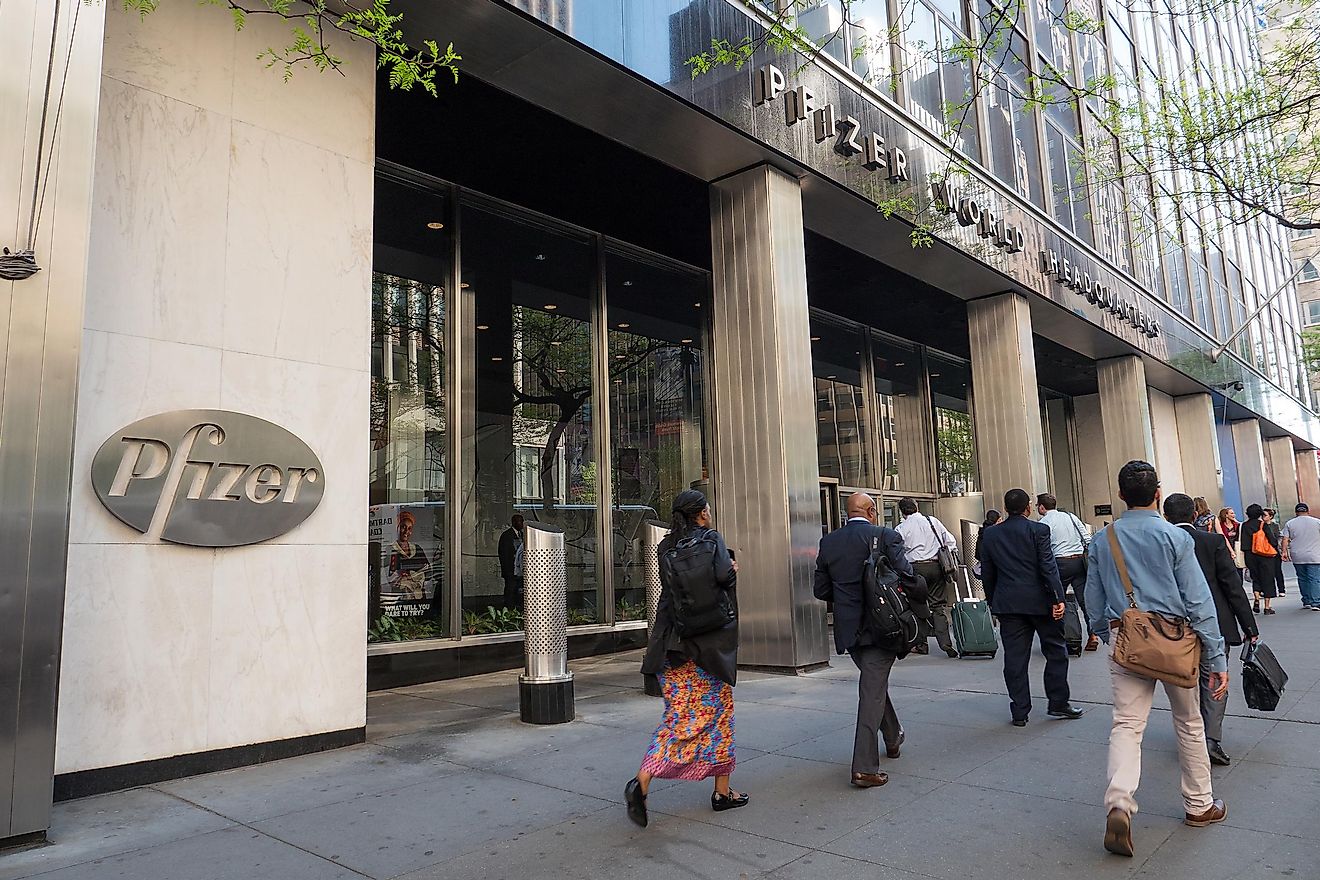 Pfizer is an American pharmaceutical corporation that was founded in 1849 by German-born cousins Charles Pfizer and Charles F. Erhart. From its humble beginning, this multinational company has now grown to become one of the world's leading drug companies. In 2018 Pfizer was ranked 57th on Fortune 500's list of American corporations with the greatest total revenue. The company is known for developing and producing a wide array of pharmaceutical products including such widely used drugs as Lipitor (cholesterol reduction), Viagra (erectile dysfunction), and Celebrex (an anti-inflammatory). Pfizer Inc.'s corporate headquarters are located in New York City; specifically on 235 East 42nd Street in Manhattan.
42nd Street
42nd Street in Manhattan is not only one of the busiest and most well-known crosstown urban streets in New York City but it's also one of the most recognizable and visited streets in America. Running a length of only two miles this iconic street runs through Manhattan's Midtown as well as the community of Hell's Kitchen. 42nd Street is also home to a variety of notable New York businesses and attractions including Times Square, the headquarters of the United Nations, Grand Central Terminal, and the historic Chrysler Building. The theatre district is located at the intersection of 42nd and Broadway. Other notable addresses located on this major N.Y. street include the main branch of the New York Public Library, Bank of America Tower, and American Airlines Theatre.
Visitors to the city have a choice of a variety of guided tours and one of a kind experiences. These include the always popular Midtown Manhattan Walking Tour, which takes visitors to local attractions such as Broadway, Park Avenue, and the Empire State Building, and the Times Square Prohibition Pub Crawl which provides tourists with a taste of what this major American city was like during the Jazz Age when New York was home to a rich array of speakeasies and prohibited bars and clubs.
Manhattan
Manhattan is one of the five boroughs which make up New York City. Other urban boroughs include The Bronx, Queens, Staten Island, and Brooklyn. Manhattan has the designation of being both a county and a borough. It was settled in 1624 and today is home to a population of 1,628,701 people with a density of about 69,467.5 residents per square mile. In terms of its total area, Manhattan is spread out over 33.58 square miles. The borough is divided into three areas; Lower, Upper, and Midtown.
Manhattan is home to a trio of New York's most popular landmarks and tourist attractions; notably Grand Central Station, Central Park, and Times Square. The borough is also the location of such recognizable sites as the Brooklyn Bridge, Lincoln Tunnel, Chinatown, the Stonewall Inn, as well as Columbia and New York University.
Manhattan serves as the administrative and economic center of New York City. It's been estimated that some 2.3 million workers flock to the area each day. This translates to approximately two-thirds of the city's total workforce. Known for its abundance of white-collar jobs in 2014 it was reported that workers in Manhattan make an average of $2749 per week. This represents the highest per capita income of any county in the U.S.