Where Are Indonesia's Palm Oil Plantations Located?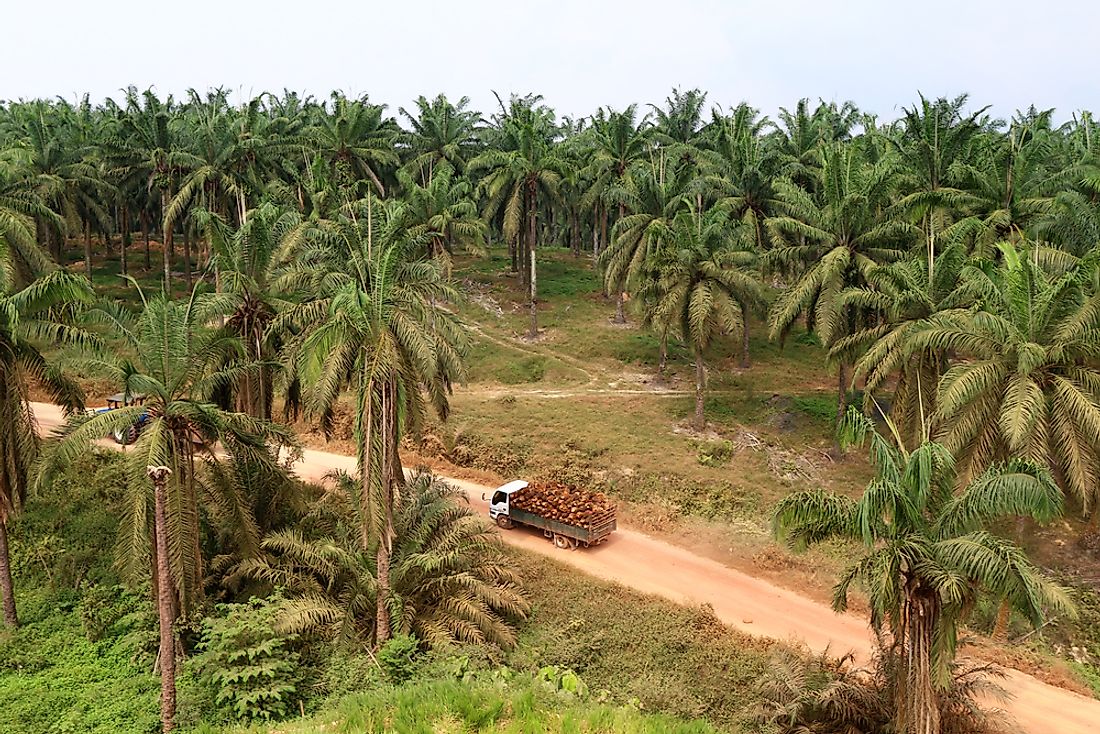 Palm oil comes from the pulp of oil palm plants. It is reddish in color and valued as a vegetable oil. Palm fruit grows in bunches and trees can reach 66 feet in height. Despite becoming a popular additive in a wide variety of foods in recent years, palm oil plantations have taken on more and more criticism from environmentalists due to the damaging effects inherent in the cultivation and production of the substance. 
Two countries, Malaysia and Indonesia, produce and supply most of the world's palm oil. Together these nations account for 85-90% of the global production of palm oil. According to statistics from 2016, it's estimated that in that one year alone Indonesia, the global leader in exporting palm oil, produced approximately 36,000,000 metric tons of this cheap yet stable oil.
Palm Oil Industry in Indonesia
Palm oil has become an important part of the economy in the Southeast Asian country of Indonesia. Due to high demand in the last couple of decades, local farmers as well as larger companies have switched from growing more traditional products such as cocoa to the production of palm oil. In 2008, for example, Indonesia produced about 19.2 million tons of palm oil. Just eight years later that figure increased to 32 million tons.
Indonesian Palm Plantations
Information collected by Indonesia's Statistics Agency estimates that plantations devoted to producing palm oil take up some 11.9 million hectares of the nation's total land area.
Statistics from 2009 calculated that Sumatra was home to 65% of Indonesia's total plantations while 26% were located on Kalimantan, 3% in Sulawesi, and the remainder located in places such as Papua, and Java. Among the major regions on these islands that have now become crucial to producing this valuable agricultural product include Riau, North and South Sumatra, as well as Central and West Kalimantan.
Sumatra is part of Indonesia's larger Greater Sunda Islands with a total area of 182,812 square miles and a population of approximately 50,180,000 residents. It includes the provinces of Aceh, Bengkulu, Jambi, Lampung, Riau, as well as West, South, & North Sumatra.
Kalimantan occupies 73% of the island of Borneo. With a total land area of 210,097.52 square miles in 2017, the region was home to 15,894,524 people.
Controversial Practices
The global increasing demand for this agricultural product has resulted in an array of harmful effects on local habitats as well as causing numerous native plants and animals to be displaced and/or destroyed. These environmental consequences are a serious concern especially as they pertain to the systematic disappearance of endangered animals and continued destruction of rainforest areas.
Recently, research was published citing that in places such as Sumatra, for every hectare of rainforest that is destroyed in order to make way for palm oil plantations, 174 tons of carbon emissions are released into the atmosphere.
Other major concerns plaguing the palm oil industry include human rights abuses such as the use of child labor, destruction of critical ecosystems, and the continuing loss of native animal species.
In Sumatra in particular, there is growing concern for endangered local orangutans which are being killed in astonishing numbers due to habitat loss as the land is now being used to facilitate more and more palm oil plantations.