City Spotlight - Rishikesh, India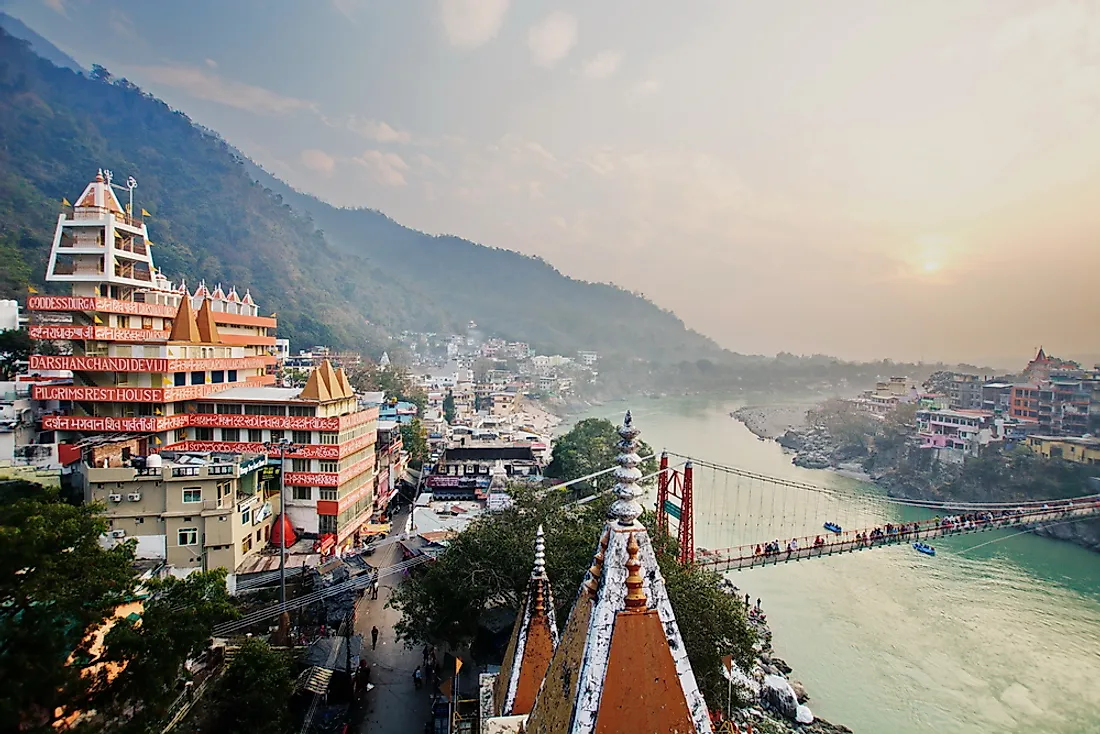 Introduction
Rishikesh is a calm oasis compared to the hectic Indian capital city of New Delhi. The town can be reached by train, bus, or taxi. It is a trip lasting roughly 5-7 hours depending on the mode of transportation. Rishikesh is located underneath the Himalayas and many hiking opportunities abound. The tourist agencies in town can arrange a taxi service to the starting point of a hike as well as a guide and camping equipment for people interested in a multi-day hike. For travelers looking for a shorter excursion, there is a popular temple in the mountains about a 45 minute drive by taxi that is a popular sunrise hike.
Outdoor Activities
One of the most popular activities in the town is river rafting down the Ganga river. There are about 10 rapids on the river as well as a stop and cliff jump into the water. This is a great activity during the hotter months in India because the water is cold and refreshing. The trip takes about 4 hours in total and costs 350-450 rupees or $5-7 USD. For thrill seekers, Rishikesh also has a bungee jumping spot above the river. This activity is a bit more expensive, about 3,500 rupees or $55 USD.
Yoga Retreats
Rishikesh is the birthplace of yoga and has dozens of ashrams and yoga retreats for visitors. There are intensive courses such as month long yoga teacher training courses, where students are fully immersed into the practice and philosophy of yoga, as well as shorter retreats geared towards relaxation. Ashrams and hotels provide various types of yoga classes including hatha, ashtanga, and even laughing yoga. To finish off a relaxing day, there are numerous massage studios specializing in ayurvedic massage. An hour long massage costs between $10-15 USD. Paired alongside yoga is the practice of ayurveda, which focuses on maintaining a healthy and balanced body by understanding individual body composition. There are many ayurvedic clinics where doctors do short consultations to explain clients' body compositions and the type of diet and lifestyle that will best suit their needs. Making an appointment is simple and it is a great way to understand some of the local Indian culture.
Practical Information
Dining in Rishikesh is easier than in hectic cities like Delhi and there are many cafes that serve a variety of food types. Eating in India can be a risky endeavor because of cleaning standards which cause many tourists to get sick while traveling to India. Rishikesh has western cafes that are friendlier towards a western stomach. Eating out in these place will cost between 150-300 rupees (about 3-6 USD). Other budget friendly options are the outdoor food stalls that the locals favor. Before picking a vendor, look around for the places that are most popular among the locals because those are the safest to eat at. Trying a good masala is essential before leaving India. Rishikesh is a wonderful town worth visiting on any trip in northern India.