The Spectacular National Parks of Kenya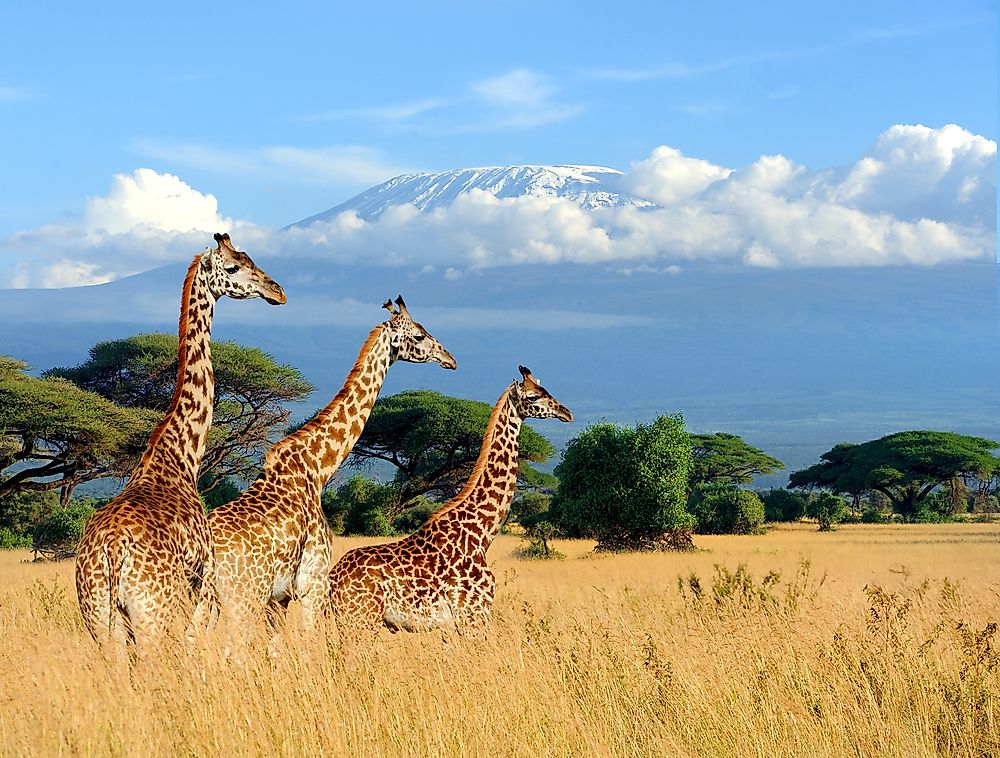 Kenya is a country situated in Eastern Africa. It boasts some of the most spectacular wildlife in the region, as well as arguably the world at large. The Kenya Wildlife Service (KWS) is tasked with the management and conservation of this wildlife. Kenya is home to great national parks which has placed Kenya on the global map as a major tourist attraction center.
The favorable weather conditions consisting of hot and dry summers and warm and wet winters offer a conducive environment to not only the wildlife but also to local and foreign tourists. Kenya is famous for the "Big Five" namely the African lion, Africa elephant, buffalo, leopard, and rhino.
In addition to the "Big Five", the parks are also home to other wildlife such as zebras, monkeys, giraffes, cheetahs, impalas, baboons, among others. A large variety of bird species also inhabit these parks. Dolphins, turtles, crocodiles, and whale sharks, are found in marine parks.
Besides hosting wildlife, the parks also offer other services like family day outings, conferencing, academic tours, safari drives, and team building.
Most parks are situated out of the way of major cities and towns. An exception to this fact is Nairobi National Park which is located in Kenya's capital city of Nairobi. This makes it easily accessible despite the fact that it is not the most popular park in the country. Most tourists prefer destinations away from busy cities which make the out-of-town parks ideal choices.
Major National Parks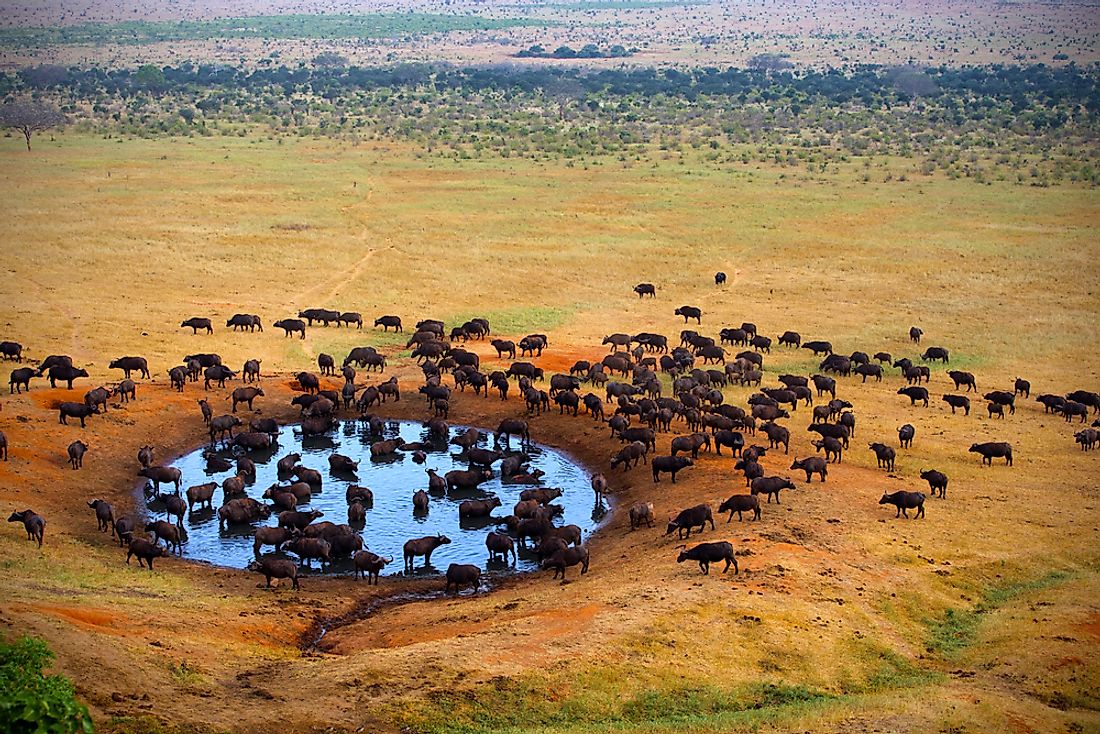 Masai Mara National Park is perhaps the most famous in all of Kenya. It is this park that led to the birth of the word "safari" to describe a drive taken to view wildlife. The park stretches over to Tanzania, where it becomes Serengeti National Park. A unique aspect of this park is the "great migration" that happens between July and October every year. Consisting of over 1.5 million zebras, wildebeests, and antelopes, the great migration is one of the last surviving multi-species migration on the planet. The park occupies an area of 1,510 square kilometers. More than 40% of Africa's large wildlife is found here.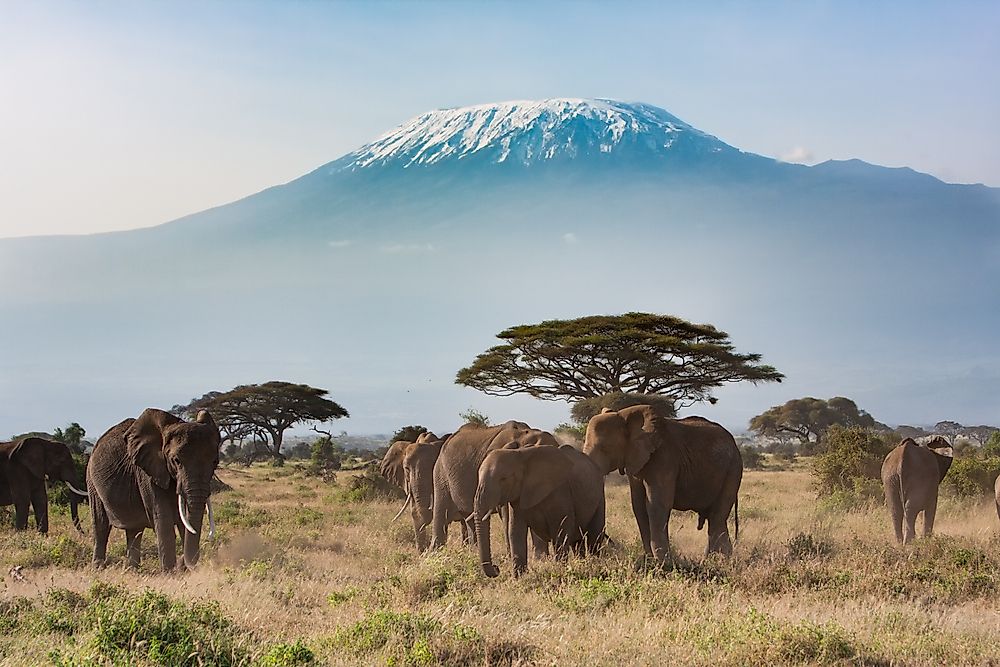 Located at the foot of Mt. Kilimanjaro, the park offers an amazing view of the snow-capped mountain which stretches over to neighboring Tanzania. It is located in Kajiado county and is the second most popular park after Masai Mara. Amboseli National Park is 392 square kilometers in size. Free ranging elephants give tourists the opportunity for an up close interaction. Other animals found here are impalas, giraffes, blue buffaloes, lions, cheetahs, hyenas, zebras, and blue wildebeests. The park is also home to over 500 species of birds.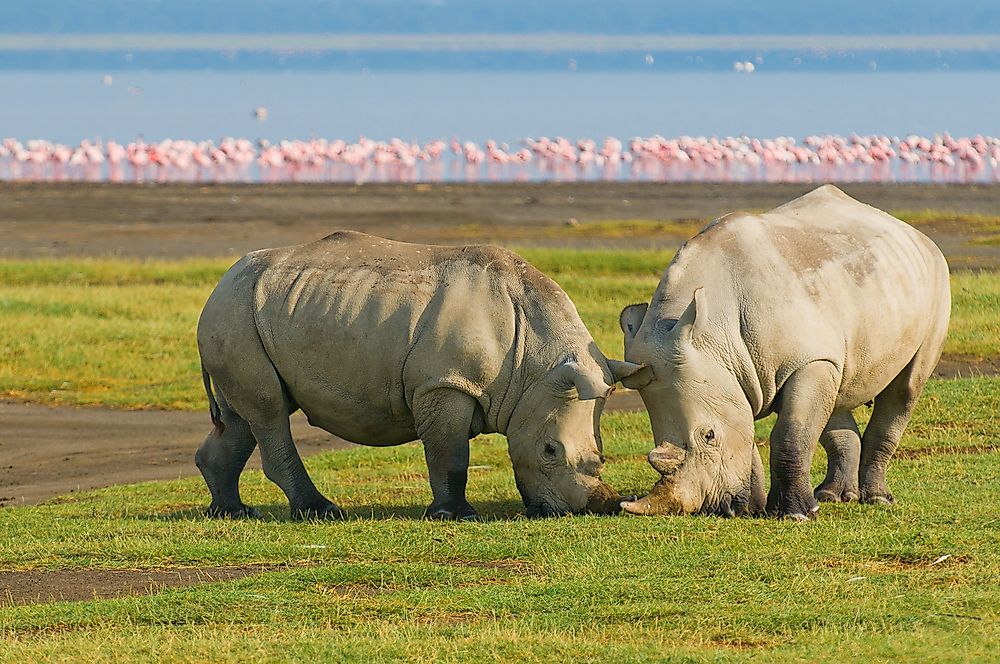 Thousands of pink flamingos and white pelicans fill this park, making it a spectacular sight. It also has waterfalls, cliffs, and animals such as rhinos, hippos, baboons and Columbus monkeys. Also located inside the park is Lake Nakuru. The great bird spectacle has made Lake Nakuru one of the world's most famous lakes. The park is 188 square kilometers in size.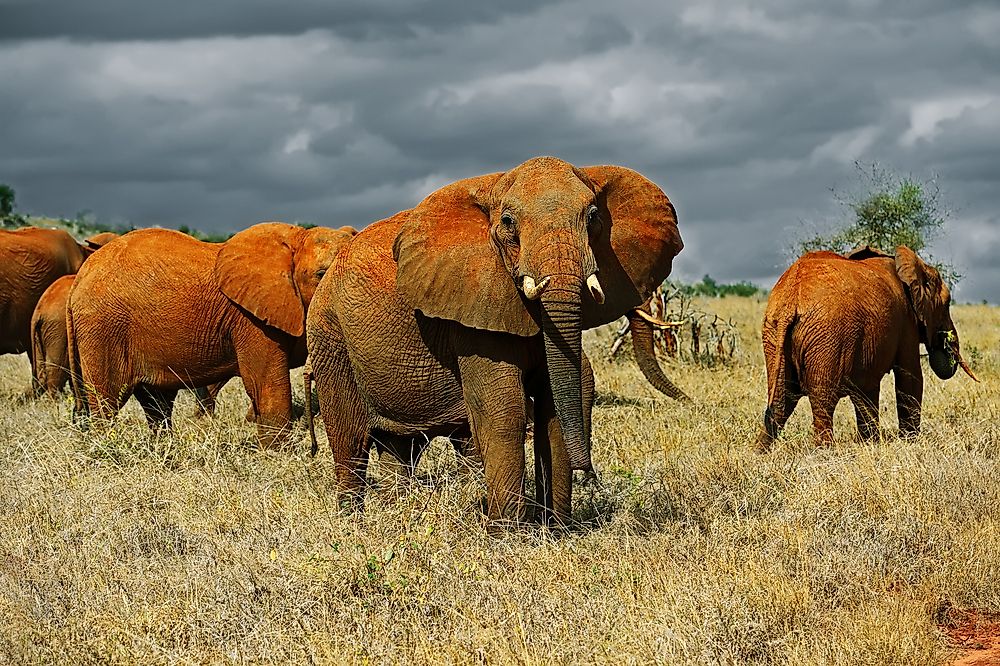 Tsavo East and Tsavo West constitute the Tsavo National Parks. Tsavo East is the largest with an area of 13,747 square kilometers, while Tsavo West is 7,065 square kilometers. Both are located in the coastal area of Taita-Taveta and separated from each other by a road. Tsavo West is the most popular on account of its magnificent views, underwater glass tanks, as well as Kitchwa Tembo and Mzima Springs. It hosts wildlife such as eastern black rhinos, crocodiles, cape buffaloes, hippos, and leopards.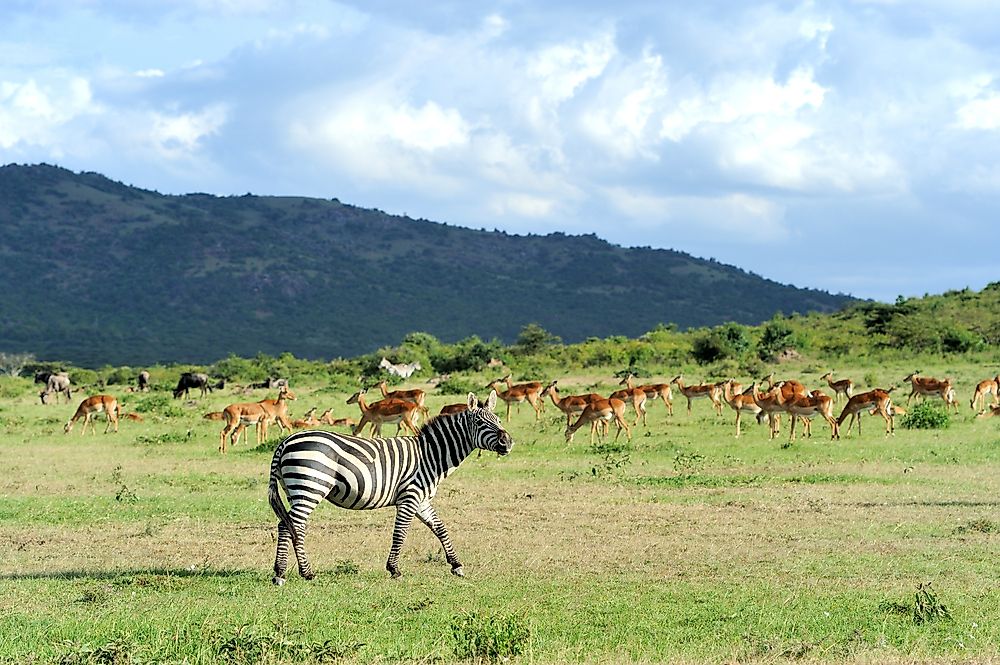 Located approximately 7 km from the city, Nairobi National Park is easily accessible to tourists. It is home to over 400 species of birds and animals such as cheetahs, hyenas, giraffes, lions, and leopards. It also hosts the Ivory Burning Site Monument and an animal orphanage. The Nairobi Safari walk offered in the park is also another tourist activity done by both international and local tourists. This park records a high number of local tourists, including school students who visit the park for academic tours. It occupies an area of 1,175 square kilometers.
Other National Parks
This list above is not all-inclusive. Consult the table below to discover the names of the rest of Kenya's national parks.
What are the National Parks found in Kenya?
NATIONAL PARK

SIZE (sq.km)

LOCATION

WILDLIFE AND SITES/ACTIVITIES

Mt. Kenya National Park

2124

Mt. Kenya Forest

Giant forest hog, suni, bongo antelope, white tailed mongoose, black fronted duiker, mineral springs, lakes.

Aberdare National Park

765.7

Aberdare Forest

Rhinos, black leopards, bongo antelope, African Golden cats, waterbucks, waterfalls.

Hell's Gate National Park

65

South of Lake Naivasha

Lions, cheetahs, leopards, Central Tower, Fischer's Tower, Hell' s Gate Gorge.

Kisite-Mpunguti Marine National Park

39

Kwale-South Coast

Various species of fish, dolphins, whales.

Ol Donyo Sabuk National Park

20.7

Central Kenya

Lord's Castle (Macmillan Castle), Fourteen Falls, Kilavu House.

Meru National Park

870

Meru-Eastern Kenya

African bush elephant, Masai lion, etc.

Malindi Marine National Park

213

Indian Ocean

Coral reefs, dolphins, turtles, fish, barracuda.

Central Island National Park "Crocodile Island"

5

Lake Turkana

Craters, cones, crocodiles, snakes.

Mombasa Marine Park

210

Mombasa

Snorkeling, diving, coral reefs

Mt. Elgon National Park

169

South of Lake Victoria

Kitum Cave, Endebess Bluff, Koitoboss Peak, elephants, buffalos, duikers, antelopes, monkeys.

Birds-Jackson's francolin, Tacazze sunbird and, lammergeier.

Mt Longonot National Park

52

Southeast of Lake Naivasha

Hartebeests, Thomson's gazelles, leopards, buffalos, zebras, giraffes, cheetahs.

Ruma National Park

120

Lambwe Valley, Nyanza

Baboons, reedbucks, oribis, leopards, giraffes, hartebeests, cheetahs etc.

Sibiloi National Park

1,570

Northeast of Lake Turkana

Fossils, Koobi Fora Museum, Koobi Fora Research Centre.

Watamu Marine National Park

10

Watamu, Mombasa

Coral reefs, turtles, whale sharks, barracuda, fish, octopus, manta rays.

Arabuko Sokoke National Park

6

Mombasa

Birds, golden-ramped elephant shrew, vervet monkeys, baboons, sokoke mongoose, Mida Creek.

Chyullu Hills National Park

741

Meru, Eastern Kenya

Leviathan Cave, birds, eastern black rhinos, buffalos, elands, steenbok, zebras etc.

Ndere Island National Park

4

Lake Victoria

Birds, fish, sitatunga antelopes, snakes, Nile crocodiles, hippos.

Saiwa Swamp National Park

3

Kitale, Rift Valley

De Brazza's monkeys, sitatunga antelopes.

South Island National Park

39

Lake Turkana

Birds, crocodiles, game watching site.

Kora National Park

1,787

Mwingi, Eastern Kenya

Adamson' s Camp, Adamson's Falls, Grand Falls, Kora rapids, fishing, rock climbing.