UNESCO World Heritage Sites In The Czech Republic (Czechia)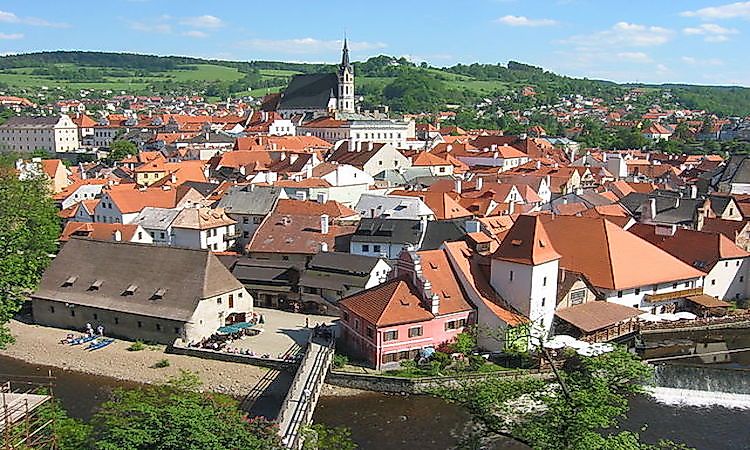 The Czech Republic, locally known as Czechia is a country located in Central Europe bordered by four countries; to the west is Germany, to the south is Austria, to the east is Slovakia, and to the northeast is Poland. It covers an estimated area of 30,450 square miles with a population of 10.5 million. It is divided into three regions the Bohemia, Moravia, and the Czech Silesia; it is also widely known for the magnificent castles found there as well as the native beers. The country is home to twelve cultural sites inscribed on the UNESCO world heritage list. Some are discussed below in detail
UNESCO World Heritage Sites In The Czech Republic (Czechia)
Český Krumlov Historic Center
Český Krumlov Historic Center is situated in the city of Cesky Krumlov which is a small town in South Bohemian region of Czechia. It was established around the early 13th-century castle and has various elements like the gothic and renaissance ones. The historic center was inscribed on the UNESCO world heritage list in the year 1992 and has managed to keep its architectural designs intact due to the peaceful coexistence over the several centuries.
Kroměříž Gardens And Castle
The Kromeriz Castle was founded in late 1400 by a Bishop, and it was used as the residence of bishops and archbishops of bishops Olomouc which is a city of Moravia, Czechia. In 1643, the castle was destroyed by the Swedish army, but an architect was assigned the responsibility of renovating it in 1664 by a bishop from the Liechtenstin family. It was inscribed in the year 1998 as a cultural UNESCO world heritage site because of its well-preserved gardens and the breathtaking residence.
Holašovice Historical Village
The Holašovice Historical Village is located on the southern side of the Czech Republic. It was discovered in the year 1263, and the then king gave the property to the monastery of Vyssi Brod (a town in the south Bohemian region) who owned it until 1847. As a result of the bubonic plague, a bacterial infection, the entire population of Holasovice was wiped out except for two inhabitants who survived it. The area repopulated to over 160 inhabitants where only one of them was of Czech ethnic origin, and the rest were of German descent. These German residents were displaced during the Second World War which led to a lot of destructions, but by late 1900, the village was restored. The village's traditional and exemplary buildings enabled its inscription to the UNESCO World Heritage list in the year 1998.
Prague Historical Center
Prague Historical Center is located in Prague which is capital and the largest city in the country. It was built in the 11th century and represents how the Middle Ages urbanism was manifested. This historic center tops the world record of the centers that have kept the creative life in architecture and urbanism across the various generations and human beliefs. It was listed as a UNESCO world heritage site in the year 1992 because of the well-preserved structures of the various developments over the years.
Significance Of These UNESCO World Heritage Sites In The Czech Republic
It is clear that the above inscribed sites play a significant role in understanding the History of how the country and the various ethnic groups have evolved over the years giving important information on how the middle ages way of life was, the spread of urbanization, and early Technology. The various architectural designs also play a significant role in the tourism sector thus improving the country's Economy.
UNESCO World Heritage Sites In The Czech Republic (Czechia)
| | |
| --- | --- |
| UNESCO World Heritage Sites in the Czech Republic (Czechia) | Year of Inscription; Type |
| Český Krumlov Historic Center | 1992; Cultural |
| Holašovice Historic Village | 1998; Cultural |
| Kroměříž Gardens and Castle | 1998; Cultural |
| Kutná Hora Town Center, Church of Saint Barbara, and Sedlec Cathedral of Our Lady | 1995; Cultural |
| Lednice-Valtice Cultural Landscape | 1996; Cultural |
| Litomyšl Castle | 1999; Cultural |
| Olomouc Holy Trinity Column | 2000; Cultural |
| Prague Historic Center | 1992; Cultural |
| Telč Historic Center | 1992; Cultural |
| Třebíč Jewish Quarter and Saint Procopius' Basilica | 2003; Cultural |
| Tugendhat Villa in Brno | 2001; Cultural |
| Zelená Hora Pilgrimage Church of Saint John of Nepomuk | 1994; Cultural |