UNESCO World Heritage Sites In Kazakhstan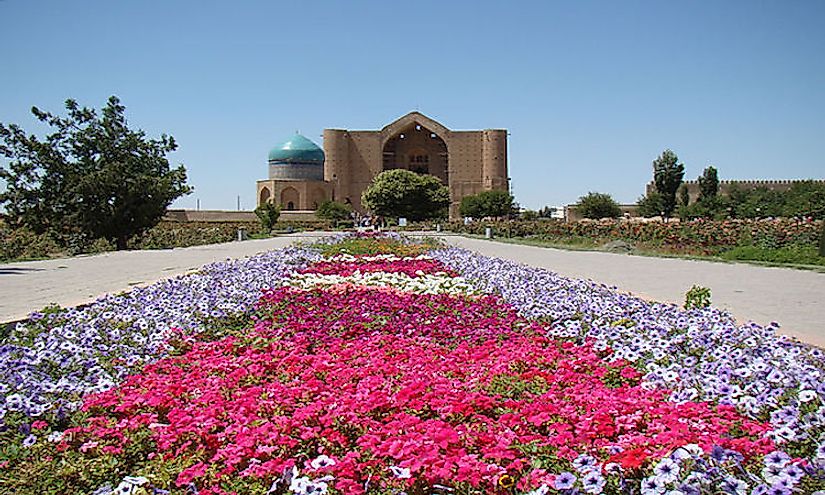 Kazakhstan, officially known as the Republic of Kazakhstan, is the largest landlocked country in the world situated in eastern part of Europe and Central Asia. It covers an area of approximately 1.1 million square miles making it the ninth largest country in the world with a population of 18 million. Kazakhstan is endowed with a number of cultural and natural wonders which, over the years, have been designated by the UNESCO as World Heritage Sites. The list of such sites is provided below:
UNESCO World Heritage Sites In Kazakhstan
Chang'an-Tianshan Corridor Of The Silk Road Routes
The Chang'an-Tianshan Corridor is approximately 3106 miles long and spans through three countries China, Kazakhstan, and Kyrgyzstan. It consists of 33 newly designated sites throughout the three countries consisting of capital cities, palace complexes, Buddhist temples, sections of the great wall, tombs, beacon towers, and several other religious buildings. These sites cover an estimated area of 998.2 square miles including the buffer zones and are divided into four regions. These regions are the central China region which includes the imperial capitals in the central and Guanzhong plains of China, the Hexi Corridor in Gansu province, the North and South of Tianshan mountains in China, and Zhetysu Region of the Ili and Talas Valleys of Kazakhstan and the Chuy valley of Kyrgyzstan. It was inscribed on the UNESCO world heritage list in 2014 as a cultural site.
Khoja Ahmed Yasawi Mausoleum
The Khoja Ahmed Yasawi Mausoleum is located in the city of Turkestan, Southern Kazakhstan. Its construction begun in the 14th century, it was commissioned by Timur in 1389, but its construction came to a halt after his death of in 1405. Even though the mausoleum remains unfinished, it is an important monument in Kazakhstan due to its unique architecture.it is one of the most preserved Timurid constructions since its creation marked the beginning of Timurid architectural style. It is an important religious structure drawing pilgrims from all over Central Asia. It was designated as a cultural site by UNESCO in 2003.
Saryarka Steppe And Lakes of Northern Kazakhstan
The Saryarka Steppe and Lakes of Northern Kazakhstan is a natural site designated by UNESCO as a world heritage site on July 7th, 2008. It comprises of two sites the Naurzum State Nature Reserve in Kostanay Province and Korgalzhyn State Nature Reserve in Akmola Province. The two reserves contain wetlands important to migrating birds from Africa, Europe, and South Asia, its serves as both stop-over and feeding grounds.
Tamgaly Petroglyphs And Archaeological Landscape
Tamgaly Petroglyphs and Archaeological Landscape is located in Zhetysu, Kazakhstan, 74.6miles North West of Almaty, the largest city in Kazakhstan. There are up to 5000main petroglyphs in the canyon, but other are found in the other side canyons. Most petroglyphs are from the Bronze Age (where bronze was majorly used among other forms of urbanization), but some are from the Iron Age and the Middle Ages. It was designated as a cultural World Heritage site by UNESCO in 2004.
UNESCO World Heritage Sites In Kazakhstan
| | |
| --- | --- |
| UNESCO World Heritage Sites in Kazakhstan | Year of Inscription; Type |
| Chang'an-Tianshan Corridor of the Silk Road Routes | 2014; Cultural |
| Khoja Ahmed Yasawi Mausoleum | 2003; Cultural |
| Saryarka Steppe and Lakes of Northern Kazakhstan | 2008; Natural |
| Tamgaly Petroglyphs and Archaeological Landscape | 2004; Cultural |
| Western Tien-Shan | 2016; Natural |