Travel
UNESCO World Heritage Sites In Jordan
One of the oldest cities on earth and what is believed to be the location of Jesus's baptism are among Jordan's cultural treasures.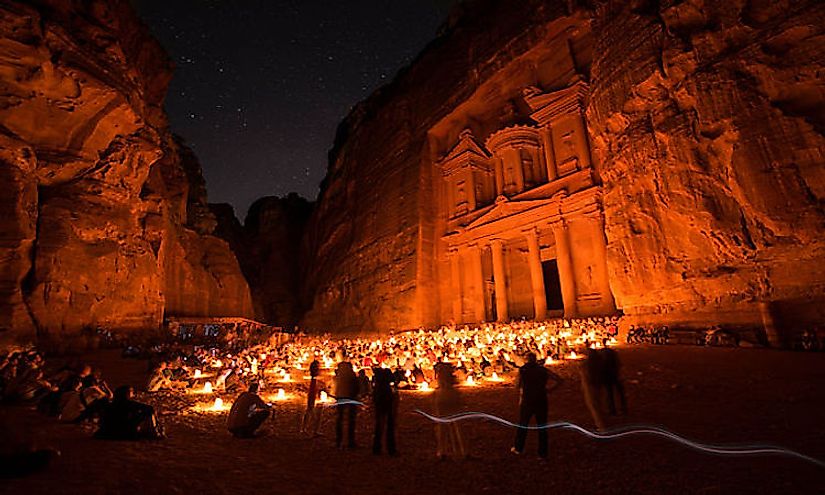 Jordan, officially the Hashemite Kingdom of Jordan, is located in Western part of Asia bordering Iraq, Israel, Saudi Arabia, Syria, Palestine, the Dead Sea, and the Red Sea. The country's economic, political, and cultural centers are based in Amman, the country's capital city making it the most populous city in the country. Jordan covers an area of 35,637 square miles and has a population of up to 9.8 million. The country's diverse landscapes and environments make it a biodiverse site with a different range of habitats, climates, and ecosystems.
UNESCO World Heritage Sites In Jordan
Bethany Beyond the Jordan (Al-Maghtas) - Baptism Site of Jesus Christ
Bethany Beyond the Jordan (Al-Maghtas) is an archaeological site on the eastern bank of Jordan River, Jordan. It is situated 5.6 miles north of the Dead Sea and 6.2 miles southeast of Jericho. It is divided into two major sites, the remnants of the Jabal Mar-Elias (Elijah's Hill) and the Zor area with remains of the churches and baptism ponds. It has always been considered the original location of the ministry of John the Baptist and baptism of Jesus. After the six-day war in 1967 between Jordan, Syria, Egypt, and Israel, the site was heavily mined before the peace treaty between Jordan and Israel was signed. Jordanian royalty then took an initiative of de-mining the area; this has over the years resulted in various archaeological digs and attracted both domestic and international tourists. UNESCO designated it a cultural world heritage site in 2015.
Petra
Petra is a historical and archaeological city in Ma'an Governorate, Southern Jordan. It is located on the slope of Jebel al- Madhbah at an elevation of 2,657 square feet and covers an area of 103 square miles. Most researchers believe that it was built in the 5th century BC and was established in 312 BC as the capital city of the Arab Nabataeans. It is a famous and most visited site in the country because of its Rock-cut architecture and water channel system. It was discovered in 1812 by a Swiss explorer and was amongst the new7wonders of the world in 2007. It was inscribed on the World Heritage list by UNESCO in 1985 as a cultural site.
Quseir Amra
Quseir Amra is a desert castle in Zarqa Governorate, eastern Jordan built in the 8th century. Today, the foundation of the actual castle stands and only the remnant part is the small country cabin. The castle served as a military base after its destruction; it has remained a royal retreat with no military function. It has been noted for its frescoes and mural painting on its ceiling depicting their way of life. The castle's poor condition is being dealt with by the conservation work done by the Jordan's Department of Antiquities and supported by various organizations like World Monuments Fund.in 1985; it was inscribed on the UNESCO world heritage list as a cultural site.
Um er-Rasas (Kastrom Mefa'a)
Um er-Rasas, built in the 5th century, is situated in the semi-arid region of Jordanian desert in Amman Governorate. Due to its accessibility by the branches of the king's highway (a trading route), it was utilized by the Roman military as a strategic military base. It was later occupied by both Christian and Islamic communities. It is an important archaeological site because its architecture dates back to the Byzantine and early Muslim periods
What UNESCO World Heritage Sites are in Jordan?
There are a few UNESCO World Heritage Sites in Jordan including Bethany Beyond the Jordan (Al-Maghtas), Petra, and Quseir Amra.
UNESCO World Heritage Sites In Jordan
| | |
| --- | --- |
| UNESCO World Heritage Sites in Jordan | Year of Inscription; Type |
| Bethany Beyond the Jordan (Al-Maghtas) - Baptism Site of Jesus Christ | 2015; Cultural |
| Petra | 1985; Cultural |
| Quseir Amra | 1985; Cultural |
| Um er-Rasas (Kastrom Mefa'a) | 2004; Cultural |
| Wadi Rum Protected Area | 2011; Mixed |
This page was last updated on April 25, 2017.
Citations
Your MLA Citation
Your APA Citation
Your Chicago Citation
Your Harvard Citation
Remember to italicize the title of this article in your Harvard citation.