Travel
UNESCO World Heritage Sites In Ivory Coast (Cote d'Ivoire)
The colonial town of Grand-Bassam and 3 nature reserves (2 of which are in danger) have been inscribed in the West African nation.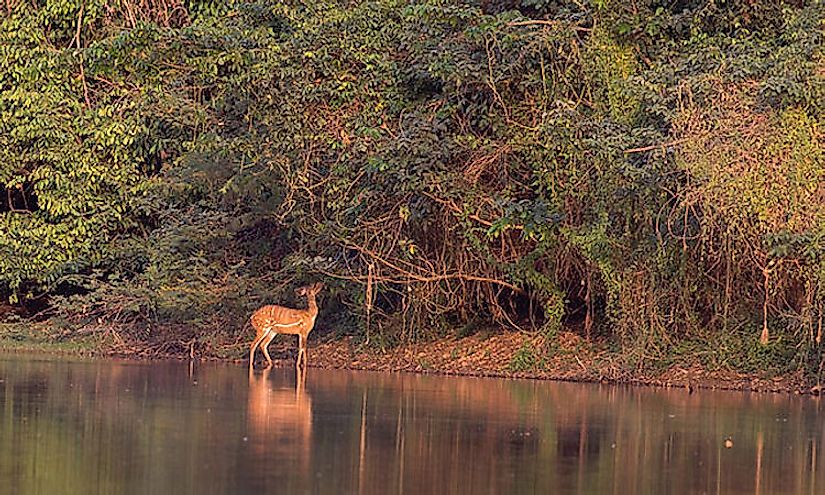 Ivory Coast is a West African country with four UNESCO World Heritage Sites out of which two are in danger. The sites are necessary protection areas for biodiversity and historical heritage of the country. The state of these sites has been declining due to overexploitation by humans, population pressure, and poor management practices, especially during the Ivorian civil wars. The civil wars have also has affected the tourist turnover, and visitors fear being caught up in case war breaks out because the government is unstable.
UNESCO World Heritage Sites In Ivory Coast
Comoé National Park
Comoé national park is located in Ivory Coast's Zanzan and Savanes districts. The biosphere reserve was inscribed as a world heritage site in 1983 and named as a world heritage site in danger in 2003 after the first Ivorian civil war. The second civil war further led to the deterioration of the park due to poor management, unregulated poaching, and overgrazing. The park is the largest in West Africa with an area of 11,500km² and houses many habitats with unique biodiversity including 135 mammal species, over 500 bird species, 71 reptile species, 35 amphibian species and more than 620 plant species.
Grand Bassam historic town
The historic town of Grand Bassam was inscribed as a cultural World heritage Site in 2002. The town is located east of Abidjan and served as the capital between 1893 and 1896 during the French colonial rule. Grand Bassam is unique for its late 18th and early 20th-century architecture and the indigenous way of life. The town holds an important place as a demonstration of complex social, economic and political relations between the colonial government and the local people. Though the town was a vibrant commercial and administrative center, its activity gradually declined up to the 1930s and was revived as a tourist and craft center in the 1970s. The site faces threats from abandonment, lack of maintenance and pressure from beach tourism and economic development.
Mount Nimba Strict Nature Reserve
The reserve is a natural World Heritage Site in danger that was inscribed in 1981. The reserve is found in Guinea and Ivory Coast with the larger part of Guinea. The park was established 1943 in Ivory Coast and 1945 in Guinea and was merged in 1980. The park is under threat from bushmeat poaching and civil wars which result in destruction and overexploitation of the species within the park. The park is home to thousands of diverse flora and fauna with a high rate of endemism. The park has remained on the danger list for a long time due to constant pressures from refugee movement into the surrounding areas and mining activities.
Tai National Park
Tai national park was designated as a World Heritage Site in 1982 due to its rich flora and fauna. The park covers an area of 3300km² and is located between the Cavally and Sassandra rivers. The park was established as a reserve in 1926 and designated a UNESCO Biosphere Reserve in 1978. The park is located within two climatic zones and has the primary rainforest of West Africa within its boundaries. The species within the park have a high rate of endemism with some of the species being endangered.
Preservation Efforts
Some efforts towards restoration and conservation of these sites has been made including setting aside funds for their restoration. Other efforts include encouraging the participation local communities towards conservation and preservation of the sites.
What UNESCO World Heritage Sites are in Ivory Coast (Côte D'Ivoire)?
There are four UNESCO sites in Ivory Coast, namely Comoé National Park, Grand-Bassam Historic Town, Mount Nimba Strict Nature Reserve, and Taï National Park.
UNESCO World Heritage Sites In Ivory Coast (Cote d'Ivoire)
| | |
| --- | --- |
| UNESCO World Heritage Sites In Ivory Coast (Cote d'Ivoire) | Year of Inscription; Type |
| Comoé National Park | 1983; Natural Site in Danger |
| Grand-Bassam Historic Town | 2012; Cultural |
| Mount Nimba Strict Nature Reserve | 1981; Natural Site in Danger |
| Taï National Park | 1982; Natural |
About the Author
Benjamin Elisha Sawe holds a Bachelor of Arts in Economics and Statistics and an MBA in Strategic Management. He is a frequent World Atlas contributor. 
This page was last updated on April 25, 2017.
Citations
Your MLA Citation
Your APA Citation
Your Chicago Citation
Your Harvard Citation
Remember to italicize the title of this article in your Harvard citation.