Where Do Tourists to Fiji Come From?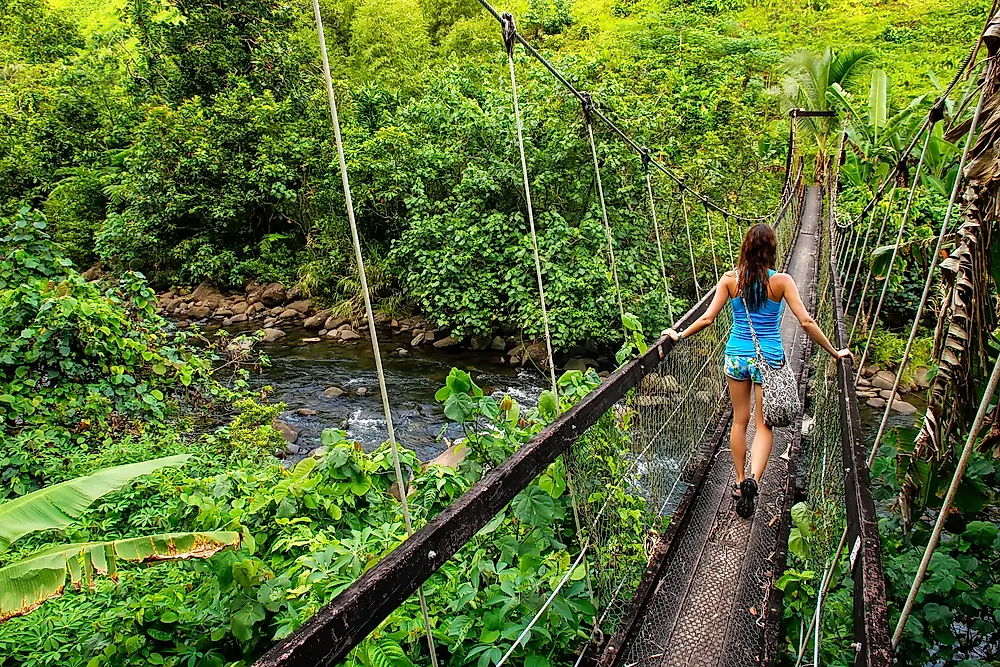 Fiji boasts 333 tropical islands stretched in the Pacific including the Mamanuca Islands and Denarau Island. The islands experience tropical weather throughout the year and this coupled with pleasing scenery serves to attract numerous tourists. Fiji is particularly popular for its soft coral diving which has earned it the reputation of the "soft coral capital of the world." A tourist can even book a whole island in Fiji. Cruising and scuba diving are among the popular activities in the country. Weddings and honeymoons are also popular, and the country's territory is populated with resorts, five-star hotels, as well as affordable hostels. Most visitors to Fiji are from different countries.
Tourists to Fiji By Country of Origin
Australia and New Zealand
Australia ranks as the largest market for Fiji's tourism. 337,291 Australians visited Fiji in 2012 compared to the 367,273 in 2015. Australians only need a passport to get a four-month entry visa upon arrival to Fiji. Fiji Airways, in addition to Jetstar, Virgin Australia, and Qantas, provide direct flights from major cities such as Sydney, Adelaide, Brisbane, and Melbourne to Nadi and Suva in Fiji. These flights only take a few hours making it easy for Australians to visit Fiji. 106,122 visitors arrived in Fiji from New Zealand in 2012 compared to 138,537 in 2015. The tourism offerings of Fiji have been popular with New Zealanders for years. Kiwis can fly to Nadi by Air New Zealand, Qantas, or Fiji Airways. The flight between Auckland and Nadi takes three hours. Fiji's resorts and tourist areas serve to attract thousands of Kiwis each year.
United States
56,478 visitors from the US arrived in Fiji in 2012 compared to the 67,831 visitors in 2015. Tourists from the US qualify for a visitor permit which is valid for a total of four months, and they are not required to get a visa in advance. There is a direct flight between Fiji and Los Angeles operated by Air Pacific. Fiji can also act as a stopover from the west coast of the United States to New Zealand or Australia.
Pacific Islands
In 2015, 48,570 tourists from the Pacific Islands arrived in Fiji up from the 48,570 in 2012. Fiji Airways operates flights to Kiribati, Tuvalu, Vanuatu, Solomon Islands, Samoa, Tonga, and Hawaii. Air Niugini flies to Fiji from Port Moresby in Papua New Guinea while Air Vanuatu, Solomon Airlines, and Aircalin also fly to the country. Fiji has also been encouraging the growth of medical tourism catering to its Pacific neighbors. The Sahyadri Specialty Pacific Hospital based in Fiji has been bringing in specialists from India to perform procedures such as spinal surgeries, open heart surgeries, and neurosurgeries.
China
26,395 Chinese tourists visited Fiji in 2012 compared to the 40,174 tourists in 2015. Tourism operators in Fiji have been increasingly targeting affluent Chinese to visit the country. Fiji even launched a Chinese travel guidebook and issued a visa waiver for Chinese visitors. China has one of the most significant growth markets for Fiji's tourism.
Future Prospects
Fiji hopes to have a $2.2 billion tourism industry by 2020. Fiji tourism has sought to market the country's destinations and experiences as well. The country has also aimed at strengthening existing partnerships while also initiating new ones. Fiji has been keen on developing a sustainable tourism sector through environmentally-friendly initiatives
Tourists to Fiji By Country of Origin
| Rank | Tourist's Country of Origin | Volume (2015) |
| --- | --- | --- |
| 1 | Australia | 367,273 |
| 2 | New Zealand | 138,537 |
| 3 | United States | 67,831 |
| 4 | Pacific Islands | 48,570 |
| 5 | China | 40,174 |
| 6 | Continental Europe | 31,195 |
| 7 | United Kingdom | 16,716 |
| 8 | Canada | 11,709 |
| 9 | Other Asian countries | 10,371 |
| 10 | Japan | 6,092 |