Economics
Top Nickel Producing Countries
Indonesia is the world's top producer of nickel, followed by the Philippines and Canada.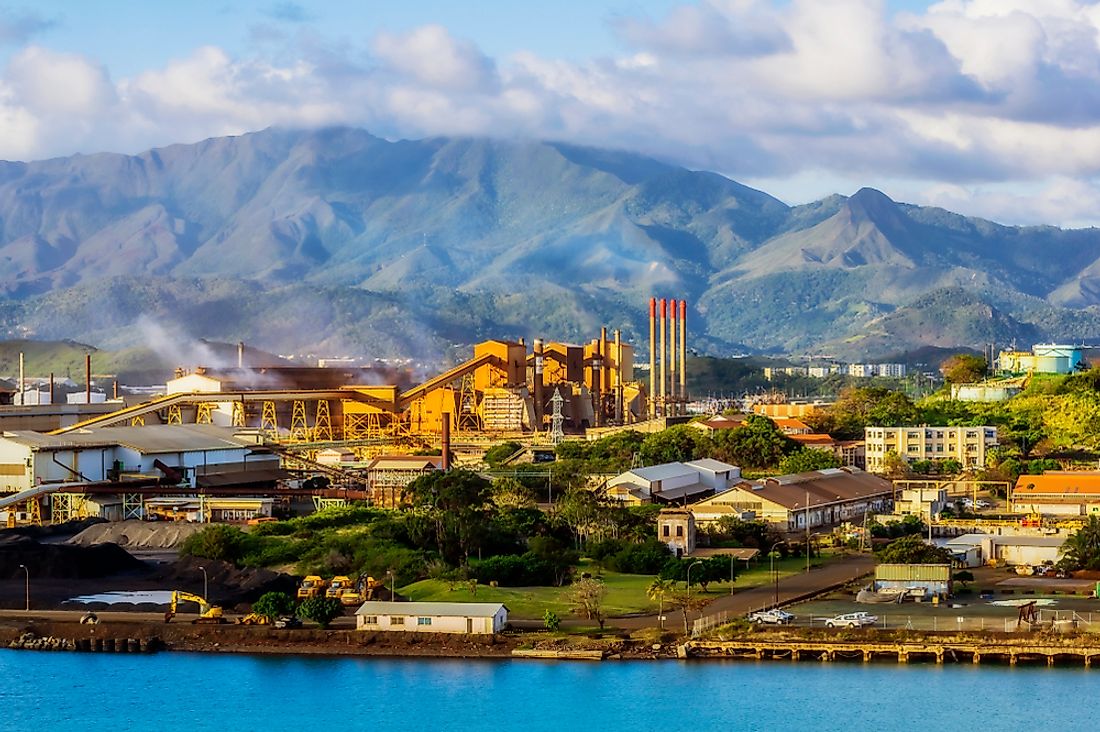 Nickel is a silvery-white metal often used to strengthen alloys, especially stainless steel, in order to withstand corrosive environments and extreme temperatures. The unique properties of nickel were discovered in 1751 by Swedish chemist and mineralogist Baron Axel Fredrik Cronstedt. Alloys of nickel, such as stainless steel, do not result in health problems, although some individuals are sensitive to nickel compounds. Nickel deposits develop when magma with low silica and high magnesium is saturated in sulfur after reacting with rocks in the Earth's crust. Although the compound is the fifth most abundant element on Earth, most nickel is located 1,800 miles below the Earth's surface. Accessible nickel ore is brought closer to the surface in two types of ore deposits: magmatic sulfide deposits, often found in Sudbury, Canada and Norilsk, Russia; or laterite deposits, often found in Indonesia, New Caledonia, and Cuba.
The 4 Major Producers of Nickel
Indonesia
Indonesia is the world's largest producer of nickel, with an annual production of about 400,000 metric tons. In 2014, the nation banned the export of the compound, and production dropped to less than 100,000 metric tons. Consequently, Indonesia lost its spot as the world's largest producer. In 2017, the nation relaxed the ban on low-grade ore in a bid to boost its economy. Mining companies are allowed to export a maximum of 5.2 million tons of ore annually.
The Philippines
The Philippines has maintained its position as a top nickel ore producer and exporter for approximately a decade. In 2016, the country produced about 347,000 metric tons, but production has since dropped to about 230,000 metric tons. The decline is directly attributed to the closure of 23 mines by the Ministry of Environment and Natural Resources. Production is not likely to rise in the immediate future, as the government seeks to curb open-pit mines in the Philippines.
Canada
Canada is the largest nickel producer outside of Asia. The country produces 210,000 metric tons of nickel annually. In particular, the Sudbury Basin produces an estimated 65,000 metric tons of the compound. Vale Canada, a subsidiary of Brazilian metal and mining company, Vale S.A., which is the largest nickel mining company in the world, and Glencore, are the largest nickel mining companies in Canada.
New Caledonia (France)
New Caledonia, which is a special collectivity of France, produces the same amount of nickel as Canada. Production has increased for the past half decade, and if this trend continues, New Caledonia is likely to surpass Canada. Historically, New Caledonia has resisted selling nickel ore to China, but in 2016 the government authorized the sale of more than 2 million tons of the ore to China.
​Trends in Nickel Production 
Nickel is not as expensive a resource as gold or diamonds, but is a major export for some countries. Production in Australia, Russia, and Brazil dropped in the recent past due to pollution concerns and a drop in global prices of the commodity. However, the rise in consumption of electric vehicles is likely to increase the demand for nickel, which would create a supply deficit that will lead to an increase in price.
Top 10 Nickel Producing Countries
| Rank | Country | Mine Production (Metric Tons, 2017) |
| --- | --- | --- |
| 1 | Indonesia | 400,000 |
| 2 | Philippines | 230,000 |
| 3 | Canada | 210,000 |
| 4 | New Caledonia (France) | 210,000 |
| 5 | Australia | 190,000 |
| 6 | Russia | 180,000 |
| 7 | Brazil | 140,000 |
| 8 | China | 98,000 |
| 9 | Guatemala | 68,000 |
| 10 | Cuba | 51,000 |
About the Author
Victor Kiprop is a writer from Kenya. When he's not writing he spends time watching soccer and documentaries, visiting friends, or working in the farm. 
This page was last updated on January 29, 2019.
Citations
Your MLA Citation
Your APA Citation
Your Chicago Citation
Your Harvard Citation
Remember to italicize the title of this article in your Harvard citation.