Where Does America's Cheese Come From?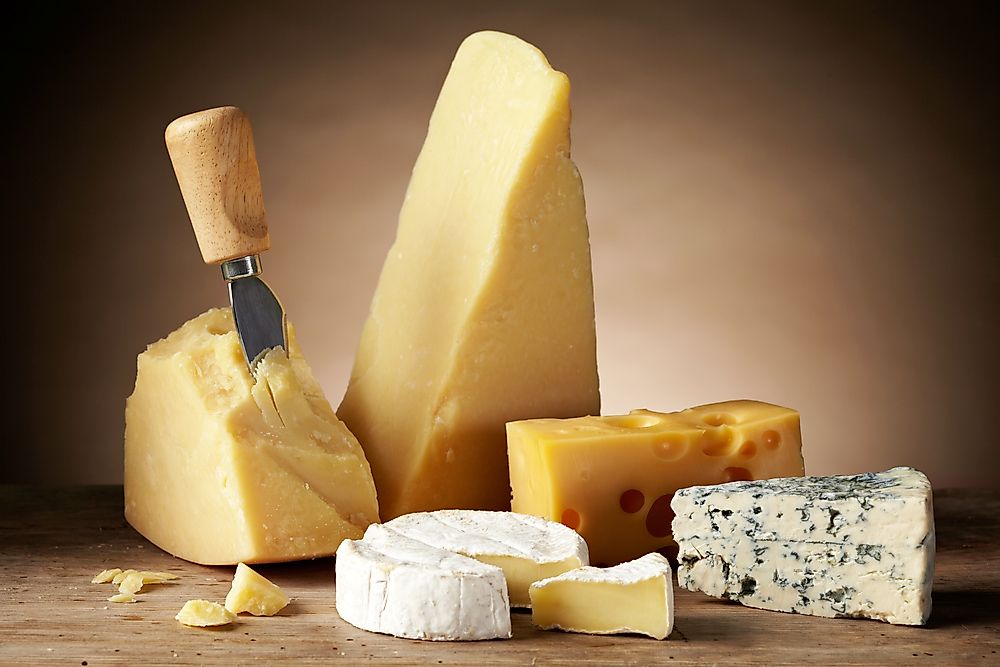 ---
What is Cheese?
Cheese is a popular dairy product that comes in a wide variety of textures, flavors, shapes, and sizes. It can be produced by using milk from cows, sheep, goats, or buffalo and can be flavored by adding a number of ingredients including spices, wood smoke, garlic, herbs, black pepper, and even fruit. Cheese generally has a high content of calcium, protein, and fat. The production and consumption of cheese dates back to before written history. Today, cheese is produced all over the world. The US alone is responsible for producing 25% of the world's cheese. This article takes a closer look at which US states are the top cheese producers.
How is Cheese Produced?
Cheese is produced by first adding some type of acidic liquid to milk - this acid could come from vinegar, lemon juice, or bacteria. This action curdles the milk, producing a solid. The solid is then separated from the remaining liquid, pressed, and shaped. The final product may sometimes be encased with a rind. It is then left to age, the duration depending on the requirements of the particular cheese.
Top Cheese Producing States of the US
In 2013, the US produced 5.4 million tonnes of cheese, making it the top producer in the world.
Often referred to as America's Dairyland, the state of Wisconsin lives up to its nickname. This state produced 2,910,299,000 pounds of cheese in 2014, making it the top producer in the country. When compared to other countries around the world, Wisconsin ranks 4th after the US, France, and Germany. There are 127 cheese plants in this state, more than double that found in other US states. The most common type of cheese produced in Wisconsin is mozzarella, which accounts for 34.2% of all production. This is followed by cheddar (20%) and other Italian cheeses (15.8%). Cheesemaking in Wisconsin dates back to the 19th century, when it was introduced by European immigrants. Today, Wisconsin is the only state in the country that offers a "Master Cheesemaker" program, which follows the standards of European programs.
The second top cheese producing state in the US is California, which produced 2,444,260,000 pounds of cheese in 2014. This state is the largest milk producer in the country and uses approximately 46.4% of its milk to produce cheese. Around 50 cheesemakers produce over 250 kinds of cheese in California. The most common type of cheese produced here is mozzarella, which accounts for 59.3% of all production. Mozzarella is the most consumed cheese in the nation. Following this type of cheese is cheddar (13.7%) and Monterrey Jack (12.1%). Monterrey Jack was actually created in California missions over 200 years ago. Additionally, this state is the top producer of Hispanic style cheeses, making more than 125 million pounds of it in 2016.
Idaho is the third top cheese producing state in the US. In 2014, this state produced 895,189,000 pounds of cheese. Idaho has 22 dairy processing plants that produce cheese, as well as butter, whey, and dry non-fat milk. Around 85% of the milk produced in this state is used to produce cheese, one of the highest percentages in the country. The Idaho cheese industry grew by 182% between 1992 and 1995. In 1998, the state was only producing around 515 million pounds of cheese, indicating significant growth over the last 20 years.
The chart published below offers a more complete look at the top 10 cheese producing states of the US.
Top 10 Cheese Producing States Of The United States
| Rank | US State | Cheese Production (in 1,000 pounds), 2014 |
| --- | --- | --- |
| 1 | Wisconsin | 2,910,299 |
| 2 | California | 2,444,260 |
| 3 | Idaho | 895,189 |
| 4 | New York | 784,666 |
| 5 | New Mexico | 758,729 |
| 6 | Minnesota | 666,537 |
| 7 | Pennsylvania | 415,790 |
| 8 | Iowa | 263,627 |
| 9 | Ohio | 202,350 |
| 10 | Vermont | 123,534 |