Economics
Top 10 Biotechnology Companies In The United States By Market Value
Biotechnology firms in the United States are a small but a growing sector of the country's pharmaceutical industry.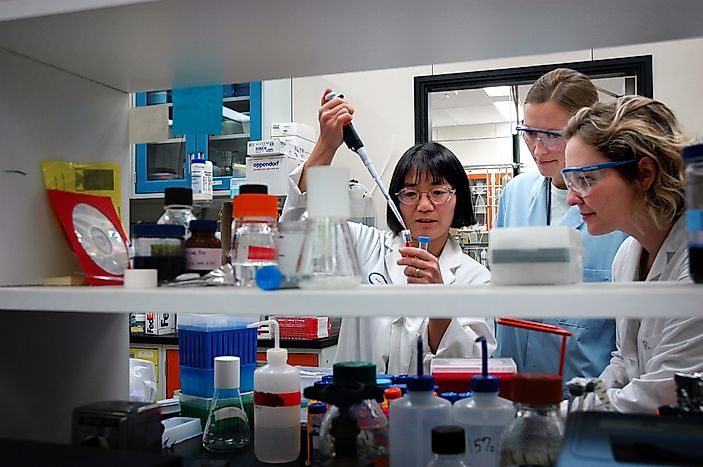 Biotechnology companies are companies that use biotechnological methods for production delivery and design. Biotechnology is a technological application that makes use of biological systems to create products and services. The biotech firms in the US are a small but rapidly growing sector of the pharmaceutical sector. The sector is bustling with activities from big-ticket drugs to the introduction of the biosimilars (a drug designed to be identical to one that has previously been licensed) that are likely to shake up the sector by offering more affordable treatment. The biotechnology companies in the country can churn out innovative solutions with biotech stocks becoming lucrative in the process. The biggest biotechnological companies in the US include:

1. Gilead Sciences, Inc. (GILD)
Gilead Sciences specializes in the research, development, and sale of therapeutics. The company concentrates on drugs used in the treatment of HIV and hepatitis B and C. Gilead Sciences acquired two companies in 2006 and currently produces a wide range of products, especially the Hepatitis C drugs Harvoni and Sovaldi. The drugs costs nearly $1,000 per day. The name and the logo of the company originated from the Balm of Gilead play which was inspired by Lanford Wilson. The company's shares have risen 463% over the past five years. Gilead Sciences had a market value of $154.3 billion in 2015 and recorded a net sale of $20.7 billion during the same period.
2. Amgen Inc.
Amgen Inc, formally known as the Applied Molecular Genetics, is a biopharmaceutical company based in Thousand Oak, California. It is the largest independent biotechnology company in the globe with major selling product lines including Neulasta/Neupogen which prevent infections to patients undergoing cancer chemotherapy. The company also specializes in the production of Epogen, Nplate, and XGEVA. The company has 12 approved drugs for 17 conditions. The anti-inflammatory drug Enbrel is the company's top revenue generator. In 2015, Amgen, Inc. had a market value of $119.9 billion with a net sale of $19.7 billion.
3. Celgene Corporation
Celgene Corporation discovers, develops, and commercializes cancer and inflammatory disorder medicines. The company is headquartered in Summit, New Jersey with its principal product being Revlimid which offer treatment of multiple myeloma patients and treatment of patients with anemia. The company's profits have increased by more than 25% per year for the last five years since 2011. Celgene Corporation had a market value of $91.9 billion in 2015 and recorded net sales of $7.3 billion during the same period. The company has nine approved drugs for the treatment of different diseases.
4. Biogen Idec, Inc.
Biogen Inc is based in Cambridge, Massachusetts and specializes in the research, developing, and deliveries of therapies for the treatment of patients worldwide who suffer from conditions such as neurodigestive and autoimmune diseases. The company was established in 1978 in Geneva by successful biologists including Kenneth Muray Phillip A Sharp, and Walter Gilbert. It merged with IDEC Pharmaceutical in 2003 and adopted the name Biogen Idec becoming the one of the largest biotechnology companies in the world. The company has since shortened its name to simply Biogen considering its core research areas. Major mergers and acquisitions have characterized biogen since its inceptions. In 12015 the company announced 11% reduction of its global workforce and recorded a market value of $82.7 billion and a net sale of $9 billion during the same period.
Top 10 Biotechnology Companies In The United States By Market Value
| Rank | Biotech Company | Market Value (in billion USD) |
| --- | --- | --- |
| 1 | Gilead Sciences, Inc. | 154.3 |
| 2 | Amgen, Inc. | 119.1 |
| 3 | Celgene Corporation | 91.9 |
| 4 | Biogen Idet, Inc. | 82.7 |
| 5 | Regeneron Pharmaceuticals, Inc. | 40.2 |
| 6 | Alexion Pharmaceuticals, Inc. | 36.4 |
| 7 | Vertex Pharmaceuticals, Inc. | 29.8 |
| 8 | Illumina, Inc. | 27.9 |
| 9 | BioMarin Pharmaceutical, Inc. | 13.9 |
| 10 | Agilent Technologies, Inc. | 13.7 |
This page was last updated on April 25, 2017.
Citations
Your MLA Citation
Your APA Citation
Your Chicago Citation
Your Harvard Citation
Remember to italicize the title of this article in your Harvard citation.