The Top Exports of Greenland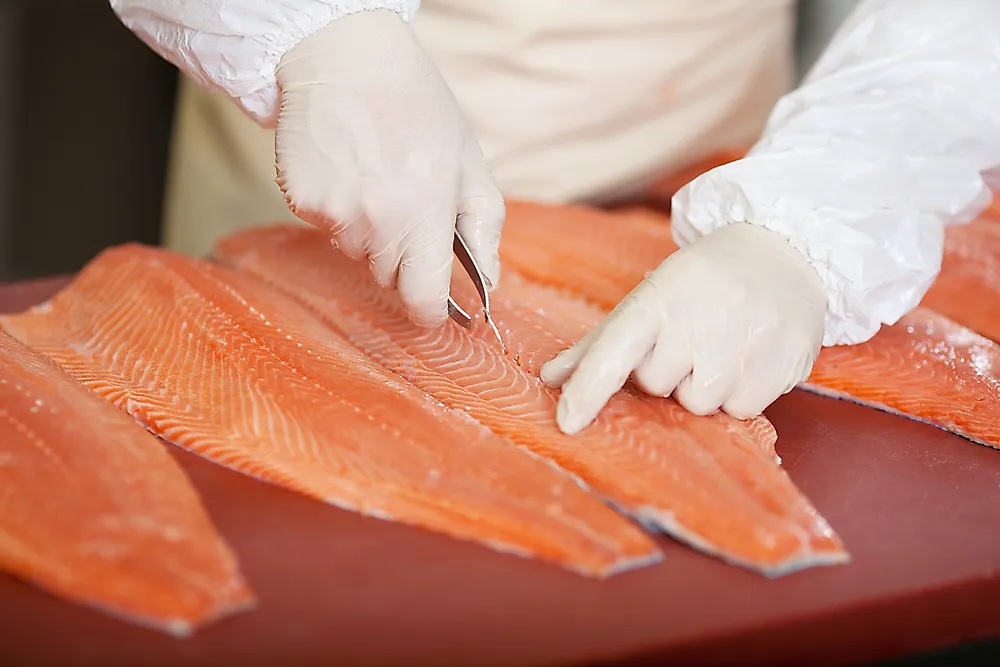 Although Greenland's economy suffered a contraction in the early 1990s, it has since improved. The country's economy is highly dependent on fishing. It also has abundant mineral resources such as ruby, titanium, platinum, and copper. Greenland's export economy is the 155th largest in the world. In 2015, it exported products worth $732 million against an import value of $644 resulting in a positive trade balance of over $87 million. Fishing continues to dominate Greenland's export accounting for more than 90% of the country's export. Greenland's export has increased in the past five years at an annualized rate of 4.6%.
Top Exports Of Greenland
The fishing industry is the most important for Greenland and was worth about 90% of all exports in 2015.
Non-fillet Frozen Fish
Non-fillet frozen fish product accounted for the majority of export, approximately 36% of all export or $262 million. Denmark is the largest market for the non-frozen fish products from Greenland followed by Russia, Taiwan, and Japan. The non-fillet frozen fish include shrimp and prawn and are exported either prepared or preserved but not frozen. Greenland is one of the largest exporters of Shrimp in the world.
Crustaceans
Crustaceans constitute the second largest export product from Greenland. It accounted for 46% of all the country's exports in 2015. Crustaceans were exported in the processed and preserved form. Raw and preserved crustaceans amounted to $263 million in value (32% of export) while processed crustaceans amounted to $103 million in value (14% of export). Denmark imported 45% of all Crustacean products, both processed and raw. 15% was exported to Russia while China imported 14%.
Fish Fillet
Fish fillet is the third biggest export product in Greenland. The shrimps and prawns are processed by several companies owned by the Royal Greenland into fish fillets for export to the international market. Fish fillet export accounted for 11% of all exports in 2015 or $77.6 million in export value. Denmark and Japan are the largest markets for Greenland's fish fillets accounting for 41% and 25% of all fish fillet exports, respectively. 9.9% and 8.6% were exported to Germany and Russia. Other export destinations for the fish fillets include China, Poland, the United Kingdom, and Norway.
Processed Fish
Processed fish is the fifth largest export product accounting for 1.6% of all export or $11.4 million in export value. The Royal Greenland has 10 fish processing plants on Greenland Island. Some of the species of fish that are processed and exported include shrimp and halibut. Denmark and Spain are the largest markets for the Greenland's processed fish. Greenland export 60% of its processed fish to Denmark and 37% to Spain. Other destinations include Germany, Czech Republic, and Portugal.
Major Export Destinations
Over the years, the European Union has been Greenland's largest and main market with the imports, especially fish and fish products of approximately 90% in 2015. Of the EU countries, Denmark is by far the largest import destination accounting for 47% of the export or $346 million. China is the second largest export destination followed by Japan and Russia. China accounts for 12% of the total export or over $90 million while Japan and China account for 10% and 8% respectively. Other top export destinations include Iceland, Germany, Portugal, France, Poland, and Spain.
The Top Exports of Greenland
| Rank | Export Name | Value (USD Millions) |
| --- | --- | --- |
| 1 | Non-fillet frozen fish | 262 |
| 2 | Crustaceans | 236 |
| 3 | Processed crustaceans | 103 |
| 4 | Fish fillets | 77.6 |
| 5 | Processed fish | 11.4 |