World Facts
The Tallest Statues In The World
Spring Temple Buddha, the tallest statue in the world is 420 ft high, and is located in Lushan County, Henan, China.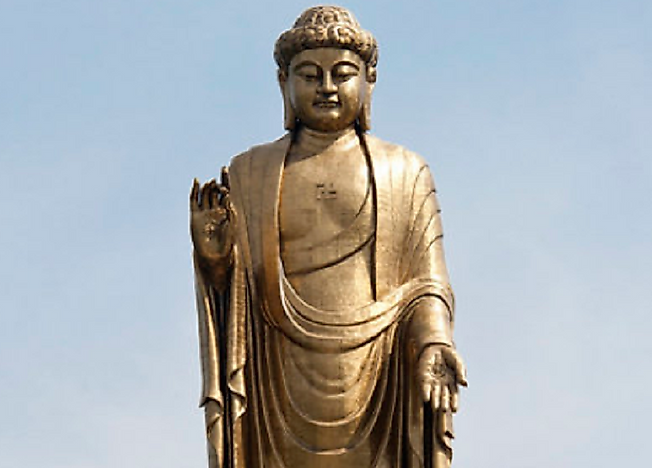 Statues are objects of artistic expression that represent abstract ideas and often allude to animals or people. Statues are of historical, religious, and cultural importance. Ancient people carved statues to mark historical events and in some cases burial rites. In ancient times soldiers used to construct statues with the belief that they had mysterious powers to ensure their victory in war. The significance of statues has evolved over the years and is viewed as an art form in the contemporary age. Some of the statues are kept in museums across the world in a bid to preserve culture. The tallest statues in the world include the Spring Temple Buddha, Laykyun Setkyar, Ushiku Daibutsu, Guyan Yin of South Sea in China, and the Emperors Yan and Huang statues.
China's Spring Temple Buddha The Tallest Statue In The World
The Spring Temple Buddha is the tallest statue in the world rising to 420 feet. Located in Lushan, Henan Province in China, it depicts the Vairocana Buddha. It was built from 1997 to 2008 using gold, copper, and steel by the Chinese government in response to the destruction of the Bamiyan Buddhas in Afghanistan by the Taliban. It was built in Henan because it is a destination of Buddhist pilgrimages, and assumes an important place in Chinese Buddhist history. Located amidst lush hills, it is a hub for tourists from all over the world. The Spring Temple Buddha has both religious and cultural importance.

Laykyun Setkyar
Laykyun Setkyar comes as the second tallest statue in the world depicting Gautama Buddha. It was built between 1996 and 2008 by Chief Abbot Ven. Narada who did not live to see its completion. It stands at 381 feet and is located in Monywa, Sagaing Division in Myanmar. It was built as a tribute to Buddha and predominantly has religious significance. A reclining Buddha lays beside it with thousands of paintings depicted various religious concepts inside it. The sheer size of the Laykyun Setkyar had made it a popular tourists' attraction.
Ushiku Daibutsu
The third tallest statue in the world is the Ushiku Daibutsu rising to 360 feet and weighing 4000 tons. It is in Ushiku city, Ibaraki Prefecture in Japan. It depicts the great Buddha of Ushiku, Amitabha Buddha. It is made of bronze, and its construction completed in 1995. It was constructed to mark the birth of Shinran who was central to founding the Pure Land Buddhism sect and is thus of an immense religious significance. The statue has three floors which are considered sacred and enhance visitor's experience.
Guan Yin of the South Sea of Sanya
The statue is the fourth tallest in the world standing at 354 feet and depicting Guanyin. Located in Sanya, Hainan in China, this statue was the product of a religious collaboration between monks and pilgrims from Hong Kong, Taiwan China, and Macao. The Chinese government gave the funds for the building of this mammoth statue. The statue was built with three faces to represent three religious symbols which are a sutra, a lotus, and a string of prayer beads. China profits handsomely from tourists visiting this statue.
Other Massive Statues
There are many statues across the world famed for their sheer size and splendor. Other tall statues across the world are Emperors Yan and Huang, which depicts Yan and Huang, Emperors of China. It stands at 348 feet and is in the Henan Province of China. At 330 feet stands the Sendai Daikannon depicting Kannon located in Miyagi Prefecture in Japan. Next, is the Qianshou Qianyan Guanyin of Weishan found in the Hunan Province in China it towers at 325 feet and depicts Guanyin. In Ang Thong, Thailand, Great Buddha of Thailand rises to 302 feet depicting Gautama Buddha. The Dai Kannon of Kita no Miyako Park represents Kannon and towering at 289 feet is in Hokkaido, Japan. The tenth tallest statue is the Grand Buddha at Ling, which depicts Amitabha Buddha. It is located in Wuxi, Jiangsu Province and stands at 289 feet. Statues serve historical, cultural and religious significance. After years of attracting tourists, statues are now being viewed as a booster for tourism. China, for example, plans to build more massive statues as an investment for the tourism sector.
The Tallest Statues In The World
| Rank | Statue | Depicts | Locations | Height |
| --- | --- | --- | --- | --- |
| 1 | Spring Temple Buddha | Vairocana Buddha | Lushan, Henan, China | 420.00 |
| 2 | Laykyun Setkyar | Gautama Buddha | Monywa, Sagaing Division, Myanmar | 381.00 |
| 3 | Ushiku Daibutsu | Amitabha Buddha | Ushiku, Ibaraki Prefecture, Japan | 360.00 |
| 4 | Guan Yin of the South Sea of Sanya | Guanyin | Sanya, Hainan, China | 354.00 |
| 5 | Emperors Yan and Huang | Yan and Huang, Emperors of China | Zhengzhou, Henan, China | 348.00 |
| 6 | Sendai Daikannon | Kannon (Guanyin) | Sendai, Miyagi Prefecture, Japan | 330.00 |
| 7 | Qianshou Qianyan Guanyin of Weishan | Guanyin | Weishan, Changsha, Hunan province, China | 325.00 |
| 8 | Great Buddha of Thailand | Gautama Buddha | Ang Thong, Thailand | 302.00 |
| 9 | Dai Kannon of Kita no Miyako park | Kannon (Guanyin) – Byakue Kannon | Ashibetsu, Hokkaidō, Japan | 289.00 |
| 10 | Grand Buddha at Ling Shan | Amitabha Buddha | Wuxi, Jiangsu Province, China | 289.00 |