Tallest Ferris Wheels In The World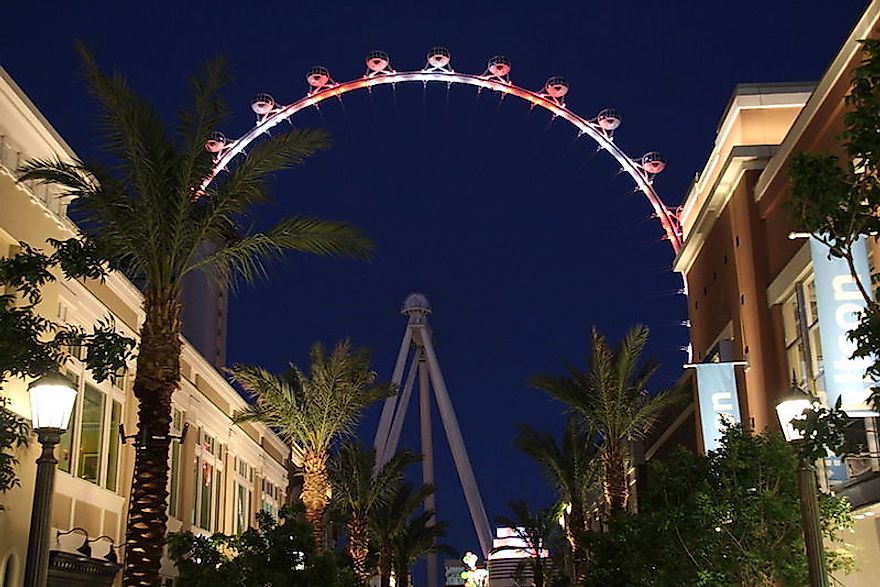 The History Of The Ferris Wheels
Ferris Wheels are rotating upright wheels made up of passage carrying components called passenger cabins attached to the rim in such a way that the passengers are kept upright as the wheel turns. Some of the modern Ferris Wheels have cars attached to them instead of passenger cabin with an electric motor which rotates each car while keeping it in the upright position. Ferris Wheels were invented in the 17th century in Bulgaria as passenger wheel when passengers rode while seated on a chair. Ferris Wheels were designed and constructed by George Washington Gale Ferris Jr in 1893. The Ferris Wheels have undergone through years of further modification and in 2014, the world's tallest Ferris wheel was opened to the public in Les Vegas, Nevada US. Ferris Wheels offer height and speed adventure to the tourists and locals around the world. Some of the tallest Ferris Wheels in the world include;
High Roller
High Roller is the tallest Ferris wheel in the world with the height of 550ft (167.6m) and 520ft in diameter. High Roller was opened to the public in 2014 and is situated on the Les Vegas Strip, Nevada US. The wheel rotates on spherical roller bearing weighing 8800kg. The passenger cabins are mounted on the wheels and are individually rotated. Each cabin weighs 20000kgs with a diameter of 6.7m. Initially, the ride was to cost $20 but the ticketing prices have increased to $30 as at 2013. In 2014, a 30 minutes ride cost $24.95 during the day and $34.95 during the night. An express pass ticket cost $54.95 and allows the rider to skip the line and ride at any time.
Singapore Flyer
Until 2014, Singapore Flyer was the world's tallest Ferris wheel in the world. However, the 541ft (165m) tall Ferris wheel is currently the second tallest after High Roller. It took 30 months to construct Singapore Flyer in Singapore. The Flyer is constructed on an area of 16000 square meters and designed to accommodate 7.3 million passengers in a year. Singapore Flyer has 28 air conditioned capsules mounted on the rim and provides an unobstructed view. The Flyer was opened to the public in 2008 when tickets sold for US$ 6271. Singapore Flyer has been a significant symbol for the Chinese cultural events with the tickets selling out during such events.
Star of Nanchang
Star of Nanchang in Nanchang, China, is 160m tall and was opened in 2006. This Ferris wheel has 60 enclosed air-conditioned gondolas carrying a total of 480 passengers when full. One rotation takes an average of 30 minutes while a passenger can embark or disembark without the wheel necessarily stopping
Ferris Wheels Of The Future
The demand for Ferris Wheels adventure has seen some of the cities upgrade their existing Ferris Wheels or construct one. Navy Pier Ferris Wheel in Branson, Chicago opened its door in May 2016 and is 196 ft tall. Dubai Eye Ferris Wheel which will be 210 meters and the worlds' largest has been approved for construction in Dubai. The Ferris will cost $1.6 billion to be constructed. New York Ferris Wheel is also expected to be one of the tallest in the world once completed. The wheel that is being constructed in St George will be 630 ft tall.
The Tallest Ferris Wheels In The World
| Rank | | Height m (ft) | Location | Country |
| --- | --- | --- | --- | --- |
| 1 | High Roller | 167.6 (550) | Las Vegas, Nevada | US |
| 2 | Singapore Flyer | 165 (541) | Marina Centre, Downtown Core | Singapore |
| 3 | Star of Nanchang | 160 (525) | Nanchang, Jiangxi | China |
| 4 | London Eye | 135 (443) | South Bank, Lambeth, London | UK |
| 5 | Redhorse Osaka Wheel | 123 (404) | Expocity, Suita, Osaka | Japan |
| 6 | Orlando Eye | 122 (400) | Orlando, Florida | US |
| 7 | Sky Dream Fukuoka | 120 (394) | Evergreen Marinoa, Fukuoka, Kyūshū | Japan |
| 8 | Zhengzhou Ferris Wheel | 120 (394) | Century Amusement Park, Henan | China |
| 9 | Changsha Ferris Wheel | 120 (394) | Changsha, Hunan | China |
| 10 | Melbourne Star | 120 (394) | Docklands, Melbourne | Australia |