Environment
Major Lakes In Bolivia
Lake Titicaca, the world's highest navigable lake, is located in Bolivia.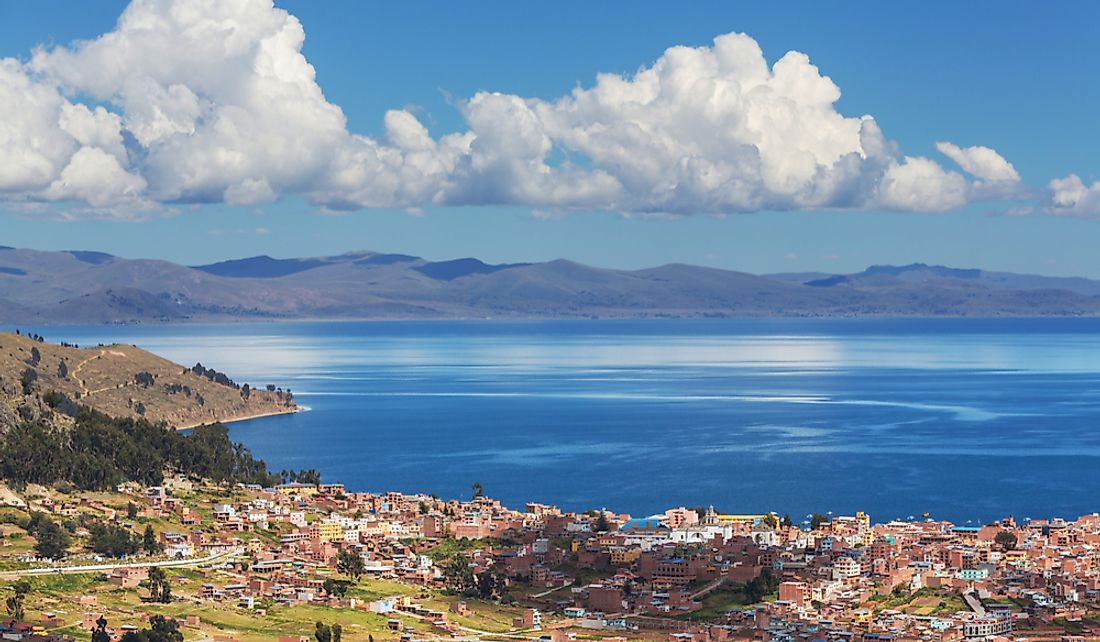 Bolivia is a country located in the western-central part of South America. The landlocked country has an area of 1,098,581 km2 and a population of 11,428,245. Bolivia contains three distinct physiographic regions: the Andean region, the Sub-Andean region, and the Llanos region. The country also contains three major drainage basins: the Amazon Basin, the Rio de la Plata Basin, and the Central Basin. Given Bolivia's diverse geography, the country features numerous lakes and salt flats. Salar de Uyuni is the largest salt flat in Bolivia and the world, and when it fills with rainwater becomes the country's largest lake. The largest permanent lake is Lake Titicaca.
Major Lakes and Salt Flats in Bolivia
Bolivia has many lakes, including the world's highest navigable lake, Lake Titicaca. Most of the lakes located in the Altiplano or Bolivian Plateau regions are salt-saturated lakes, while the eastern lowlands of Bolivia contain many oxbow lakes that formed in meandering rivers. The volume of water in many Bolivian lakes fluctuates throughout the year, and some are filled with water only during the summer. Additionally, many lakes in the Altiplano region have completely dried up several times throughout history. Most belong to the same endorheic basin that ultimately becomes a part of the Salar de Uyuni, which is the world's largest salt flat. Three of Bolivia's largest lakes and salt flats are highlighted below.
Salar de Uyuni
The Salar de Uyuni is a salt flat that encompasses an area of 10,582 km2, which makes it the largest salt flat in the world. Although not a lake in the true sense, as it lacks permanent water for most of the year, the Salar de Uyuni traces its origins to a massive prehistoric lake. It is located in Bolivia's Daniel Campos Province and sits at an elevation of 3,656 m above sea level. The salt flat has a crust of salt that is a few meters thick, which covers a pool of brine that has high levels of lithium, making the salt flat the world's largest lithium reserve. During rainfall, the entire salt flat fills with a thin layer of calm water that transforms the Salar into the world's largest mirror. Several species of flamingos breed in the region.
Lago Coipasa
Lago Coipasa is a lake located in the Atahualpa Province of Bolivia and is part of a massive salt flat that covers an area of more than 2,000 km2. Also called Coipasa Lake, the saline lake is situated at an elevation of 3,657 m above sea level and is only intermittently filled with water. It receives water from the Lauca River (Río Lauca) and is drained by the Lacajahuira River, which then enters Lake Poopó. The water levels of both rivers fluctuate seasonally and annually. Lago Coipasa serves as a major breeding ground for thousands of flamingos.
Lake Poopó
Located at an elevation of approximately 3,700 m in the Oruro Department, within Bolivia's Altiplano region, Lake Poopó is a saline lake that has dried up several times throughout its history. The lake bed is currently dry, and there is little hope that it will fill with water again in near the future due to the impacts of climate change. However, prior to drying up, about 1,000 km2 of the lake remained permanently filled with water, making Lake Poopó Bolivia's second largest lake.
The Largest Permanent Lake in Bolivia
Lake Titicaca is Bolivia's biggest lake that is permanently filled with water. Situated at an elevation of 3,812 m, it is the world's highest navigable lake, as well as the largest lake in South America. Lake Titicaca is located on the Peru-Bolivia border, at the northern end of the Altiplano basin, within the Andes mountains. Lake Titicaca has a surface area of 8,372 km2, of which 3,790 km2 is located in Bolivia, and a maximum depth of 281 m. Numerous mountain rivers and streams feed Lake Titicaca, while the Desaguadero River is its primary outflow. A large volume of Lake Titicaca's water is also lost through evaporation.
About the Author
Oishimaya is an Indian native, currently residing in Kolkata. She has earned her Ph.D. degree and is presently engaged in full-time freelance writing and editing. She is an avid reader and travel enthusiast and is sensitively aware of her surroundings, both locally and globally. She loves mingling with people of eclectic cultures and also participates in activities concerning wildlife conservation.
This page was last updated on April 15, 2019.
Citations
Your MLA Citation
Your APA Citation
Your Chicago Citation
Your Harvard Citation
Remember to italicize the title of this article in your Harvard citation.