Environment
The Tallest Mountains in Japan
While Japan has many peaks exceeding 10,000 feet in elevation, 12,388-foot Mount Fuji is unmatched.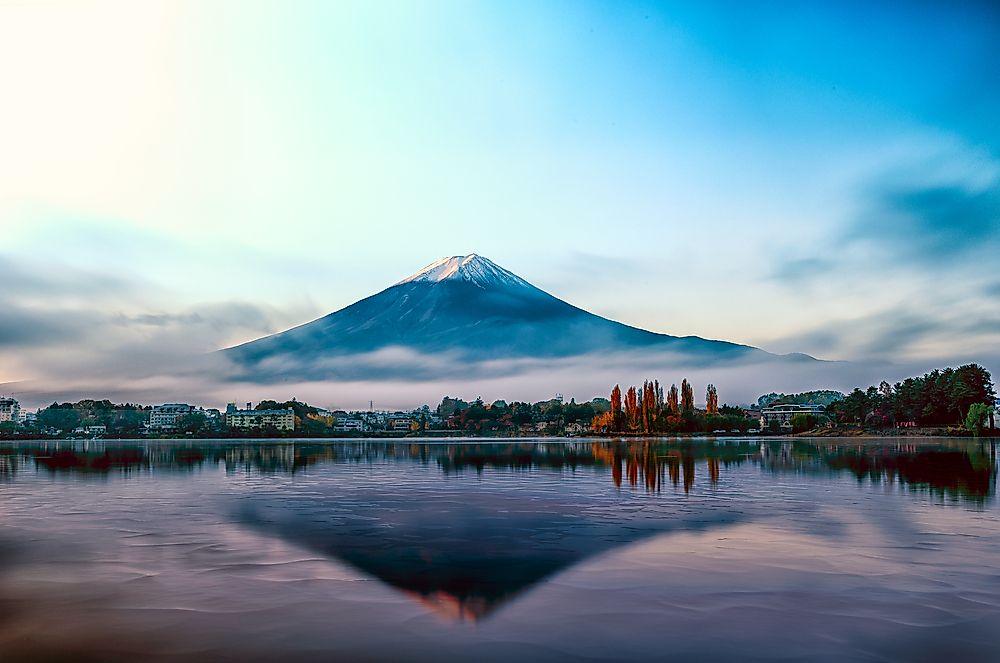 Nearly three-quarters of Japan is mountainous, with a heavily forested mountain range running through each of its major islands. Japan's highest mountain is Mount Fuji, with an elevation of 12,388 feet. It is located on Honshu Island. The rest of the country's major summits can be found in Chubusangaku National Park and Minami Alps National Park, otherwise known as Japan's Northern and Southern Alps. 
Mount Fuji
Mount Fuji is the most well-known natural attraction in all of Japan. Mount Fuji's beautifully symmetrical, snow-capped cone, visible all the way from Tokyo, has inspired artists, poets, and photographers, and has been attracting pilgrims, sightseers and climbers for centuries. Hundreds of thousands of people climb the mountain each year, typically in July and August, and patronize the many hospitality facilities along the mountain trail. The area is also home to 25 UNESCO World Heritage sites.
Mount Kita
Mount Kita stands 10,476 feet tall in the Yamanashi Prefecture. Mount Kita is commonly used for recreation and is home to some tourist infrastructure such as camping facilities. The mountain itself is found within Minami Alps National Park. 
Mount Okuhotaka 
Mount Okuhotaka is found in the Hotaka Mountain Range of Japan. At 10,466 feet, it ranks as the third-highest peak in the country. It is possible to climb the mountain outside of snowy periods. 
Mount Aino
Mount Aino is the country's fourth-highest peak. It rises to a height of 10,463 feet. It is part of the Japanese Alps. 
The Highest Mountains In Japan
| Rank | Highest Mountains in Japan | Elevation |
| --- | --- | --- |
| 1 | Mount Fuji | 12,388 feet |
| 2 | Mount Kita | 10,476 feet |
| 3 | Mount Okuhotaka | 10,466 feet |
| 4 | Mount Aino | 10,463 feet |
| 5 | Mount Yari | 10,433 feet |
| 6 | Mount Warusawa | 10,305 feet |
| 7 | Mount Akaishi | 10,236 feet |
| 8 | Mount Karasawa | 10,203 feet |
| 9 | Mount Kitahotaka | 10,190 feet |
| 10 | Mount Obami | 10,174 feet |
This page was last updated on August 21, 2019.
Citations
Your MLA Citation
Your APA Citation
Your Chicago Citation
Your Harvard Citation
Remember to italicize the title of this article in your Harvard citation.