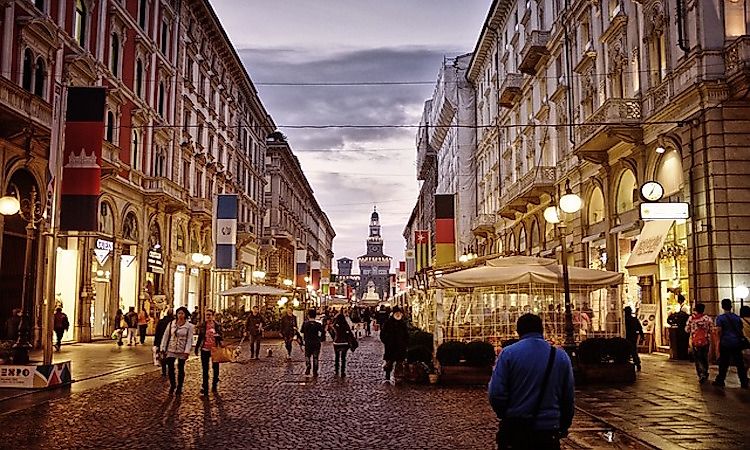 The economy of Italy is based on capitalism, which means that privately-owned organizations determine which products they will produce without strict government regulation. Its economy is the 8th largest in the world when measured by gross domestic product (GDP). It is also the 3rd largest economy in the Eurozone, which are the European Union countries that utilize the Euro as the national currency. The residents in this country generally enjoy a high quality of life per the Human Development Index. Additionally, Italy owns the third largest gold reserve in the world.
For 2016, the country has reported a nominal GDP of $1.86 trillion and a GDP per capita of $30,540. Italy has a workforce of 25.7 million and an unemployment rate of 11.4%. Of its employed individuals, 68% work in the services industry. This is followed by 28% in industry and 4% in agriculture.
Leading Industries Of Italy
This country has a diverse economy that revolves around several industries. Italy is well known for its business, agriculture, and luxury automobile sectors. In fact, it has the largest luxury goods market in Europe. Its other important industries include plastics, cement, iron and steel, shipbuilding, space and aircraft, textiles, fashion, and tourism.
Top Export Goods And Export Partners Of Italy
This country exported $509 billion worth of goods in 2014, making it the 8th largest export economy in the world. Some of its major exports include packaged medicines ($22.9 billion), refined petroleum ($16.7 billion), vehicle parts ($14.3 billion), cars ($12.1 billion), and valves ($9.3 billion). A large percentage of its exports go to the following countries: Germany ($61.3 billion), France ($49.8 billion), the US ($40.8 billion), the UK ($28.1 billion), and Switzerland ($22.5 billion).
Top Import Goods And Import Partners Of Italy
In 2014, the imports to Italy totaled $466 billion, which gave it a positive trade balance of $43.5 billion. The principal goods coming into this country, include crude petroleum ($38 billion), cars ($22.9 billion), petroleum gas ($21.6 billion), packaged medicines ($14.9 billion), and refined petroleum ($12.6 billion). Most of these imports originate in these countries: Germany ($70.2 billion), France ($39.5 billion), China ($33.2 billion), the Netherlands ($27.3 billion), and Russia ($22.9 billion).
Challenges Faced By The Economy Of Italy
After World War II, the economy of Italy moved away from agriculture and into industrialization. During the post-war period and up to 1990, its economy grew slower than other European nations. The recession of the latter 2000's was particularly hard on the economy here. Today, this country carries a high debt and has a significant gap between the rich and the poor. The Economic Freedom Index of 2015 cited Italy as having high taxes, a slow legal system, and strict labor laws.
Future Economic Plans
The country's current prime minister plans to cut business taxes and increase public investments in an attempt to increase economic performance. The plan also includes operating at a deficit of 2.3% of the GDP. Additionally, the government hopes to increase retirement pensions and offer early retirement programs. The objective behind this initiative is to increase consumer spending and to secure jobs for younger generations. Additionally, the country will be investing in post-earthquake rebuildings, which should create more jobs as well.