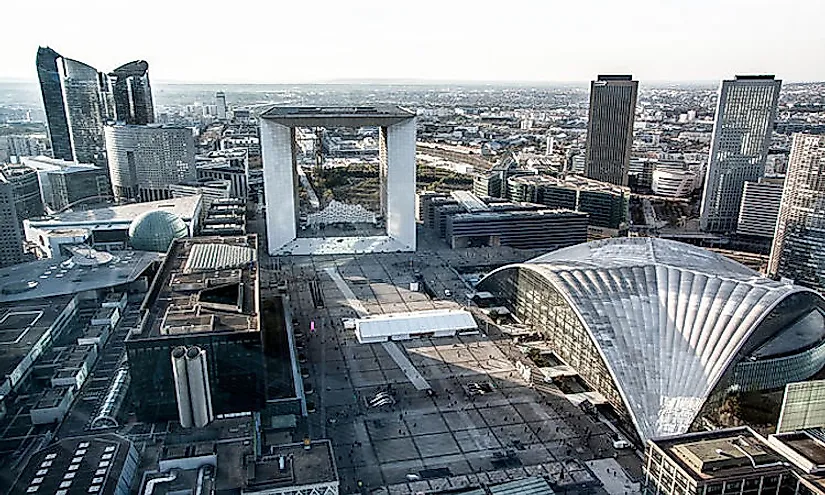 France has the world's sixth largest economy by nominal figures and the third largest economy in Europe. The country has a mixed economic system, characterized by both private and public sectors. The service sector contributes over 70% of the nation's GDP and includes public transportation, tourism, defense, energy, and telecommunication. France, being a member of the European Union, has a ready market in member states which consume 49% of its exports. The country's capital city of Paris is home to the headquarters for the Organization for Economic Co-operation and Development (OECD), established to promote external trade and economic progress between member states.
Overview Of The Economy Of France
France boasts a $2.5 trillion nominal GDP to rank 6th in the world and a GDP per capita of $38,000. Contribution by sector to the national GDP is valued as follows: services (79.8); agriculture (1.9%), and industry (18.3%). The country recorded a GDP growth rate of 1.2% in 2015 and 1.5% in 2016. The inflation rate in France stands at 0.7%, while 7.7% of the population is estimated to live below the poverty line. A labor force of 30 million is distributed as follows: agriculture (3.9%); industry (24.3%), and services (71.8%). The unemployment rate stands at 9.9% while that for metropolitan France is estimated at 9.6%. The country's expenses are estimated at $1.5 trillion and revenues at $1.3 trillion. France's public debt stands at 90% of GDP, and it is ranked 34th on account of ease of doing business.
Main Industries Of France
The leading industries in the country are dominated by products ranging from machinery, metals, chemicals, automobiles, aircraft, textiles, cosmetic and luxury goods, and electronics. Food processing is also a major industry in France for products such as wine and cheese. France has one of the biggest tourism industries in Europe, attracting more than 80 million tourists every year. Nuclear energy contributes nearly 78% of the country's electricity, and this has made France one of the leading nations in the world in nuclear energy.
Main Exports And Export Partners Of France
The country earned $ 0.5 trillion from exports in 2015. The top export goods are aircraft, machinery, chemicals, equipment, iron and steel, plastics, pharmaceuticals, and beverages. Germany is the top export partner for France, importing 16.7% of the country's goods followed by Belgium (7.5%), Italy (7.5%), and Spain (6.9%).
Main Imports And Import Partners Of France
France imported goods worth $0.66 trillion in 2012. Imports to France are dominated by machinery and equipment, aircraft, automobiles, crude oil, chemicals, and plastics.
The country's main import partners are Germany (19.5%); Belgium (11.3%); Italy (7.6%); Netherlands (7.4%), and Spain (6.6%).
Challenges To The Economy Of France
A stagnant labor market and high unemployment rates have been significant challenges in the country's economy. France's rigid regulations on account of the labor code have hampered innovation and competitiveness. The unemployment rate is particularly high among the young population. Government spending is a major concern in France, with government expenses accounting for 57% of the country's GDP. The government debt has been rising over the past years while the budget deficit continues to increase.
Future Plans
France's leadership has embarked on measures to reform the labor market in the country. The reforms are expected to make it easier for young people to gain entry into the job market and thus deal with the unemployment issues. The European Union and the OECD have advised France on ways to reduce government spending.