The Coldest Cities In Russia
Khabarovsk is Russia's coldest city, but its coldest region is Oymyako and is home to about 500 people.
The second and third coldest Russian cities are Novosibirsk and Omsk.
Much of Russia has a continental climate, so its winters are cold and dry, but summer is still warm and humid.
Climate In Russia
Khabarovsk is the coldest among the 25 largest cities in Russia, with an average winter temperature of -7.6 degrees Fahrenheit (-22 Celsius). Russia is an extensive country, and different regions experience different climatic conditions at any given time. The country is characterized by a number of continental zones. In the Northern and Far East regions, for example, winters are long and harsh. Winters in Russia are characterized by snow, frost, snowstorms, and winter chills.
Which Are The Top Four Coldest Major Cities Of Russia?
Khabarovsk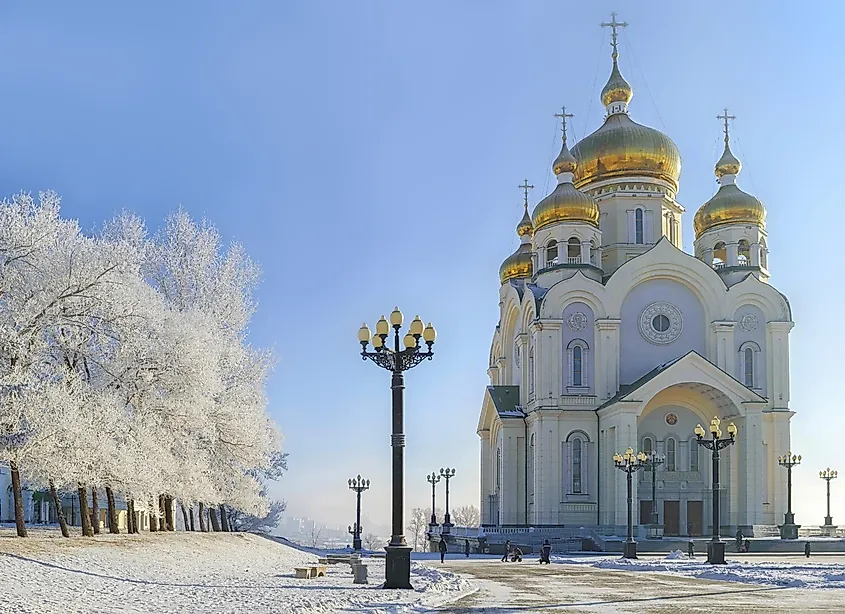 The coldest city in Russia is Khabarovsk, with an average winter temperature of -7.6 degrees Fahrenheit (-22 Celsius). The city lies in Russia's Far East region, and it is home to an estimated 633,151 inhabitants. Khabarovsk has a continental climate marked by cold and dry winters and warm and humid summers. The city's winter months are November, December, January, and February. Snowfall during this period is light, and its average maximum height is estimated at 5 inches (13 cm). The lowest temperature during winter is recorded on January 17, when temperatures fall to -13 degrees Fahrenheit (-25 Celsius).
Novosibirsk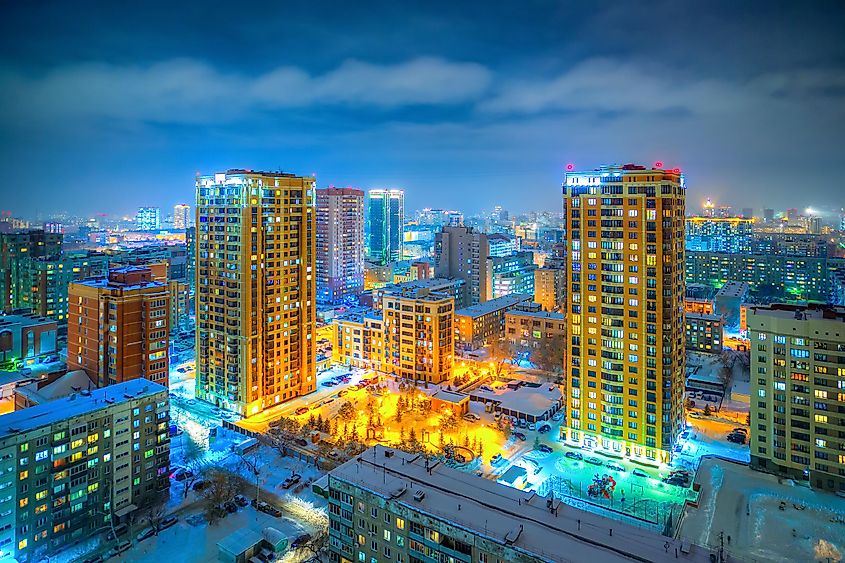 The city of Novosibirsk lies in proximity to the Ob River Valley in Siberia's southwestern region. It serves as the administrative center of Novosibirsk Oblast. The city's weather is classified as a humid continental climate marked by warm summers. The climatic conditions in the city are typical of the rest of Siberia. The winter season lasts from November to February with an average temperature of -4 degrees Fahrenheit (-20 Celsius). On the coldest days, temperatures fall to between -22 and -31 degrees Fahrenheit (-30 to -35 Celsius). Several reasons have been put forward to explain the cold temperatures in the city. One, the city's northern region lacks tall mountains to block freezing Arctic winds. The other reason is the absence of an ocean near the city. Despite the harsh winter temperatures, Novosibirsk is densely populated, with inhabitants totalling 1,663,750.
Omsk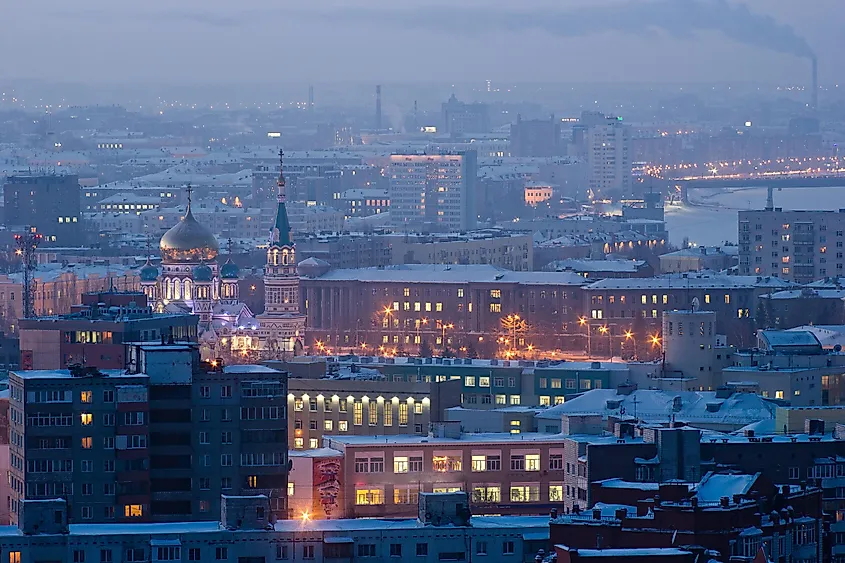 The Russian city of Omsk is located in the southwestern part of Siberia, and it serves as the administrative center of Omsk Oblast. It is the country's seventh-largest city with a population estimated at 1,182,340 inhabitants. It is also one of Russia's coldest cities with an average winter temperature of -4 degrees Fahrenheit (-20 Celcius). Omsk has a dry and continental climate marked by dynamic changes in weather conditions. The city has long winter months, and temperatures can fall to as low as -31 degrees Fahrenheit (-35 Celsius).
Chelyabinsk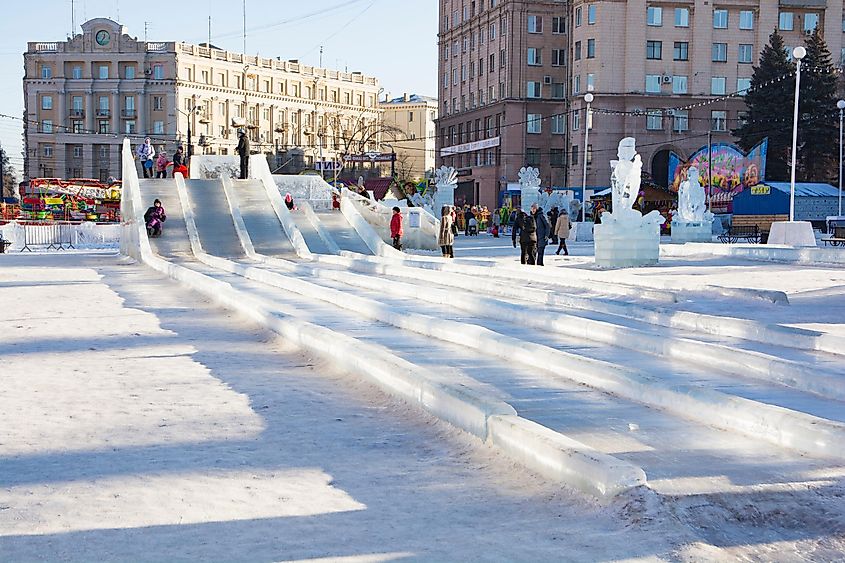 Chelyabinsk city is at the center of administration in Chelyabinsk Oblast. It lies east of the Ural Mountains, and it is home to 1,062,920 inhabitants. Chelyabinsk has a moderate continental climate. The winter season in the city begins in November and extends all the way to March. The average winter temperature is recorded at -0.4 degrees Fahrenheit (-18 Celsius). January is the coldest month and temperatures average at 3.7 degrees Fahrenheit (-15.7 Celsius). The city's numerous industrial plants make it one of the most polluted Russian cities.
The Coldest Place In Russia
Oymyako is a rural locality in Russia found near River Indigirka. The region is one of the coldest and permanently inhabited regions on the whole planet. The population of Oymyako stands at 500 people, and the region lies 2,460 feet (750 m) above sea level. Oymyako experiences daylight for three hours in December and 21 hours in June. The ground surface is permanently frozen, and in 1924 it recorded -96 degrees Fahrenheit (-71.2 Celsius), which is the lowest ever recorded temperature in a habited place.
The Coldest Cities In Russia
| Rank | City | Average Winter Temp (°C) |
| --- | --- | --- |
| 1 | Khabarovsk | -22.0 |
| 2 | Novosibirsk | -20.0 |
| 3 | Omsk | -20.0 |
| 4 | Chelyabinsk | -18.0 |
| 5 | Krasnoyarsk | -18.0 |
| 6 | Tolyatti | -18.0 |
| 7 | Yekaterinburg | -17.0 |
| 8 | Volgograd | -16.0 |
| 9 | Barnaul | -15.5 |
| 10 | Nizhny Novgorod | -15.0 |
| 11 | Perm | -15.0 |
| 12 | Irkutsk | -15.0 |
| 13 | Samara | -14.0 |
| 14 | Kazan | -14.0 |
| 15 | Ufa | -14.0 |
| 16 | Izhevsk | -14.0 |
| 17 | Vladivostok | -14.0 |
| 18 | Moscow | -13.0 |
| 19 | Saratov | -12.0 |
| 20 | Ulyanovsk | -11.0 |
| 21 | Yaroslavl | -11.0 |
| 22 | Saint Petersburg | -10.0 |
| 23 | Rostov-on-Don | -7.0 |
| 24 | Krasnodar | -7.0 |
| 25 | Voronezh | -6.0 |