Travel
The Busiest Airports In Russia
The Sheremetyevo International Airport located in Moscow is the busiest airport in Russia.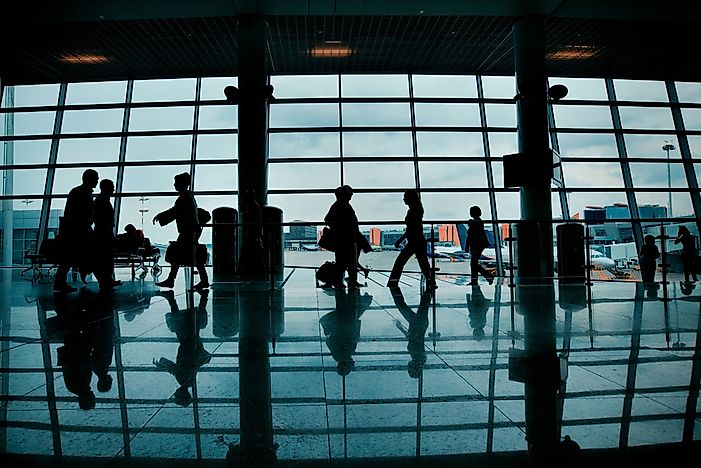 In a country that is as big as Russia, air transportation is of a more necessity than a luxury. Russia is one of the countries with the highest number of airports in Europe. Many areas of Russia enjoy air coverage with a total of 1260 airports spread across the cities of the country. However, not all the airports in Russia have regularly scheduled flights. 70 airports are considered to be international airports offering a wide range of airline services. Most of the airports in Russia record high passenger traffic throughout the year because of the cheap air travel. Some of the busiest airports in Russia are;

Sheremetyevo International Airport
Sheremetyevo Airport is among the three major airports serving Moscow. SVO is the busiest airport in Russia by passenger numbers having handled 33.6 million passengers and over 256,000 aircraft movements in 2015. Sheremetyevo International Airport was originally built as a military airport and became operational in October 1957. It was turned into a civilian airport in 1959 with the first international flight taking off on June 1, 1960. The airport has four passenger terminals and one private terminal.
Domodedovo International Airport
Domodedovo International Airport is located southeast from the center of Moscow. It is named after the town of Domodedovo in which it is located. The airport is among the three major airports in Moscow and one of the largest airports in Russia by passenger and cargo traffic. In 2016, it served over 28.5 million passengers, down from 30.5 million in 2015, making it the second busiest airport in Russia. Domodedovo International Airport is a Moscow's only privately owned airport. It began its operation in March 1964 but was officially opened in May 1965. The airport serves several airlines including Air Arabia, Emirates, Etihad, FlyOne, and Rusline among other airlines.
Vnukovo International Airport
Vnukovo International Airpor is known for its dual-runway. It is among the three major international airports in Moscow and one of the busiest in Russia. In 2016, it served over 14 million passengers, down from 15.8 million in 2014. Vnukovo International Airport is the oldest airport in operation in Moscow. It was originally meant to be used by the military during the World War II but was converted to a civilian airport after the war. It was opened in 1941 but made its first passenger flight in September 1956. Vnukovo International Airport has several terminals including two passenger terminals namely terminals A and B, an aviation terminal, a cargo terminal, and 60 aircraft stands.
Pulkovo Airport
Pulkovo Airport is the busiest airport outside of Moscow. It is located in Saint Petersburg. It serves the residents of St. Petersburg and Leningrad Oblast. The airport was officially opened in 1932 as a state-owned domestic airport. In 2016, 13.2 million passengers traveled through Pulkovo Airport. It serves as a hub for the Rossiya Airline but also serves several other airlines including Air France, Air Astana, British Airways, Emirates, and RusLine. The airport has three terminals, Pulkovo 1 used as domestic transit, Pulkovo 2 used by government officials, and Terminal 1 which serves as the main terminal.
The Busiest Airports In Russia
| Rank | Airport | Region | City | IATA code | Passengers 2016 |
| --- | --- | --- | --- | --- | --- |
| 1 | Sheremetyevo International Airport | Moscow Moscow Oblast | Moscow | SVO | 33,679,052 |
| 2 | Domodedovo International Airport | Moscow Moscow Oblast | Moscow | DME | 28,537,243 |
| 3 | Vnukovo International Airport | Moscow | Moscow | VKO | 14,012,058 |
| 4 | Pulkovo Airport | Saint Petersburg Leningrad Oblast | Saint Petersburg | LED | 13,265,037 |
| 5 | Sochi International Airport | Krasnodar Krai | Sochi | AER | 5,262,754 |
| 6 | Simferopol International Airport | Republic of Crimea | Simferopol | SIP | 5,201,690 |
| 7 | Koltsovo Airport | Sverdlovsk Oblast | Yekaterinburg | SVX | 4,300,738 |
| 8 | Tolmachevo Airport | Novosibirsk Oblast | Novosibirsk | OVB | 4,097,566 |
| 9 | Pashkovsky Airport | Krasnodar Krai | Krasnodar | KRR | 3,002,121 |
| 10 | Ufa International Airport | Bashkortostan | Ufa | UFA | 2,318,434 |
| 11 | Rostov-on-Don Airport | Rostov Oblast | Rostov on Don | ROV | 2,094,953 |
| 12 | Kurumoch International Airport | Samara Oblast | Samara | KUF | 2,091,818 |
| 13 | Kazan International Airport | Tatarstan | Kazan | KZN | 1,923,223 |
| 14 | Khabarovsk Novy Airport | Khabarovsk Krai | Khabarovsk | KHV | 1,869,096 |
| 15 | Vladivostok International Airport | Primorsky Krai | Vladivostok | VVO | 1,850,311 |
| 16 | Yemelyanovo Airport | Krasnoyarsk Krai | Krasnoyarsk | KJA | 1,822,877 |
| 17 | Mineralnye Vody Airport | Stavropol Krai | Mineralnye Vody | MRV | 1,731,558 |
| 18 | Irkutsk Airport | Irkutsk Oblast | Irkutsk | IKT | 1,708,894 |
| 19 | Khrabrovo Airport | Kaliningrad Oblast | Kaliningrad | KGD | 1,570,854 |
| 20 | Roschino International Airport | Tyumen Oblast | Tyumen | TJM | 1,530,549 |