Environment
The Biggest National Parks In England And Wales
England's Lake District National Park with spectacular forests, lakes, and mountains, is a popular tourist destination.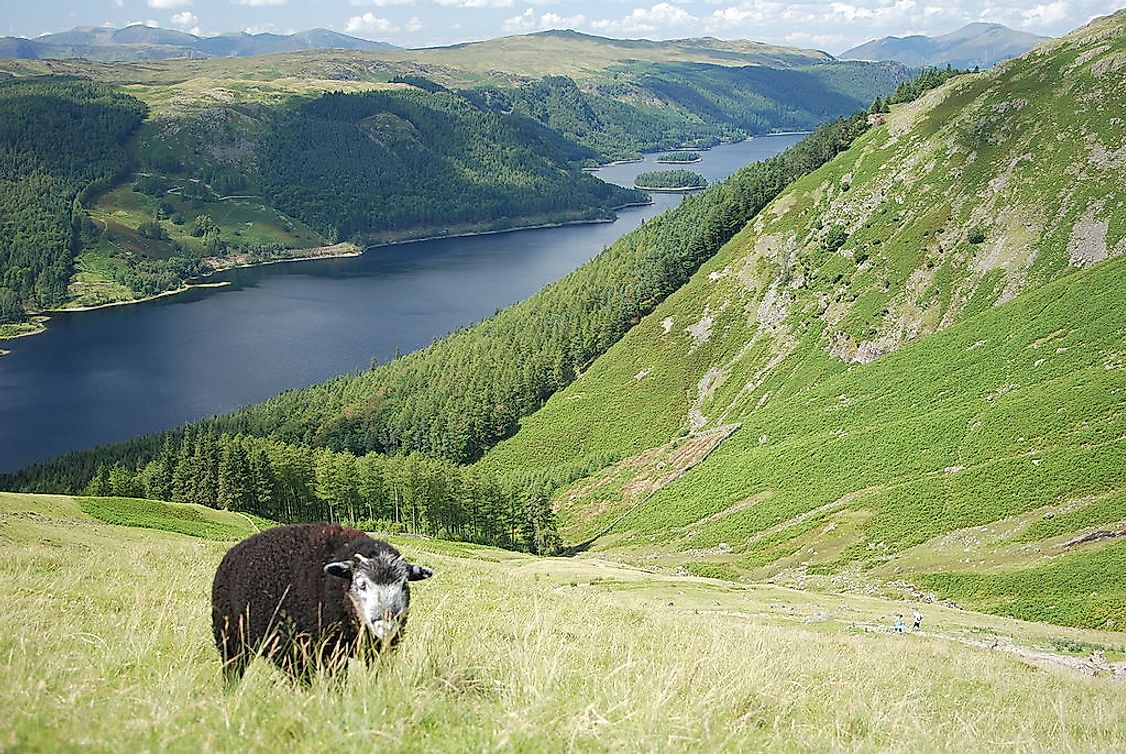 Wales and England are endowed with a variety of flora and fauna ranging from beautiful parks that are home to some of the native wildlife in Europe to some of the highest mountains in the United Kingdom. In 1949, an act was passed that allowed the public to access such beautiful sceneries in the UK while preserving and protecting such habitats from human invasion and activities. Some of the areas that were protected under the act are the biggest National Parks in England and Wales. They include the Lake District National Park, Snowdonia, Yorkshire Dales, and South Downs among others.
The Biggest National Parks In England And Wales
The Lake District National Park
The Lake District is a hilly region with the evidence of colliding continents, tropical seas, and deep oceans. It is a mountainous region in the North West part of England. The area is a popular holiday destination because of the numerous large and deep lakes with the highest peak in England. The Lake District was designated a National Park on May 9, 1951, with the aim of protecting the landscape by controlling unwelcome industrial activities. Lake District is largely a limestone pavement and is made up of mires, upland heath, lakeshore wetland, and dunes. The whole Lake District National Park covers an area of 884.9 square miles (2,292 square Kilometers)
Snowdonia (Welsh: Parc Cenedlaethol Eryri)
Snowdonia is the second biggest national park in Britain established in 1951. It covers an area of about 827 square miles (2140 square kilometers) and includes a coastline of 37 miles (60 km). Snowdonia Park, which is in Wales Gwynedd, is managed by the Snowdonia National Park Authority, which comprises the local government and Welsh representatives. Snowdonia is divided into four areas northernmost areas comprising of Snowdon Massif, Glyderau, and Carneddau mountains and the second part forms the peaks like the Moel Siabod, Moelwynion, and Cnicht. The third area is the remote areas of Rhinogydd and Magnet while the fourth regions comprise of Dyfi and Aran Fawddwy Mountain the highest mountain in the UK. Snowdonia is mostly known to provide hikers with perfect and safe hiking mountains
Yorkshire Dales
Yorkshire Dales, which comprised of hills and valleys rising from Vale of York to the hilltop of Pennine watershed, was established in 1954. Dales is an upland area of England North Yorkshire Cumbria and covers an area of 683 square miles (1769 square km). Dales boasts of Millstone Grit-capped three peaks, deep valleys, limestone scenery, and extensive Moorland plateau. Dales is also known for its glacial and post-glacial landforms and post-glacial lakes like Malham Tarn and Semerwater. The majority of tourists who visit Yorkshire Dales are sightseers while a few are hikers.
South Downs
South Downs was established in 2011 when it became a fully operational National Park. The park which is in England runs through the counties of East Sussex, Hampshire, and West Sussex covering an area of 633.6 square miles (1641 square km) and is under the administration of South Downs National Park Authority. South Downs Park consists of chalk downland, sandstone, and clay. The chalk was formed from Late Cretaceous Epoch. The park was established to conserve natural heritage and enhance natural wildlife, beauty, and to promote tourism in the area.
The Pride Of England and Wales
England and Wales have a total of thirteen areas designated as national parks under the management of the various National Park Authorities. The national parks authorities are mandated with the role of conserving and enhancing the natural beauty, cultural heritage and wildlife of the national park as enshrined in the Environment Act 1995. The NPA have partnered with other organizations such as National Trust to address issues threatening the existence of these parks.
The Biggest National Parks In England And Wales
| Rank | Name | Country / County | Area |
| --- | --- | --- | --- |
| 1 | Lake District | England Cumbria | 2,292 square kilometres (884.9 sq mi) |
| 2 | Snowdonia (Welsh: Parc Cenedlaethol Eryri) | Wales Gwynedd Conwy | 2,142 square kilometres (827.0 sq mi) |
| 3 | Yorkshire Dales | England North Yorkshire; Cumbria | 1,769 square kilometres (683.0 sq mi) |
| 4 | South Downs | England East Sussex; Hampshire; West Sussex | 1,641 square kilometres (633.6 sq mi) |
| 5 | Peak District | England Derbyshire Cheshire Greater Manchester Staffordshire South Yorkshire West Yorkshire | 1,438 square kilometres (555.2 sq mi) |
| 6 | North York Moors | England North Yorkshire type:landmark source:dewiki | 1,436 square kilometres (554.4 sq mi) |
| 7 | Brecon Beacons (Welsh: Bannau Brycheiniog) | Wales Blaenau Gwent, Carmarthenshire, Merthyr Tydfil, Powys, Rhondda Cynon Taf, Monmouthshire, Torfaen, Caerphilly | 1,351 square kilometres (521.6 sq mi) |
| 8 | Northumberland | England Northumberland | 1,049 square kilometres (405.0 sq mi) |
| 9 | Dartmoor | England Devon | 956 square kilometres (369.1 sq mi) |
| 10 | Exmoor | England Somerset;Devon | 693 square kilometres (267.6 sq mi) |
About the Author
Benjamin Elisha Sawe holds a Bachelor of Arts in Economics and Statistics and an MBA in Strategic Management. He is a frequent World Atlas contributor. 
This page was last updated on April 25, 2017.
Citations
Your MLA Citation
Your APA Citation
Your Chicago Citation
Your Harvard Citation
Remember to italicize the title of this article in your Harvard citation.