Economics
The Biggest Coffee Shop Chains In Europe
Costa Coffee is the coffee shop chain with the highest number of units in Europe.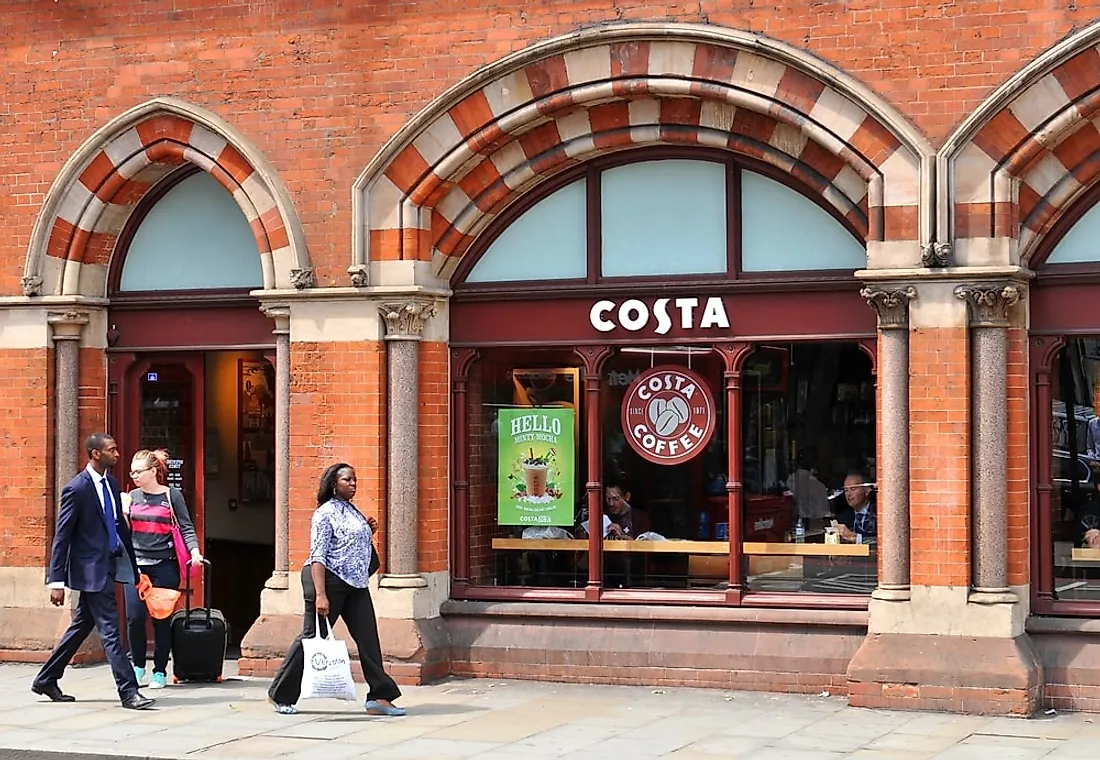 Coffee is one of the world's most popular beverages. All of the world's ten top coffee consuming nations are located in Europe. Therefore, it not surprising that most of the world's leading coffee store chains run a thriving business in the continent. Below are the biggest coffee shop chains in Europe ranked by the number of units located in the continent.
1. Costa Coffee - 2,512 Locations
A British multinational coffeehouse, Costa Coffee is the world's second-biggest coffee shop chain after the American Starbucks Costa Coffee is also the biggest of its kind in Europe. The company is a is owned by Whitbread and is headquartered in Dunstable, Bedfordshire, UK. The company was started in London in 1971 by the Costa family. Initially, it was a wholesale business that sold roasted coffee to Italian coffee shops and caterers. Whitbread bought the company in 1995 and opened stores of Costa Coffee worldwide. It now has 3,401 stores in 31 countries of the world. It had 2,512 stores operating in Europe by 2016.
2. Starbucks - 2,216 Locations
An American company, Starbucks is the second largest coffee shop chain in Europe by the number of units. 2,216 units of Starbucks operate in Europe. The company was opened in 1971 in Seattle, Washington. 27,339 units of the coffee store operate worldwide. Tokyo was the first location of a Starbucks store outside North America. Besides coffee, Starbucks also serves snacks, fresh juices, teas, tea products, etc. Pre-packaged food items and drinkware like tumblers and mugs are also sold in some stores.
3. McCafé - 2,058 Locations
With 2,058 units, McCafé is the third largest coffee shop chain in Europe. The chain, owned by McDonald's, was first launched in Australia's Melbourne in 1993. By 2003, it became Australia and New Zealand's biggest coffee shop brand and earned greater profits than regular outlets of McDonald's. In Europe, the first shop opened in France in 2004 and in Italy the next year. Besides coffee, the McCafé shops also sell other beverages and food.
4. Tchibo - 840 Locations
Europe's fourth-biggest coffee shop chain, Tchibo, has its origins in the continent itself. It is a German chain of cafés and coffee retailers with 840 units across Europe. The headquarters of Tchibo is located in Hamburg. The chain's products are not limited to just coffee or other beverages but it is an ever-expanding company selling products like clothing, electronics, and electrical goods, household goods, etc. Coffee manufactured by this company is also sold in supermarkets in many countries of the world.
5. Caffè Nero - 685 Locations
Headquartered in London, Caffè Nero is a European style coffee store chain. Gerry Ford founded the company in 1997. Currently, the brand has 825 coffee houses worldwide including 685 cafes in Europe alone. The company caters to the needs of the farmers by purchasing coffee from traders who are in direct contact with the farmer, at a fair price. The company also encourages the development of the coffee communities. The first branch of the coffee shop chain was established in Old Brompton Rd, South Kensington. Since then, the company has grown fast and believes that this success is influenced by its ability to supply the tastiest coffee to the customers.
The Biggest Coffee Shop Chains In Europe
| Rank | Coffee shop chain | Number of units in Europe, 2016 |
| --- | --- | --- |
| 1 | Costa Coffee | 2,512 |
| 2 | Starbucks | 2,216 |
| 3 | McCafé | 2,058 |
| 4 | Tchibo | 840 |
| 5 | Caffè Nero | 685 |
| 6 | Shokoladnitsa | 360 |
| 7 | Coffee Island | 353 |
| 8 | Gregory's | 313 |
| 9 | Espresso House | 255 |
| 10 | Everest | 237 |
About the Author
Oishimaya is an Indian native, currently residing in Kolkata. She has earned her Ph.D. degree and is presently engaged in full-time freelance writing and editing. She is an avid reader and travel enthusiast and is sensitively aware of her surroundings, both locally and globally. She loves mingling with people of eclectic cultures and also participates in activities concerning wildlife conservation.
This page was last updated on April 9, 2018.
Citations
Your MLA Citation
Your APA Citation
Your Chicago Citation
Your Harvard Citation
Remember to italicize the title of this article in your Harvard citation.