Economics
The Biggest Buyers of US Arms
Saudi Arabia is the biggest buyer of US military equipment.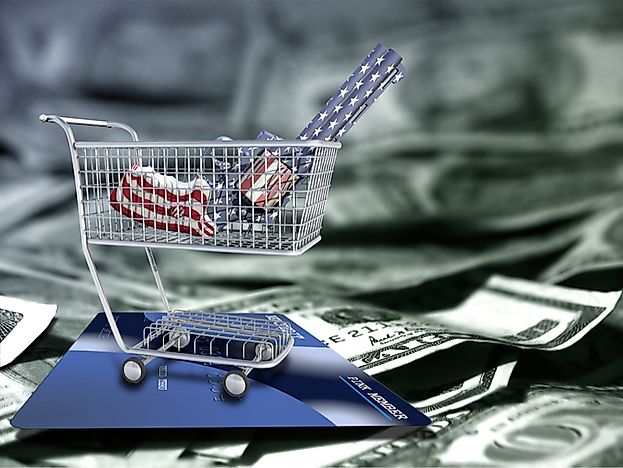 US Arms Sales
The global arms trade has increased over the last decade. Between 2011 and 2015, experts suggest the sale of weapons around the world increased by 14%. Currently, the global arms trade, which includes everything from tanks to fighter jets, is at its highest since the Cold War era. One of the biggest providers of these weapons is the United States, which exports roughly 33% of all arms on the global market.
In 2014, for example, the United States reported $36.2 billion in arms deals, which is an increase of nearly $10 billion over 2013 export totals. Where exactly are these weapons going? This article takes a closer look at which countries were the biggest buyers of US arms in 2016, according to trend-indicator value (TIV), as reported by the Stockholm International Peace Research Institute. TIV represents the production cost of arms, rather than the market value.
The Top Buyers of US Arms
1. Saudi Arabia
Saudi Arabia is by far the biggest buyer of US arms and military weapons. In 2016 alone, the country received $1.908 billion worth of arms, which is more than double the amount imported by the second largest buyer. Since 2011, the total value is closer to $6.5 billion, or nearly 10% of all US weapons exports. In terms of market value, some experts suggest that Saudi Arabia has purchased approximately $90 billion in US arms between 2010 and 2015. Saudi Arabia uses these arms for several military endeavors, including interventions in nearby Yemen. In 2017, the US and Saudi Arabia signed what is considered the largest arms trade deal in US history, which has a financial value of $109.7 billion.
2. Iraq
In 2016, Iraq was the second biggest buyer of US exported arms and military weapons. According to TIV, this country imported a value of $893 million. Since 2011, however, the total value has been closer to $3 billion, making Iraq the 6th biggest buyer over time. This jump to second place for 2016 indicates a recent increase in US arms imports to the country. Iraq reports using the majority of these arms in the fight against ISIS. Over several years, Iraq's purchases have included more than 6,500 missiles and guns, 300 light-armoured vehicles, 200 land-to-air missiles, 36 fighter jets, and 16 helicopters.
3. Australia
The third largest importer of US arms in 2016 was Australia, with $869 million in TIV. When considering imports from the US since 2011, however, that total value increases to $3.8 billion, keeping the country as the third largest importer. On a global level, Australia is considered the 6th largest weapons importer from all exporters in the world. Approximately 68% of Australia's total imports come from the US, with an additional 19% coming from Spain. Between 2011 and 2014, this country nearly doubled its military and defense budget.
4. United Arab Emirates
The United Arab Emirates (UAE) is the fourth biggest buyer of US arms in the world. In 2016, the UAE imported $773 million in TIV. When considering data since 2011, however, that number is around $5 billion, which makes the UAE the second largest importer of US military weapons after Saudi Arabia. The US made history when it sold a predator drone to the UAE, as it was the first time a non-NATO country purchased this type of weapon. Over the last several years, the UAE has purchased, more than 5,000 guided missiles, 78 fighter jets, and 32 helicopters.
The chart below provides a longer list of the biggest buyers of US arms in 2016.
The Biggest Buyers of US Arms
| Rank | Country | Value of US Arms Export in 2016 (TIV in millions) |
| --- | --- | --- |
| 1 | Saudi Arabia | 1,908 |
| 2 | Iraq | 893 |
| 3 | Australia | 869 |
| 4 | UAE | 773 |
| 5 | Qatar | 595 |
| 6 | Israel | 526 |
| 7 | Italy | 511 |
| 8 | South Korea | 501 |
| 9 | Japan | 307 |
| 10 | Mexico | 280 |
This page was last updated on August 23, 2017.
Citations
Your MLA Citation
Your APA Citation
Your Chicago Citation
Your Harvard Citation
Remember to italicize the title of this article in your Harvard citation.