Environment
The 10 Largest Lakes In Arkansas
Lake Ouachita is the largest lake located completely within the limits of Arkansas.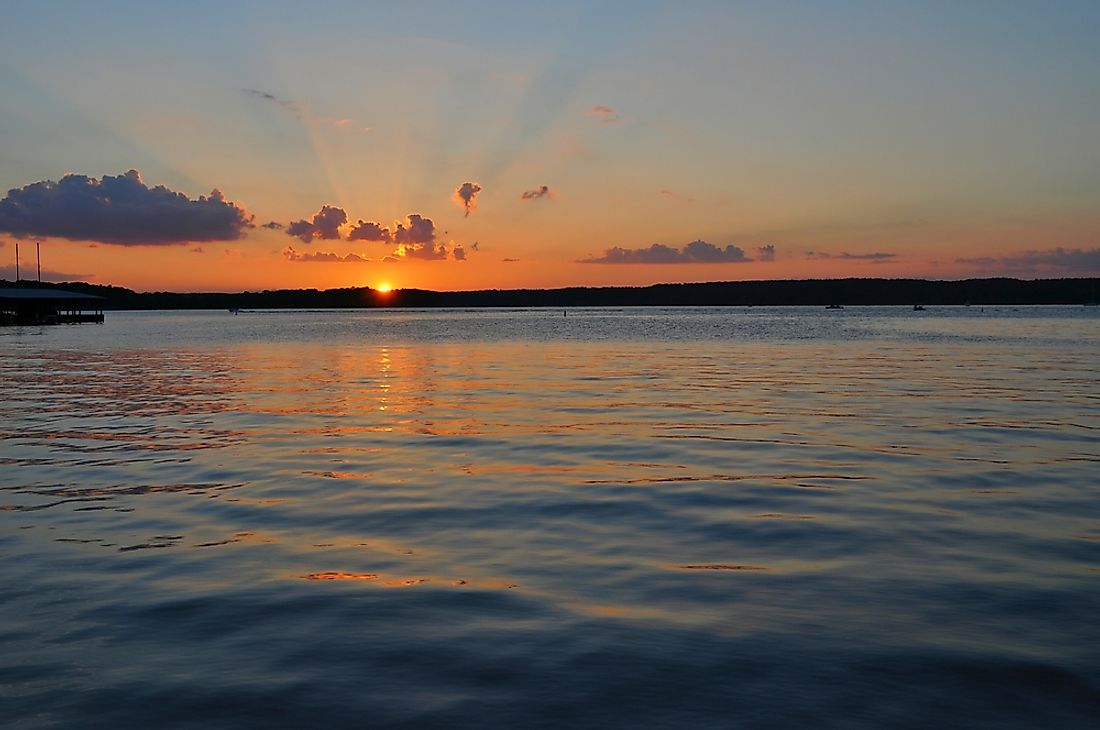 Arkansas is home to over 2,400 named reservoirs and lakes that have a surface area of more than 5 acres. These water bodies range from small farm ponds to massive reservoirs created by dams on rivers flowing through the state. The reservoirs of Arkansas help the state tackle dry seasons. Lakes in the state are also used for fishing, recreation, irrigation, fire protection, flood control, etc. They also provide a habitat for the state's wildlife.
Nearly all the large lakes in Arkansas are artificial reservoirs created by the construction of dams. However, the state also has several natural lakes that are not part of this list due to their small size. Most of these natural lakes are oxbow lakes created at the river meanders while some are plunge pools (not exactly a lake) formed at the base of waterfalls by erosion.
The Largest Lakes In Arkansas
1. Lake Ouachita
Lake Ouachita is the largest lake located completely within the limits of Arkansas. It is an artificial lake created during the construction of the Blakely Mountain Dam in 1953. The lake has a shoreline of more than 1,110 km. The Ouachita National Forest surrounds the lake on all sides. Lake Ouachita is part of a popular tourist destination in the Hot Springs region that also includes several other lakes and the hot water springs of the Hot Springs National Park.
2. Bull Shoals Lake
Blue Shoals Lake is the second biggest lake in Arkansas. It is located on the Arkansas-Missouri border in the Ozark Mountains. It is also an artificial lake or reservoir created by the Bull Shoals Dam on the White River. The lake has many arms stretching for miles in different directions. Recreational activity centers are located all around the lake. Visitors enjoy a variety of water sports, fishing, boating, and swimming on the lake. Parts of the lake shores have been designated as campgrounds, marinas, swim areas, and boat launches. The lake occupies an area of 183.88 square km.
3. Lake Dardanelle
The third largest lake in Arkansas is Lake Dardanelle. It is a major reservoir created by a dam in the Arkansas River. The lake occupies an area of 138.8 square km and offers abundant recreational activities like camping, picnicking, boating, fishing, etc. The recreational parks associated with the lake are well-equipped with facilities like drinking water, washrooms, picnic tables, etc. Arkansas Nuclear One, a nuclear power plant, is located on the lake's northeastern shore.
4. Greers Ferry Lake
With a surface area of about 127.5 square km, the Greers Ferry Lake is the fourth largest lake in Arkansas. It is also an artificial reservoir created by the Greers Ferry Dam. The lake is located in the northern part of the state. It is actually formed of two parts which can be treated as two lakes that are connected via a water-filled gorge called the Narrows. Like other large lakes of Arkansas, the Greers Ferry also has a thriving tourism industry based around it. Cliff diving, scuba diving, camping, swimming, etc., can be enjoyed by visitors to the lake area.
5. Millwood Lake
The Millwood Lake is the fifth largest lake in Arkansas. It occupies an area of 118.16 square km. The lake is formed by a dam at the confluence of the Saline River and the Little River. It is known for its beauty and rich fish life. Many recreational parks around the lake allow visitors to enjoy various outdoor activities. Several species of mammals like beaver, white-tailed deer, squirrel, raccoon, opossum, etc., are found in the natural habitats around Millwood Lake.
The 10 Largest Lakes In Arkansas
| Rank | Lake/reservoir in Arkansas | Surface Area (in acres) |
| --- | --- | --- |
| 1 | Lake Ouachita | 66,324 |
| 2 | Bull Shoals Lake | 45,440 |
| 3 | Lake Dardanelle | 34,300 |
| 4 | Greers Ferry Lake | 31,500 |
| 5 | Millwood Lake | 29,200 |
| 6 | Beaver Lake | 28,220 |
| 7 | Norfork Lake | 22,000 |
| 8 | Lake Jack Lee | 15,000 |
| 9 | DeGray Lake | 13,400 |
| 10 | Ozark Lake | 10,600 |
About the Author
Oishimaya is an Indian native, currently residing in Kolkata. She has earned her Ph.D. degree and is presently engaged in full-time freelance writing and editing. She is an avid reader and travel enthusiast and is sensitively aware of her surroundings, both locally and globally. She loves mingling with people of eclectic cultures and also participates in activities concerning wildlife conservation.
This page was last updated on April 10, 2019.
Citations
Your MLA Citation
Your APA Citation
Your Chicago Citation
Your Harvard Citation
Remember to italicize the title of this article in your Harvard citation.