Environment
The 10 Largest Lakes In Manitoba
Lake Winnipeg is the largest lake by surface area in the Canadian province of Manitoba.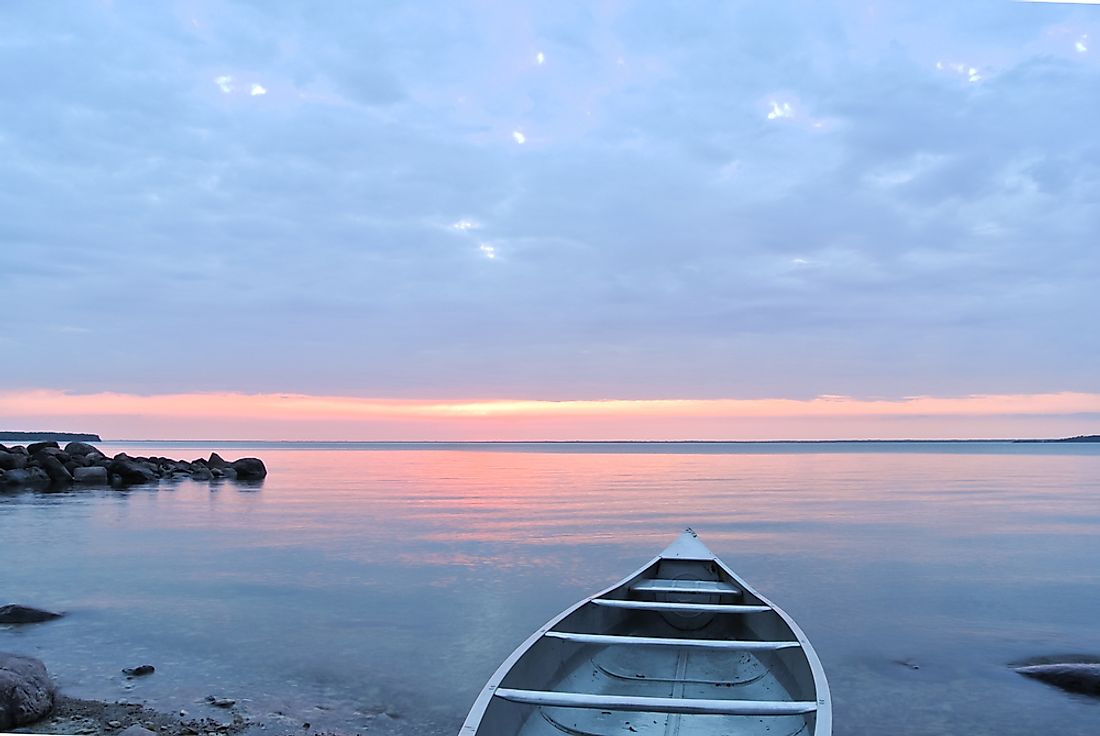 The Canadian province of Manitoba is located at the country's longitudinal center and occupies an area of 649,950 square kilometers. The province has varied landscapes and numerous lakes. In fact, Manitoba contains more than 110,000 lakes which cover approximately 15.6% of the province's surface area. The largest lakes in Manitoba are highlighted below.
The Five Largest Lakes in Manitoba
1. Lake Winnipeg
With a surface area of 24,387 km2 and a mean depth of only 12 m, Lake Winnipeg is a large but relatively shallow lake. Located north of the city of Winnipeg, Lake Winnipeg is Manitoba's largest lake, and the sixth-largest freshwater lake in Canada. The Winnipeg River, Red River, and Saskatchewan River are its primary inflows, while the Nelson River is the lake's primary outflow. The lake and its surrounding areas feature some of the country's most pristine wilderness landscapes, which include boreal forests, bat caves, limestone cliffs, and remote sandy beaches. Due to its massive size, Lake Winnipeg has a variety of habitats that support diverse species of fish. The various islands in the lake are also visited by numerous types of birds. Many provincial parks help protect Lake Winnipeg and its surrounding area.
2. Lake Winnipegosis
Lake Winnipegosis is Manitoba's second biggest lake, as well as the eleventh-largest lake in Canada. It covers an area of 5,374 km2 and is located in the central part of the province. Lake Winnipegosis is relatively shallow, with a maximum depth of only 12 m. Birch Island is the lake's largest island, and is part of Birch Island Provincial Park. Many rivers and streams feed Lake Winnipegosis, such as the Mossy River, Shoal River, and Red Deer River, while the Waterhen River serves as the primary outflow. The lake supports commercial fisheries, especially walleye, northern pike, and mullet.
3. Lake Manitoba
Located northwest of the city of Winnipeg, Lake Manitoba is the province's third largest lake. The lake has a surface area of 4,624 km2 and reaches a maximum depth of only 7 m. The Waterhen River and Whitemud River are Lake Manitoba's primary inflows, while the Fairford River is its primary outflow. This lake is associated with the local legend of a monster named Manipogo. Sightings of the monster have been reported for more than a century, but no scientific proof has been recorded. Lake Manitoba supports a thriving commercial fishing industry, with major catches that include walleye, yellow perch, and sauger.
4. Southern Indian Lake
The fourth biggest lake in Manitoba, Southern Indian Lake, occupies an area of 2,247 km2 and has a maximum depth of 30 m. The shoreline of the lake is highly indented and features numerous peninsulas, islands, and bays. The Churchill River flows through Southern Indian Lake, and the Rat River is another primary outflow. A small settlement named South Indian Lake is located on the lake's southeast shore.
5. Cedar Lake
With an area of 1,353 km2, Cedar Lake is the fifth largest lake in Manitoba. The lake has a maximum depth of 10 m and its volume is controlled by the Grand Rapids Dam. Cedar Lake is known for its excellent prehistoric amber fossil deposits that date back to the Cretacious period. The Saskatchewan River flows through Cedar Lake, serving as both its primary inflow and outflow.
List of the 10 Largest Lakes in Manitoba by Surface Area
| Rank | Lake | Area (km2) |
| --- | --- | --- |
| 1 | Lake Winnipeg | 24,387 |
| 2 | Lake Winnipegosis | 5,374 |
| 3 | Lake Manitoba | 4,624 |
| 4 | Southern Indian Lake | 2,247 |
| 5 | Cedar Lake | 1,353 |
| 6 | Island Lake | 1,223 |
| 7 | Gods Lake | 1,151 |
| 8 | Cross Lake | 755 |
| 9 | Playgreen Lake | 657 |
| 10 | Dauphin Lake | 519 |
About the Author
Oishimaya is an Indian native, currently residing in Kolkata. She has earned her Ph.D. degree and is presently engaged in full-time freelance writing and editing. She is an avid reader and travel enthusiast and is sensitively aware of her surroundings, both locally and globally. She loves mingling with people of eclectic cultures and also participates in activities concerning wildlife conservation.
This page was last updated on April 15, 2019.
Citations
Your MLA Citation
Your APA Citation
Your Chicago Citation
Your Harvard Citation
Remember to italicize the title of this article in your Harvard citation.