The 10 Busiest Railway Stations In China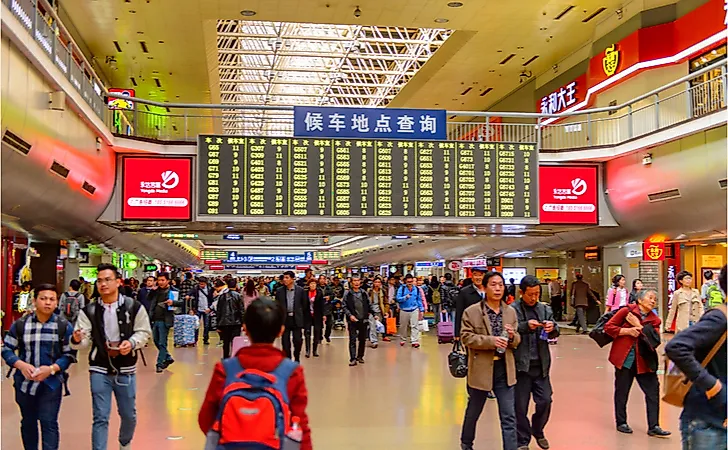 China's population, as of 2019, is estimated at 1.434 billion people making it the most populous country in the world. As a result, China's railway stations are quite huge and extremely busy as many people flock them daily. Below is a list of 10 busiest Chinese railway stations by annual passenger numbers;
1. Western Beijing Railway Station
The Western Beijing Railway Station, also known as Beijing West or West Station, is located in Fengtai District in Beijing. It occupies a land area of 510,000 square meters containing 18 platforms and 20 tracks. West Station hosts several gift shops, restaurants, confectionery outlets, and fruit stalls. Its main entry gate is the Lianhuachi Hu gate. This railway station was officially opened for public use in 1996. Today, approximately 100,000-140,000 passengers pass through the train station daily amounting to about 50.82 million passengers annually. Some of the popular train destinations served by the West Station include Guangzhou, Xi'an, Guilin, Xining, Foshan, Jinan, Kunming, Datong, Linfen, and Xiamen.
2. Zhengzhou Railway Station
Zhengzhou Railway Station is located along Erma Road, Erqi District in Henan Province, China. It is a fast train station which contains 13 platforms and 16 tracks. Additionally, the Zhengzhou Railway Station also contains newsstands, restaurants, and supermarkets. The train station is on the junction of two of China's main rail lines namely Lianyungang-Lanzhou and Beijing-Guangzhou railways. Consequently, the station has been used as a logistic center for several years. About 34.96 million passengers go through the Zhengzhou Railway Station every year. Popular train destinations include Shanghai, Xi'an, Chengdu, Shenzen, Yiwu, Hangzhou, Tianjin, Luoyang, and Beijing.
3. Beijing Railway Station
Beijing Railway Station is a fast train station that is located in Dongcheng District in Beijing. It serves about 34.69 million passengers annually. The Beijing Railway Station contains trains that travel to and from Baotou, Datong, Dalian, Panjin, Qufu, Jilin, Suzhou, Shenzhen, Xinzhou, Yinchuan, Zibo, and Taian among other local destinations. Besides, it is also a terminus for international trains to Hanoi (the capital city of Vietnam), Pyongyang (capital city of North Korea), Ulaanbaatar (capital city of Mongolia), and Moscow (capital city of Russia). This train station also contains supermarkets, confectionary shops, and restaurants for the comfort of the passengers.
4. Guangzhou Railway Station
Guangzhou Railway Station is located in Yuexiu District in Guangzhou, China. Every year, 28.98 million passengers pass through this railway station. The railway station serves both bullet and non-bullet trains. Some of the non-bullet trains' popular destinations are to and from Beijing, Xi'an, Shanghai, Hangzhou, and Chengdu. On the other hand, the high speed trains transport people and cargo to Hong-Kong. Guangzhou Railway Station contains 4 platforms and has a large clock that helps in distinguishing the station from the surrounding buildings. The two-story building which accommodates the train station also contains shopping areas, food restaurants, hot water points, and waiting rooms.
5. Xi'an Railway Station
Xi'an Railway Station is a 2-story building located in Xi'an City in the province of Shaanxi, China. It contains 34 platforms that allow 28.50 million passengers to pass through the railway station annually. Xi'an Railway Station contains conventional trains traveling to Beijing, Shanghai, Lanzhou, and Jiayuguan Station among others. It also has bullet trains heading to Pingyao, Huashan, and Beijing. The station is historically known to have been the starting point of the ancient Silk Road.
6. Shanghai Railway Station
Shanghai Railway Station is situated along Moling Road in Jing'ian District in Shanghai, China. It serves 26.96 million passengers annually. Shanghai Railway Station is a large station with 30 platforms, 155 high-speed trains, T-trains, and K-trains. It is divided into the North Square and South Square comprising of waiting rooms, drinking fountains, and fast-food restaurants. Popular destinations for the trains from Shanghai Railway Station include Beijing, Xi'an, Hangzhou, Nanjing, Chengdu, and Chongqing.
7. Tianjin Railway Station
Tianjin Railway Station is the primary railway station in Tianjin City province, China. The total number of passengers that pass through the Xi'an railway station annually is 26.74 million. Also known as Tianjin East Railway Station, Tianjin Railway Station was originally built in 1886 which makes it one of the oldest stations in China. It acts as the meting point for two railway lines: Beijing-Shanghai line and Tianjin-Shanhaiguan line. Tianjin Railway Station acts as a terminus for bullet trains that run at speeds up to 350 km/h. Its common destinations include Tibet, Shanxi, Hubei, Jiangxi, Hebei, Fujian, Hunan, Jiangsu, Yunnan, and Guangdong.
8. Chengdu Railway Station
Chengdu Railway Station is found along North Second Ring Road, Jinniu District in Sichuan Province, China. It is made up of 26 platforms that accommodate 26.01 million passengers who pass through the Xi'an railway station annually. Chengdu Railway Station is the only railway station in Chengdu that ferries people to Lhasa. Its popular destinations include Foshan, Shanghai, Kunming, Suzhou, Beijing, Wuxi, Zhangjiajie, and Ya'an among others. Like most railway stations, Chengdu Railway Station also contains restaurants, gift shops, and waiting rooms.
9. Harbin Railway Station
Harbin Railway Station is situated in Harbin town in Heilongjiang, China. Passengers can access the train station using either the North Terminal Building or the South Terminal Building. It serves both high speed and normal speed trains with the popular destinations are Beijing, Heihe, Guangzhou, Changchun, Tianjin, and Shenyang among others. Harbin Railway Station receives 25.46 million passengers who pass through the station annually. The station also contains water drinking points, taxi stands, restaurants, gift shops, waiting halls, and confectionary shops.
10. Taiyuan Railway Station
Taiyuan Railway Station is one of the oldest railway stations in China whose construction ended in 1907. It is situated in Xiaodian District in Shanxi, China. There are approximately 20.04 million passengers that pass through the Xi'an railway station annually. Popular destinations of the trains that go to and from the Taiyuan Railway Station include Chengdu, Wuhan, Jinan, Pingyao, Hangzhou, Beijing, Datong, Changsha, Shanghai, and Suzhou among others. It is a top-class railway station in China.
The 10 Busiest Railway Stations In China
| Rank | Railway station in China | Passenger number (in millions) |
| --- | --- | --- |
| 1 | Western Beijing | 50.82 |
| 2 | Zhengzhou | 34.96 |
| 3 | Beijing | 34.69 |
| 4 | Guangzhou | 28.98 |
| 5 | Xi'an | 28.50 |
| 6 | Shanghai | 26.96 |
| 7 | Tianjin | 26.74 |
| 8 | Chengdu | 26.01 |
| 9 | Harbin | 25.46 |
| 10 | Taiyuan | 20.04 |