Sanganeb Marine National Park, Sudan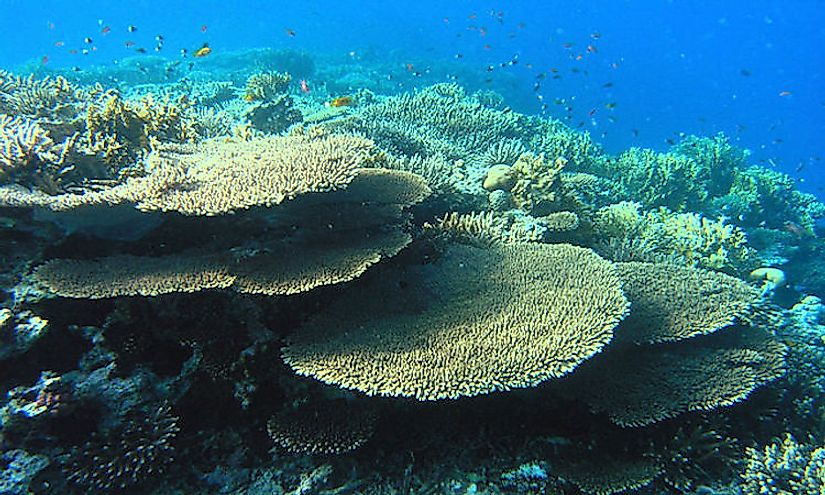 Sanganeb Marine National Park is a coral reef on the Red Sea. The Park is renowned for its coral reefs, which are said to be the best in the world. Sanganeb is 25km off the shoreline of Sudan. The park comprises two areas, the Sanganeb itself, which is the coral reef structure, and Dungonab Bay and Mukkawar Island, which is 125km North of Port Sudan. The site includes coral reefs, mangroves, beaches, sea grass beds, and islets. The reef is the sole atoll on the Red Sea
5. Description -
The national Park has over 120 coral reefs, and spans 26,000 hectares. Located 30km North East of Port Sudan, Sanganeb is surrounded by water that reaches a depth of 800m. The reef is deepest in its Northern part, where it reaches 48m. Surface temperatures are between 26.2oC and 30oC. Sanganeb is one of the most dangerous spots for ships on the Red Sea. The Sanganeb atoll has steep slopes on all sides. Sanganeb's ecosystem is home to a wide variety of flora and fauna.
4. Historical Role-
Sanganeb is the first National Park to be gazetted in Sudan, which happened in 1990. A bonus for tourists is the lighthouse built by the British between 1958 and 1964. The lighthouse is 50m tall, has 268 steps, and is a highly photographed landmark. It is also the best place for a tourist to view all the beauty of the Sanganeb.
3. Significance to Sudan's Economy -
Sanganeb attracts tourists from far and wide, which is a source of revenue to the Sudanese government. It is world famous, and its coral reefs are believed to be the best and most unspoiled in the world. The Sanganeb atoll is especially popular during international diving holidays. Tourists fly to Port Sudan, and reside on large hotel boats which travel to anchor at various diving sites on the reef for a few days at a time.
2. Habitat and Biodiversity -
The Sanganeb is a habitat for marine mammals, seabirds, turtles, sharks, dolphins, manta rays, and barracudas. A bout 86 coral species in 35 genera are recorded in the Sanganeb. The reef is recognized for its high levels of biodiversity, and many of its species are unique to the park. 251 species of coral fish have been recorded, but estimates of the actual number suggest they could be as many as 300. It is home to a large number of pelagic fish, which include the wrasse species of tuna, barracuda, sailfish, manta rays, and sharks (including hammerhead sharks). There are numerous sightings of hawksbill turtles on the Sanganeb.
1. Environmental Threats and Conservation Efforts -
The Sanganeb is relatively safe from human activities since there is no resident population, and it is not a traditional fishing ground. In fact, commercial fisheries in Sudan were banned in 1978, a move that has saved many sharks. In July 2016, the Sanganeb Marine National Park was added to the natural World Heritage site by UNESCO, a decision made by the World Heritage Committee in Istanbul, Turkey. According to UNESCO, the prestige that comes from a site being put on the World Heritage List helps raise awareness among citizens and governments on the urgency of heritage preservation. Countries may also receive financial assistance and expert advice from the World Heritage Committee to bolster their preservation efforts.