Ramsar Wetlands Of Thailand: Importance In Conservation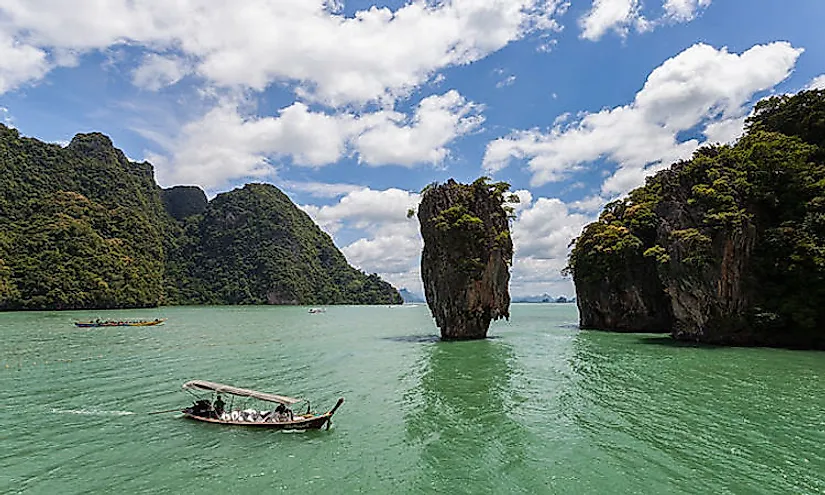 Why Are Wetlands Important?
A wetland is a unique ecosystem that, either permanently or on a seasonal basis, is covered in water. It is an important land feature that benefits both humans and wildlife by protecting against flooding, providing a water source during droughts, and serving as a habitat for many animals. Wetlands, like rainforests and coral reefs, are some of the most productive ecosystems in the world and offer a substantial food source for a wide variety of animal species, including fish, amphibians, reptiles, birds, and mammals.
Wetlands In Thailand
The government of Thailand signed the Ramsar Convention in 1998, promising to work toward wetland conservation. Today, this country has 14 Ramsar Sites, also known as Wetlands of International Importance. Together, these wetlands cover an area of 1,543 square miles.
The biggest of these protected wetlands is the Kaper and Kraburi estuaries in the Laemson Marine National Park. It covers an area of 471 square miles and was protected as a Ramsar site in 2002. This wetland is home to an extensive mangrove forest, which is not only the largest in the country, but also the entire Indo-Pacific region. The roots of these trees provide a unique habitat for a wide variety of fish, approximately 82 recorded species. Interestingly, this site is also home to communities of Buddhist, Muslim, and Chao Lae followers. Researchers come here to study the intricate ecosystem, which is also used as an environmental training site.
A complete list of Ramsar wetlands is published below.
Threats To Wetlands In Thailand
Ramsar wetlands, although protected sites, face many environmental threats. One of the biggest threats to these sites is the fishing industry, particularly in those wetlands located in coastal areas. Overfishing endangers the natural fish population, which has a domino effect on bird and mammal species that rely on fish as a dietary staple. Additionally, nearby urban development places wetlands in danger of polluted waters and infrastructure projects, such as hydroelectric dams, threaten natural water flow and obstruct fish migratory routes.
In some areas, invasive species are a concern. This is primarily because nearby fish farming uses sections of natural waterways to cultivate market valuable fish, which presents the very real risk that the cultured species will escape and out compete local fish species for food resources. Another common concern for these sites includes unsustainable use of resources. For example, uncontrolled livestock grazing destroys local plant life and eucalyptus farming changes the wetland structure, requiring significant amounts of water for growth. All of these changes result in reduced biodiversity within wetland habitats.
Conservation Of Wetlands In Thailand
In addition to protecting some of its many wetlands as Ramsar Wetland sites, the government of Thailand and nonprofit organizations are working together to ensure conservation of these important ecosystems. In 2008, this country took a significant step toward protecting additional sites across the country as Wetlands of International Importance. The plan is to involve local communities in surveying the wetlands and documenting ongoing health of the sites. In this way, researchers will be able to work closely with the community members who will benefit from future conservation. This opportunity also provides the chance for increased public education and awareness about the ecological importance of wetlands. Involving local communities gives them a stake in conservation efforts, which research has shown results in increased levels of success.
Ramsar Wetlands Of Thailand: Importance In Conservation
| Name | Area (ha) |
| --- | --- |
| Bung Khong Long Non-Hunting Area | 2214 |
| Don Hoi Lot | 87500 |
| Had Chao Mai Marine National Park - Ta Libong Island Non-Hunting Area - Trang River Estuaries | 66313 |
| Kaper Estuary - Laemson Marine National Park - Kraburi Estuary | 122046 |
| Khao Sam Roi Yot Wetland | 6892 |
| Ko Kra Archipelago | 374 |
| Ko Ra-Ko Phra Thong Archipelago | 19648 |
| Krabi Estuary | 21299 |
| Kuan Ki Sian of the Thale Noi Non-hunting Area Wetlands | 494 |
| Kut Ting Marshland | 2200 |
| Mu Koh Ang Thong Marine National Park | 10200 |
| Nong Bong Kai Non-Hunting Area | 434 |
| Phang Nga Bay Marine National Park | 40000 |
| Princess Sirindhorn Wildlife Sanctuary | 20100 |