The Rainbow Bridge National Monument is a natural bridge spanning 234 feet in length. It is located in southern Utah, in the United States, and administered by the National Park Service as part of the Glen Canyon National Recreation Area. It is often considered to be the highest natural bridge in the world, as well as the sixth-longest. Two other nearby attractions, Landscape Arch and Kolob Arch, although spanning distances many feet longer than Rainbow Bridge, are considered as arches rather than bridges. This world-famous attraction used to be a far-flung tourist destination. However, after the Glen Canyon Dam was built, Lake Powell was formed, and more road access was made available for use, bringing thousands of visitors much closer to the Rainbow Bridge. Weather in the area surrounding the Rainbow Bridge varies depending on the season. Summers are rather hot, with little to no shade. During the wintertime, the nighttime temperatures go down below freezing. Meanwhile, during spring, strong winds may be expected. Lastly, autumn in these parts is considered mild, with occasional heavy rains that may lead to flash floods.
4. Tourism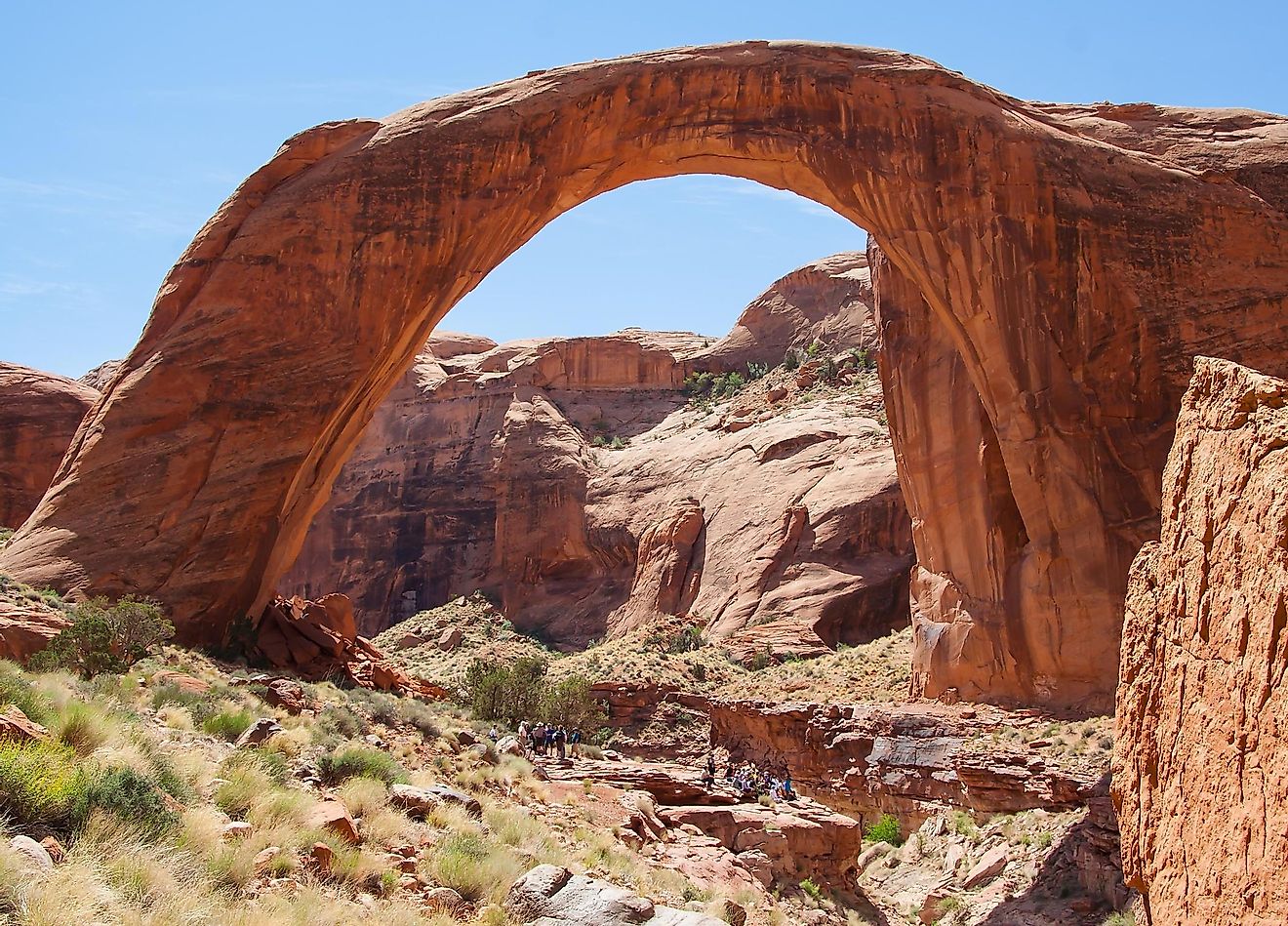 Close to 90,000 people visit the Rainbow Bridge National Monument every year. Of all the natural arches of the world, it is considered to be among the most accessible, thanks largely to Lake Powell's formation after the construction of the Glen Canyon Dam and the many access roads and other infrastructural developments that followed in its wake. A one-way, two-hour boat ride brings guests within about two miles of the bridge, whereas those who prefer to hike or travel on horseback can do so on a trail located on the south side of the lake.
3. Uniqueness
Apart from the spectacular landscape surrounding the Rainbow Bridge National Monument, there are several things that one can partake in with so many recreation centers near it, such as the Glen Canyon National Recreation Area. Having been declared as a National Monument in 1910 and protected since then, many activities are restricted on the bridge itself. These include walking up to or under it, swimming, fishing, and hunting. Those who visit the place with an adventurous spirit have the option of backpacking or horseback riding on the Navajo Mountain Trail. The said trail takes a minimum of two days to hike, and those who don't have that much time could opt to go on a seven-hour boat tour across Lake Powell instead. Another key attraction near the Rainbow Bridge is the Grand Staircase, where visitors may go hiking, camping, mountain biking, and "off-roading." A must-see in the area is the Monument Valley Navajo Tribal Park, where exciting Jeep tours are offered, and breathtaking sand formations can be found. Kanab is a particularly unique small town located near the Rainbow Bridge. It portrays all the charms and uniqueness of a classic American Western dwelling, its scenery complete with sagebrush vistas and magnificent "Navajo Sandstone" cliffs.
2. Habitat
The Rainbow Bridge area is home to over 850 species of desert plants and close to 300 species of desert birds. Many of these organisms are recent migrants who moved to the area after the Glen Canyon Dam was built. In Lake Powell, an abundance of amphibians, reptiles, and mammal species can also be found, including fishes such as the walleye, smallmouth bass, crappie, northern pike, and sunfish.
1. Threats
The only major threats regarding the Rainbow Bridge are travelers who do not act responsibly while visiting the location. The Rainbow Bridge is a natural marvel that is greatly revered by the Navajo people, and as such, should be treated with respect by its visitors. Those who plan to backpack or ride horseback on the Navajo Mountain Trail may do so with the appropriate permits and be asked to observe the area's rules and regulations. Hunting is not allowed on the trail, and local livestock should not be unnecessarily disturbed. There are no services available at the bridge itself, so it is best to check with a Park Ranger before heading out if you have any concerns or uncertainties regarding a visit to this wonderful place.