Olive Oil Production by Country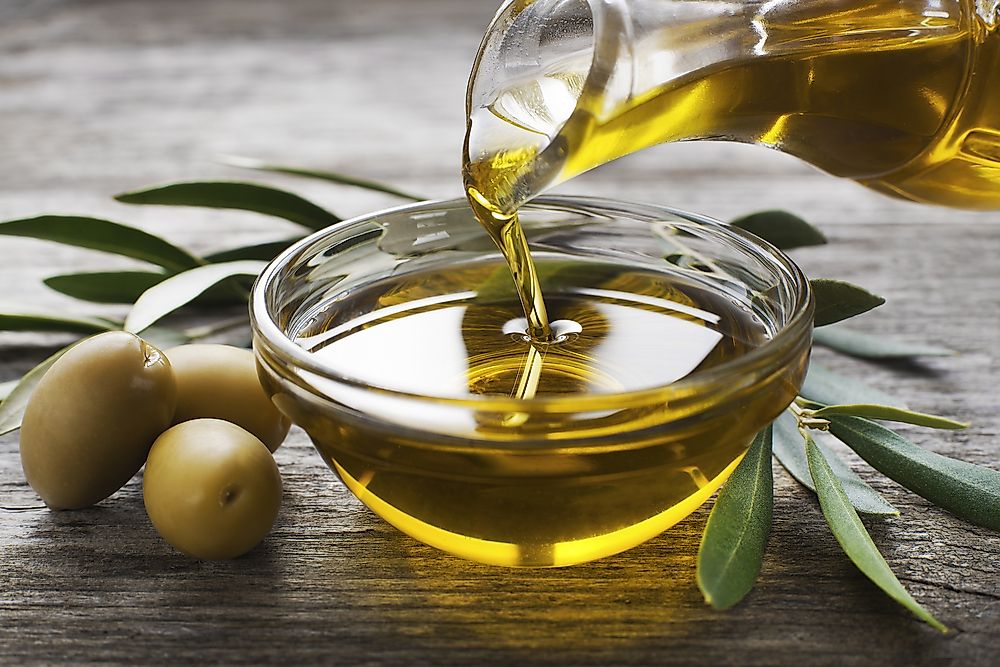 Olive oil is a liquescent fat extracted from olives tree, mostly grown in Mediterranean Basin since the 8th millennium BC. Olive oil productions vary from different countries as the list below shows. According to Food and Agriculture Organization of the United Nations, the following countries are among the leading producers of olive oil.
Top Countries
1. Spain - 1,059,194
Spain produced an average of 1,059,194 tons of olive oil from 1994-2013 according to data by FAOSTAT which makes it the world's leading olive producer. The climate and geography in Spain favor the cultivation of olive oil. A large percentage of olive oil production in Spain occurs in the Andalucian region where it produces about 75% of the country's total production. Cordoba and Jaen are the major olives producing Provinces. Olive oil varieties produced in the region include Picudo, Hojiblanca, Lechin, Verdial, and Picual. The second highest olive oil producing region in Spain is Castilla-La Mancha that contributes about 14% of the country's total production. Other regions include Catalonia, Valencia, and Extremadura. Spain exports its oil to the markets in the US, UK, Portugal, Italy, Australia, and France.
2. Italy - 557,574
Italy has the second biggest production of olive oil in the world with an average production of 555,574 tons from 1993-2014. 80% of Italy's olive oil production is concentrated in the Southern region in areas such as Puglia, Sicily, Basilicata, Sardinia, and Calabria. The temperatures in these areas are warm making them suited for the cultivation of olive oil. Italy uses olive oil domestically and even exports some to international markets such as the US, Brazil, China, Austria, and Canada.
3. Greece - 344,615
In 2013, Greece contributed to 11% of the world's olive oil production. As per the data collected by FAOSTAT, Greece produced an average of 344,615 tons of olive oil from 1993-2014 making it the third largest olive oil producer. In Greece, approximately 60% of the total cultivated land is used to grow olives. The Peloponnese region in Greece produces the country's highest percentage of olive while Crete and Aegean come second followed by the Ionian Islands. There are over 2,800 olive oil mills in the country that extracts its olive oil from native olives. About half of the amount of olive oil produced in Greece is exported while the remaining amount is used locally, mostly for cooking. Greece exports most of its olive oil to Italy and other countries such as the US, Canada, Japan, Australia, and China.
4. Tunisia – 159,990
Coming fourth on our list is Tunisia with an average of 159,990 tons of olive oil produced from 1993-2014. Olive growing is Tunisia's main agricultural activity and contributes to more to the country's economy. There are more than 1,700 oil mills in the Tunisia. The highest olive oil production in the country was witnessed in the 2014/2015 financial year when 340,000 tons were produced. 80% of the olive oil produced is exported to foreign markets such as Spain, Portugal, Italy, US, and France.
Conclusion
Olive oil is majorly used in cooking, and its other uses include fuel production, pharmaceuticals, cosmetics, and the manufacture of soaps. The above countries are also leaders in the production of olive oil products.
Olive Oil Production by Country
| Rank | Country | Production in Tonnes, Average 1993-2014 (Source: FAOSTAT) |
| --- | --- | --- |
| 1 | Spain | 1,059,194 |
| 2 | Italy | 557,574 |
| 3 | Greece | 344,615 |
| 4 | Tunisia | 159,990 |
| 5 | Syrian Arab Republic | 140,466 |
| 6 | Turkey | 128,168 |
| 7 | Morocco | 77,145 |
| 8 | Portugal | 49,463 |
| 9 | Algeria | 37,404 |
| 10 | Jordan | 18,702 |