Mount Titano And San Marino Historic City Center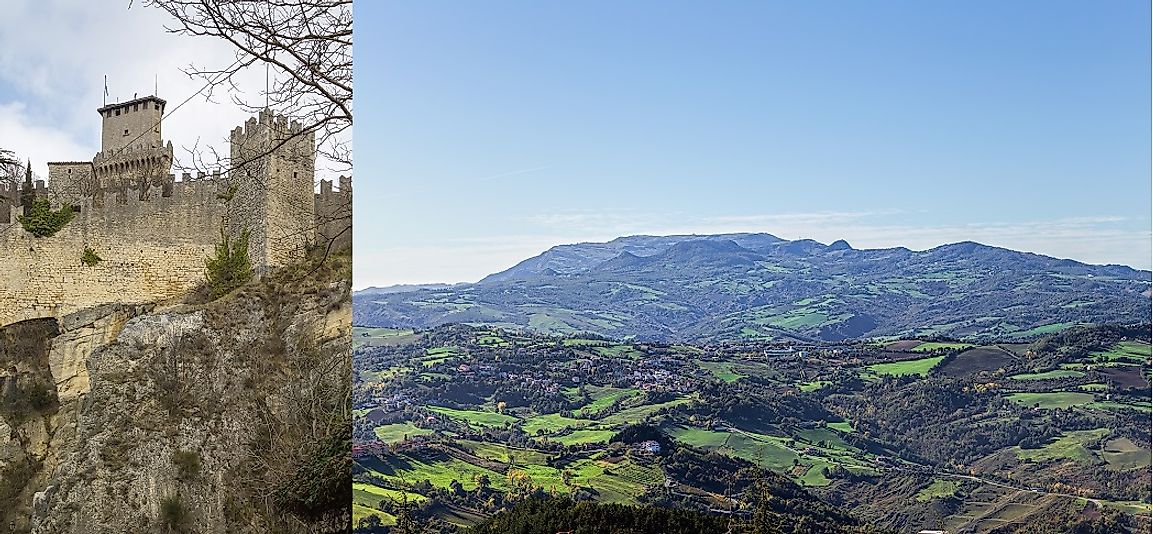 San Marino Republic is the world's fifth smallest nation state. It also hosts Mount Titano and the San Marino Historic City Center. This republic is the last of Europe's medieval city-states.
5. Description and History -
San Marino Historic Center and Mount Titano is a United Nations Educational, Scientific, and Cultural Organization (UNESCO) World Heritage Site. Covering 55 hectares, it is located in San Marino Republic, one of the world's smallest countries. San Marino is a land locked city-state surrounded by Italy, and the historic city center dates back to the 13th Century, when this republic was founded, according to UNESCO. San Marino is the last of 200 city-states that existed in Middle Age Italy and is tucked strategically on top of Mount Titano, in the Apennine Mountains. The historic city center has fortification towers, fortress type walls, gates, and bastions, a 19th Century neoclassical basilica, 14th and 16th Century convents, and a 19th Century town hall. San Marino also has the Borgo Maggiore, a market area, and the republic's second largest town after Dogana. The official language is Italian.
4. Tourism -
Due to San Marino Historic Center being located on top of Mount Titano, the urban transformations that occurred at the onset of Europe's industrial era largely never affected it. Consequently, its historic form makes the city center and the mountain attract tourists from around the world. In fact, tourism revenues are the dominant in San Marino's economy. According to the British Broadcasting Corporation (BBC), over 3 million tourists visit the republic each year, with the country itself housing a population estimated at 31,448 according to 2013 United Nations' (UN) Data. Besides seeing the historic sites, tourists visit San Marino to shop. This is because the republic is VAT free, compared to Italy whose value-added tax (VAT) is 20 percent. Shops there stock top lines brands of products such as exclusive watches, handbags, shoes, and clothes, according to in-Italia.
3. Uniqueness -
What makes San Marino Historic Center unique is that it's still inhabited after all of these years, and yet continues to preserve all of its original institutional functions into the present day and time. To date, San Marino continues operating as an independent city-state since the 13th Century. Even as the fifth smallest country in the world, this city-state is a full United Nations (UN) member. San Marino has also despite its size, distinguished itself as a philately hub due to the low costs of antique postage stamps. Philately enthusiasts and coin collectors come to this republic to buy stamps, thereby earning the republic extra revenue. The stamp designs at San Marino dating back to the 1950s and 1960s have beautiful designs.Historically, the country was also the first to issue Disney cartoon designed stamps according to Philatelic Database.
2. Natural Surroundings, Sights, and Sounds -
San Marino Historic Center and Mount Titano in the north-central Italian Peninsula are surrounded by the snow-covered Apennine Mountains. Its location atop the 750-meter-tall Mount Titano offers picturesque views of the rolling lush countryside. There are three defensive towers are La Guaita, Cesta, and Montale. La Guaita towers over San Marino, and is around 20 kilometers from Rimini Resort, by the Adriatic coast.The San Marino republic has a rustic feel due to the trees that grow amidst it, especially at the top area. At the very narrow top of this city-state, it tends to be windy. An aerial glance of San Marino gives the appearance of a city-state laden with cream-grayish castles.
1. Threats and Conservation Efforts -
The San Marino Historic Center and Mount Titano have not been subject to many of the environmental and military threats suffered by many other European historic sites. From time to time, minor restorations and reconstructions are carried out and overseen by Gino Zani to ensure the city-state, preserves its middle age authenticity. Though critics argue the restorations can dent the historic center authenticity, proponents view such as part of its colorful history, and expression of the national identity. According to UNESCO after 1930, the San Marino historic center hasn't been subjected to any major interventions. As a result public monuments and open spaces are in well conserved state.