Mo'orea Island Of French Polynesia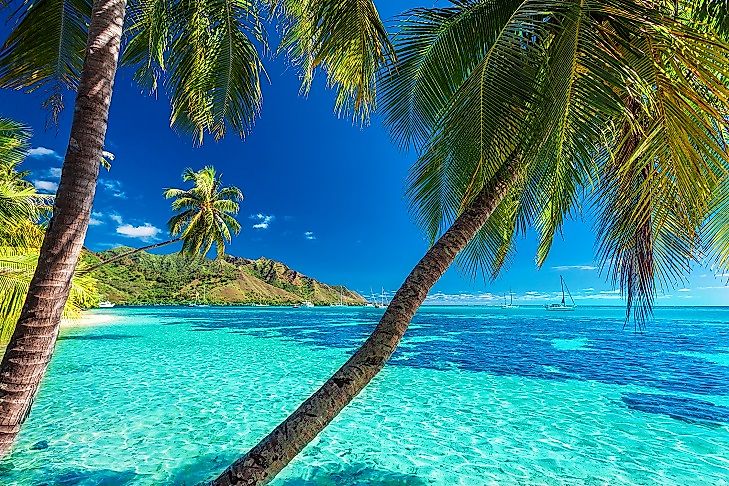 5. Description
One of the Society Islands, this educational, wildlife, and tourism center is only 11 miles northwest of Tahiti. The island is a mountainous hideaway destination with crystalline coral reef lagoon overpopulated with marine biodiversity. The white sand beaches are lined with palm trees that reach down to tranquil turquoise waters. Dolphins and stingrays swim alongside Polynesian natives who fish in their outrigger canoes. Reaching to the shore, the vast lush scenery reaches up to the looming mountains reminding the tourist of King Kong or Jurassic Park. Mount Rotui is situated to the north while the Belvedere Lookout has views of the island's eight mountain peaks.
4. Historical Role
The first people to arrive in Moorea were from southeast Asia, and came about one thousand years ago. These people were the first Polynesians who also sailed from Indonesia and outlying areas to settle in the south Pacific islands. They sailed in large outrigger canoes with their families and livestock. The explorer Pedro Queiros saw the island in 1606 but did not make landfall. James Cook visited the island during one of his expeditions. In 1774, explorer Domingo de Bonechea dropped anchor in the reef around the island. The first European settlers arrived in the 18th Century to farm and build settlements. Charles Darwin also visited the island from Tahiti.
3. Modern Significance
Tourism is one of the important industries in Moorea, as it is on the nearby island of Tahiti. The island is popular among newly weds and families as well. There are recreation facilities for the whole family including activities specially for children. Adults can enjoy cruising, fishing, snorkeling, and paddle boarding. Monitored play with dolphins and stingrays are also popular with tourists. Whale watching is available during the months of August to October. There are also quaint native villages and pineapple plantations to visit. There is a golf course and a Tiki Village for tourists. There are also several scientific research stations and coral reef centers on the island.
2. Habitat and Biodiversity
Moorea Island has volcanic mountains, forests, sandy beaches, marine waters, and streams. The plants and trees are indigenous to French Polynesia but some non-native flora were introduced by early settlers. Fauna on land consists of yellow geckos, coconut crabs, and hermit crabs. Forests harbor tree spiders while streams have eels and crabs. Birds abound in the island such as waxbill, mannikin, and silvereye. Sea birds come to roost or are making stops such as terns, noddies, boobies, reef heron, and frigate birds. The island does not harbor any snake at all. Marine biodiversity in the island is amazing that several coral reef research stations have been operating for several decades now.
1. Environmental Threats and Territorial Disputes
Moorea has some invasive species of flora and fauna that were introduced by early settlers that are now established in the island and cause for concern. Some of these species have eradicated endemic and indigenous species to the island. Many more species are threatened according to the Gump South Pacific Research Station. The island's ecosystem and coastline have been affected by recent urbanization and island development. Soil erosion and sedimentation are two other factors that pose a threat to the island caused by human activities and global warming. Coral bleaching has also affected some corals in the reef around the island. The government has recently put into action two plans to monitor and assess the condition of reef fishes and vascular plants in Moorea.