Travel
Keukenhof, Netherlands - Unique Places around the World
Also commonly referred to as the "Garden of Europe," this Dutch wonder is one of the world's grandest and most sophisticated flower gardens.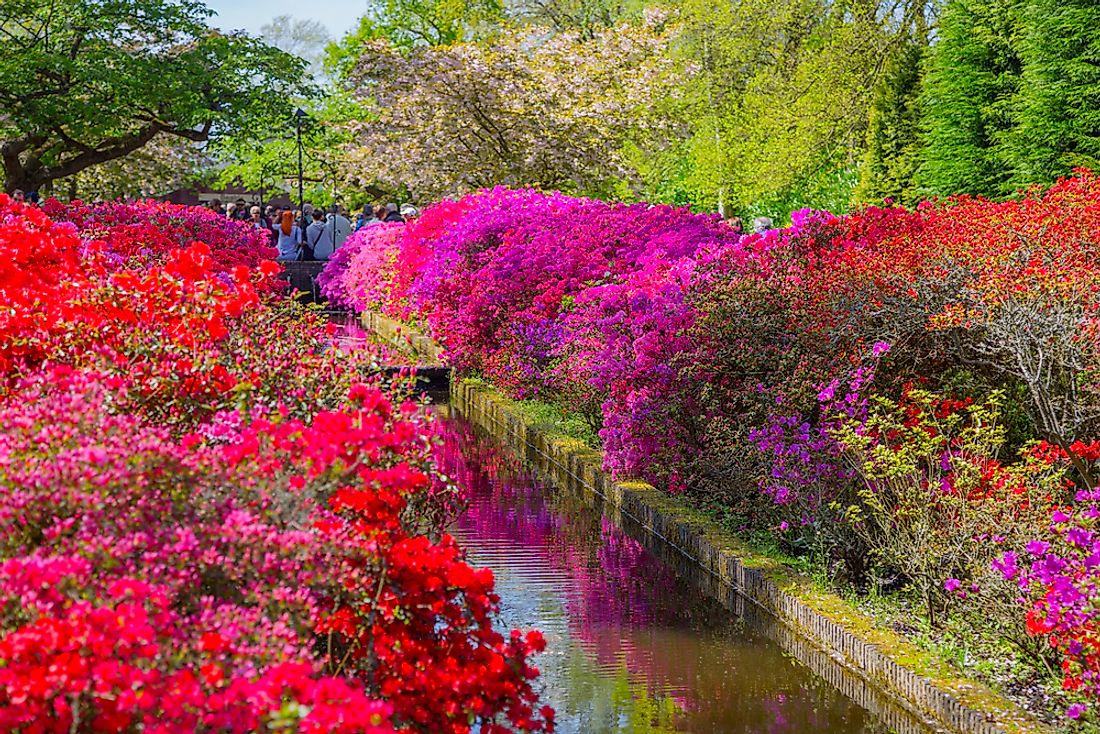 Description
The Keukenhof is an important tourist destination and landmark in the small town of Lisse, South Holland, which is located to the south of Haarlem and southwest of Amsterdam. The garden is 79 acres in size, and each year it is called home by around seven million flower bulbs. The garden was established in 1949 by the Mayor of Lisse in office at the time. Today it is open annually around the peak blooming period of its flowers, which roughly runs from the middle of March until the middle of May.
Tourism
The premiere attraction of Keukenhof is its spacious and paradise-like 32-hectare expanse of flowers. Beyond this, tourists can also enjoy the unique and inspirational gardens that constitute the larger garden as a whole, as well as the creative artwork and a wide range of events the site hosts through the visiting season. The garden is also a great entertainment destination for children, as it makes it possible for children to engage in all manner of outdoor leisure, ranging from a treasure hunt and petting zoo to maze and playground. Thus, Keukenhof is a popular destination for those desiring an ideal family outing. Keukenhof is accessible by bus from the train stations of Haarlem, Leiden and Schiphol. These stations in turn are accessible to global travelers coming from the major airports and train depots of Holland, as well as those of the Netherlands' European neighbors.
Uniqueness
The Keukenhof Garden is often praised as being "the most beautiful spring garden in the world". It features a diverse range of different flowers and garden styles so that ever visitor can find their very own brand of fascination within. In Keukenhof Garden, one can enjoy its winding paths and unexpected revealing points, which are akin to those typical of English landscapes and formal gardens. Guests will smell the breeze coming from the water garden, filled with its hedges, blooming perennials, and bulbous plants, just as they are marveling in the enclosed landscapes wherein old bulbs are spread. To make things even better, visitors are even afforded the opportunity to embark upon a 45-minute boat ride around the garden.
Habitat
Keukenhof is home to more than 800 varieties of tulip, the Genus of perennial flowers which also serves as the national symbol of the Netherlands. The gardens also showcase the blooming produce of 100 Royal Suppliers, who supply for exhibit their very best ranges of spring flowering bulbs for display in the park. In addition to its dazzling assortment of flowering bulbs, every year Keukenhof Gardens also hosts contemporary sculptures and other works produced by local artists during the open season.
Threats
Keukenhof is a pleasant garden with facilities catering to all age groups, As such, it should not be considered dangerous to responsible visitors in any way. In fact, it could be the ideal place for a family wishing to have a great day trip together. As an artificially created park, Keukenhof does not face significant natural threats, nor does it suffer from the effects of climate change, urbanization, or the encroachment of destructive human activities. The park is only open in the spring season, around peak blooming time, though the entire growing operation and the necessary natural process must be carefully protected and attended to all year long.
What is Keukenhof?
Also commonly referred to as the "Garden of Europe," Keukenhof is one of the world's grandest and most sophisticated flower gardens.
This page was last updated on December 1, 2017.
Citations
Your MLA Citation
Your APA Citation
Your Chicago Citation
Your Harvard Citation
Remember to italicize the title of this article in your Harvard citation.