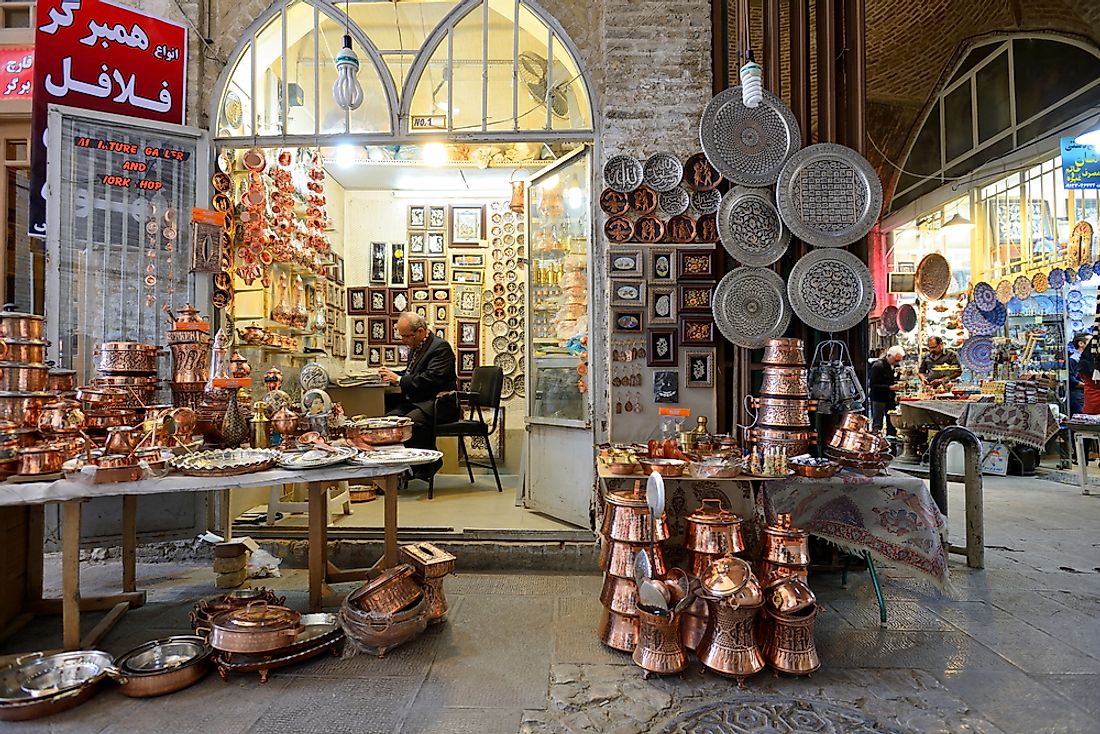 Iran is a country in the Middle East that is strategically located on the Strait of Hormuz and the Persian Gulf. Both of these areas are important pathways for the shipment of crude oil. Iran has a mixed transitional economy that is dominated by gas and oil production industries. Iran has 10% of the world's oil reserves. Iran has a high development potential and is a member of the Next Eleven countries (N-11). Iran has a centrally controlled economy with a large public sector. The government controls prices, and there are subsidies on some products leading to a strain on the economy. Iran initially existed as a financially isolated country but was forced to sign agreements with other nations after the sanctions relating to nuclear programs.
The Economy Of Iran – Quick Facts 
Iran's fiscal year runs from March 21st to March 20th the following year.
Iran has a nominal GDP or $460 billion.
The contribution per sector to the GDP is estimated as 54.3% services, 35.9% industry, and 9.8% agriculture.
The annual GDP per capita is $19,050.
The GDP by component in Iran is broken down as follows: household consumption- 50.2%, government consumption 13.3%, gross fixed investment 21.3%, investment in inventories 14.1%, export of goods and services 22.5% and import of goods and services -21.3%.
Iran has an inflation rate of 55% (a large increase from the 2016 estimate of 9%) with 20% of the population living below the poverty line.
The unemployment rate is estimated at 25%.
Iran earns revenue of $61.95 billion and spends $68.72 billion on exchange rates.
Main Industries Of Iran
The economy of Iran is dominated by oil and gas production which makes up the largest revenue source for the government. Other major industries include petrochemicals, fertilizers, caustic soda, car manufacture, pharmaceuticals, telecom, energy, construction materials, textiles, cement, metal fabrication and food processing.
Main Exports Of Iran
Exports earned Iran an estimated $91.99 bilion in 2017. The main exports were petroleum at 80% of the total exports. Other exports include petrochemicals, chemicals, automobiles, fruits, nuts, and carpets.
Export Partners Of Iran
Iran's major export partners include China importing 30.1% of all Iranian exports, India 16.7%, Turkey 9.5% and Japan 6.8%
Main Imports Of Iran
Iran spent an estimated $70.53 billion on import in 2017. The main import goods include industrial raw materials and intermediate goods, foodstuffs and consumer goods, capital goods, and technical services.
Main Import Partners Of Iran
Iran's import partners include the United Arab Emirates 27.4%, China 13.2%, Turkey 7.8% and Germany 4%.
Challenges To The Economy Of Iran
The Iranian economy is plagued with numerous challenges from price control, corruption, and restrictive policies which undermine the growth and expansion of the private sector. Iran suffers high rates of unemployment and inflation leading to migration of citizens to other countries to seek employment leading to a brain drain in the country.
After the Iranian economy declined following the trade restrictions in 2011/12, the Iranian government signed agreements with other countries including Germany and US to rebuild the economy and establish new economic opportunities. Iran is still working on policies to improve trade and employment opportunities for the people as well as to encourage foreign investments in the country. The country has also experienced an increase in tourism which has had a favorable effect on the country, with the potential for more growth.