The world has a problem with waste management, and the Great Pacific Garbage Patch is the prime example of our responsibility. The Great Pacific Garbage Patch is a rapidly accumulating pile of garbage, described as being three times the size of France. It is located in the Pacific Ocean, and many environmentalists want it to be officially declared as a country.
The world produces around 100 million tons of plastic each year, and while it is true that the majority of that garbage ends up in landfill sites, approximately 8 million tons of plastic makes its way into the oceans. There, most of the plastic accumulates into big garbage patches all around the world, and the most notorious of them all is the one in our headline. 
A Milky Way Made Of Plastic
Imagine you were to pick up each piece of plastic that is located in the great pacific garbage patch, you would be picking and carrying almost 2 trillion pieces of garbage. That is ten times more plastic pieces that there are stars in a galaxy. Also, the total of all those pieces would weight more than 80,000 tons (that is three times the weight of the statue of liberty).
Half of the Great Pacific Garbage Patch is made of ghost nets, fishing nets, and ropes that are discarded because of the fishing activity around that specific area. The other half of the patch is mostly rigid or hard polyethylene, plastic in the shape of water bottles, and plastic wrap. However, the Great Pacific Garbage Patch is not a mountain of trash, nor does it look like a floating landfill. These patches of garbage are spread all over the region of the Pacific Ocean that is twice the size of Texas according to some research data.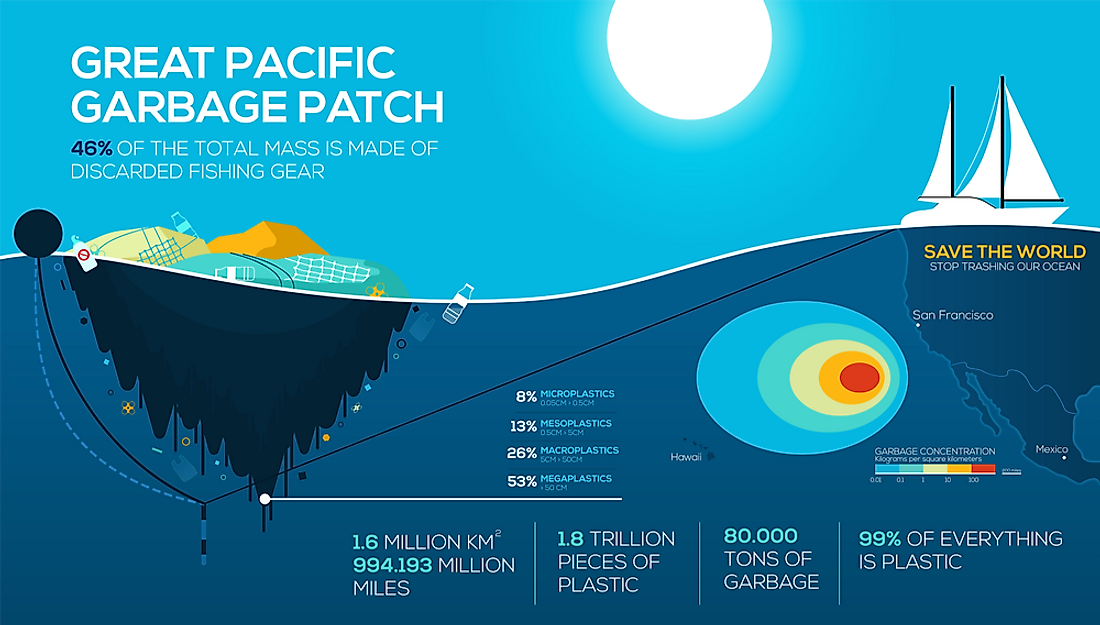 Even if you were to pick up every piece of plastic from that area, it would be a non-ending activity because the garbage patch is continuously flowing with the ocean currents and accumulating new waste. It has been growing larger for nearly 70 years, and because of the plastic, it will continue to be there for centuries. The ghost lines and fishing nets take almost 600 years to break down and disintegrate.
Even then, most of those objects become microplastics that are too small to see but can make it into the intestines of various sea animals and eventually make their way into humans who eat them. Nearly every species of sea turtle has some amount of microplastic in their organism, as well as whales and various sea birds. It is estimated that sometime around the year 2050, the amount of plastic that ends up in our oceans will weigh more than all of the fish in the world.
Great Pacific Garbage Patch As a Country
Since the Great Pacific Garbage Patch is so enormous, why not make it a country with its currency and citizens? It could be called "The Trash Isles." This might seem like a joke to you, but it is not. This is an idea presented by Plastic Oceans Foundation and LADbible to make the world notice the problem that they are collectively ignoring.
If the Great Garbage Patch became a county and a member of the United Nations, it would mean that it would be protected by law, and other countries would need to offer help to finally clean it. Surprisingly, the patch meets all the criteria required to declare it a country, such as forming a government, having a defined territory, and interaction with other states.