Grutas de Cacahuamilpa National Park, Mexico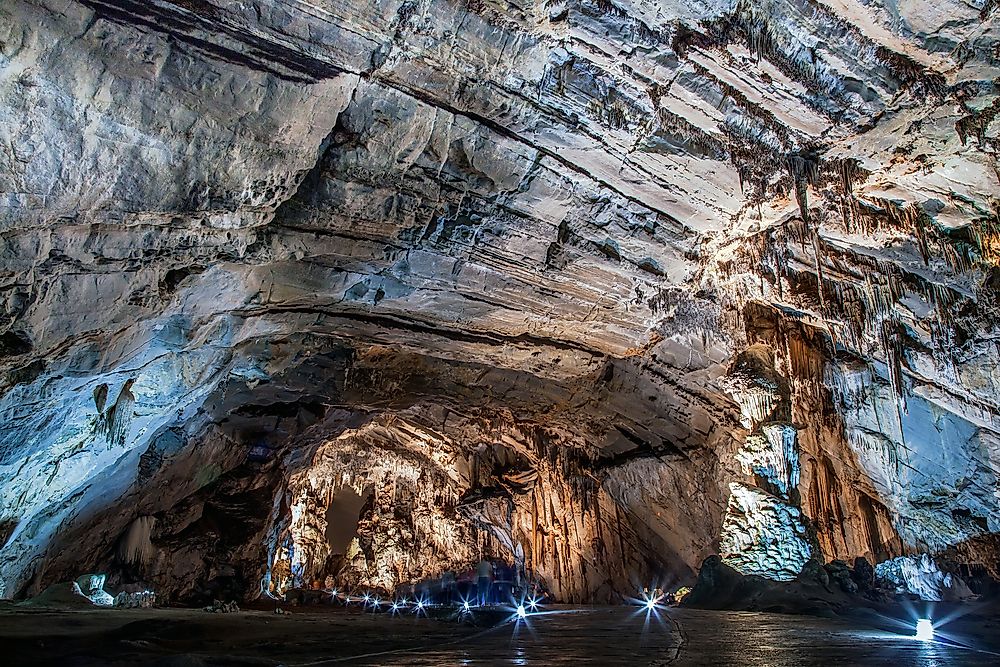 The Grutas de Cacahuamilpa National Park is located in the small but infinitely charming town of Taxco in the Mexican state of Guerrero, southwest of Mexico City. It is 46.5 miles (74.8 kilometers) south of Cuernavaca City, and 19 miles (30.5 kilometers) north of Taxco City. The park is world-famous for having one of the most extensive cave systems in the world, which are called the Grutas de Cacahuamilpa Caverns, as well as the smaller, yet impressive in their own right, Grutas of Carlos Pacheco. Visitors can expect a relatively mild climate when visiting Taxco, with drier weather from October to May, and a wetter season from June to September. There are no airport services in Taxco City, and tourists typically go around it either by walking, taking a taxi, or riding the city's minibusses, which are commonly known locally as "burritos" or "combis".
4. Tourism
An estimated 350,000 people visit the park every year, producing an annual income of about 8 million pesos for the city of Taxco. The nearest airport is located in the city of Cuernacava, although many international tourists arrive through Mexico City's airport as well. A taxi or a bus can take you from these airports to Taxco, either of which will prove very affordable and efficiently fast. From Taxco, visitors can take another bus to the junction between Highway 55 and Highway 166, where excellent tour guides will be available to assist them. The entrance to the Grutas de Cacahuamilpa National Park is a mere 437 yard (400 meter) walk from the junction, and the trail is steep, though quite short.
3. Uniqueness
The Grutas de Cacahuamilpa Caverns, found at the Grutas de Cacahuamilpa National Park, is the most popular hiking and spelunking site in the whole area near Mexico City. It is also one of the world's largest cave systems, with formations that continue growing up to this day. Of the ninety gigantic salons, only twenty have been fully navigated, and thus only these are open for tours. One dry salon is called the "Auditorium" where operas, events, and concerts are held. Most notable among these have been those by Miguel Bose, conducted in 2007, and those of the Acapulco Philharmonic Orchestra in 2009. Apart from its caves, the Grutas de Cacahuamilpa National Park is also popular for its swimming pool, campsites, and extreme sports activities, such as rock climbing, and rappelling down Limontilla Canyon. Those who love going on underground explorations will be delighted with the five-mile-long Chontalcoatlán, and the 7.5-mile-long San Jeronimo, with their live tunnels, sandy beaches, and rocky platforms. The Limontilla Botanical Garden, on the other hand, is ideal for those interested in learning about the native flora, particularly that thriving in deciduous forests such as this one.
2. Habitat
There are many majestic animals and plants that call the Grutas de Cacahuamilpa National Park their home. These include the green iguana, ocelots, cougars, rattlesnakes, badgers, and lynxes. Also found there are numerous species of raccoons, rabbits, otters, armadillos, eagles, and chachalas. Wild orchids with colorful petals abound in the area, alongside trees such as Pachote, Ceibas, Cuajiotes, Cazahuate, Copal, and many more. As mentioned above, these plants can be learned more extensively about at the nearby Limontilla Botanical Garden.
1. Threats
The Grutas de Cacahuamilpa National Park is a spectacular place to visit and, like many of Mother Nature's works, needs help in maintaining its beauty, integrity, and safety for visitors. The whole site is a preserved area, and currently being protected by Mexico's National Government. All explorations and events held at the park require official tour guides, and guests are asked not to interact with the plants and animals living there, which could potentially disturb their natural environs.