Travel
Grand Canyon National Park, Arizona - Unique Places Around the World
Some of the Grand Canyon's rock layers date back to over 2 billion years ago.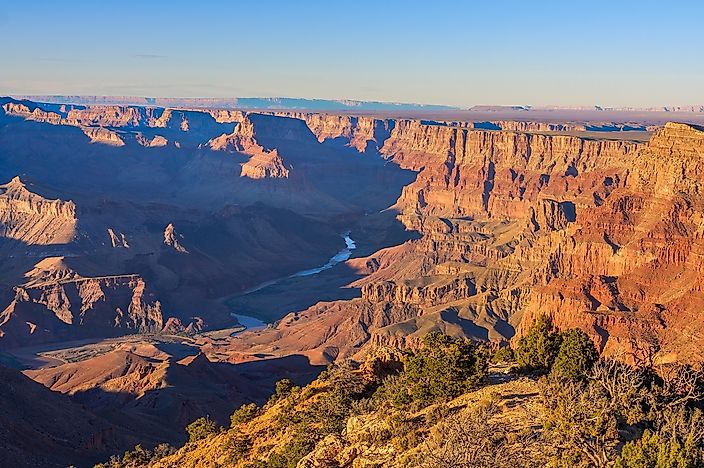 Description
Arguably Arizona's most well-known landmark, the Grand Canyon is located in the northwest corner of the state, near its borders with Utah and Nevada. With the Colorado River running through it, the Grand Canyon is 277 miles (446 kilometers) long and one mile (1.6 kilometers) deep. Due to its size and difference in elevation, the park has been separated into two parts: the North and South Rim. Both rims experience all four seasons throughout the year, but the climate can vary depending on the elevation. The North Rim is typically cooler than the South by a few degrees, with a higher level of precipitation as well. The North Rim is also closed during the winter time, whereas the South Rim operates all year round.
Tourism
Over four million people visit the Grand Canyon every year, coming from all over the United States and, for that matter, the entire world. With so many different modes of transport available, it is easy for anyone to visit the park regardless of their starting point. For those driving, it will take 2 hours from Flagstaff, Arizona, 4 hours from Phoenix, Arizona, and approximately 5 hours from Las Vegas, Nevada to arrive here. Alternatively, there is a railway from Williams, Arizona running here, and public busses are available coming from a number of places, including buses to help move people around the park itself. Additionally, the Grand Canyon also has its own airport in the South Rim, which offers private and chartered flights.
Uniqueness
The Grand Canyon is one of the most geologically significant places in the world. With fossil records, vast caves, and numerous geologic formations, the canyon's cliff-faces were created from water drainage, which cut through the rocks to form its iconic steep walls. There are nearly 40 different rock layers found in the canyon's walls, with the earliest ones dating back to over 2 billion years ago. Archaeologically, the Grand Canyon provides great insight into prehistoric life. The oldest human artifacts found there date to the Paleo-Indian period, and are approximately 12,000 years old. Among these artifacts, there have been animal figurines found in the caves, and enigmatic petroglyphs on the canyon walls.
Habitat
The Grand Canyon contains a number of ecosystems, which in turn serve as homes to a number of rare and endemic species of plants and animals. The park is home to over 1,500 species of plants, and hundreds of animals. As a Global Bird Area, the Grand Canyon is an excellent site to go birdwatching, with there being over 300 species of birds therein. the most notable of these are such large birds of prey as California condors, Mexican spotted owls, red-tailed hawks, and peregrine falcons. There are also a number of mammals that can be spotted during visitors' hikes through the area, including bighorn sheep, bison, elks, cougars, and mule deer.
Threats
During the summer, the Grand Canyon can experience thunderstorms, flash floods, lightning, strong winds, and even occasional tornadoes. Meanwhile, in the winter, icy roads and snowfall are hazards that should be taken into account when driving or hiking. When hiking or sightseeing around the park, visitors should avoid direct contact with the wildlife (including feeding or petting them) in case they carry zoonotic diseases, such as rabies and other tick or flea-borne diseases, or otherwise physically harm a person. Visitors are required to stay at least 6 feet (2 meters) away from the canyon's edge as a safety precaution, and they are prohibited from throwing objects over the edge, as doing so can prove dangerous to hikers or wildlife traveling in the canyon below.
This page was last updated on April 25, 2017.
Citations
Your MLA Citation
Your APA Citation
Your Chicago Citation
Your Harvard Citation
Remember to italicize the title of this article in your Harvard citation.