Economics
Gasoline Prices By Country
A comparative analysis of gas prices in countries around the world.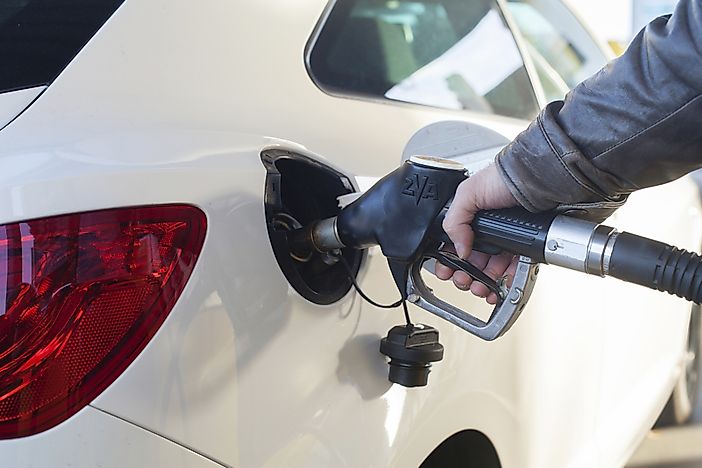 In most capitalist societies, the balancing act between the forces of supply and demand determines the prices of most goods, unless a government decides to intervene to influence the economy's direction. Unfortunately, not all economies are endowed with equal natural and human resources. Regional differences in available inputs lead countries to produce different products depending on what is most efficient or necessitates the lowest opportunity costs. That is why prices vary between economies. However, there are instances internal or external factors may cause prices to vary between economies with similar access to resources.
Depending on the availability of natural resources, a country can gain an absolute or comparative advantage in production and opportunity cost over other countries and, subsequently, an upperhand economically. The prices of oil is no exception, as we can see in the variance in petroleum prices between oil producing countries, such as Russia, Iran, and Saudi Arabia.
Certain differences in price and competitiveness are attributable to factors beyond raw material availability, including levels of taxation, subsidization, economic efficiency, human resources, and level of technical development. For instance, it would not be right to assume that the price of oil in Venezuela is cheap because they are simply that much more efficient in their productive processes. In the same way, it would be wrong to assume that a developed country, such as Norway, has inefficient production practices that cause its own gas prices to be much higher than the global average.
On the demand side of the equation, the price of oil for a net-importer of oil may be determined by the international price of crude oil, distribution costs, fuel taxes, and storage costs. That is why it is very difficult to compare oil prices in different countries, because every country has its own unique set of economic policies.
In the case of Norway, let us try to look at the extremities and try to understand why they have this level of prices. Norway is a developed country and a leader in advocating for green energy-so does many other European countries. Because of this, the country imposes hefty fines on non-renewable energy sources such as oil. That is why the prices are that high.
The countries that sell fuel at a price of $5.5 to $6.0 per gallon represent are a mixed group, some being net importers, and others being countries that have not fully developed their production capacity and thus export and import certain petroleum products at the same time. Such countries may sell fuel at a higher price in order to ensure that fiscal policies are carried out as needed.
For instance, Russia may sell fuel at a much higher price because it needs more revenue from oil than the United States does, although Russia is a net producer.
At the bottom of the group, we have countries which appear to be almost giving away gas to consumers. Saudi Arabian oil can be sold at these prices because it is a major producer and exporter, and has a massive quantity on hand that doesn't need to be shipped over long distances before purchase. In addition, the government there does not collect as high a level of local taxes as do many of the country where gasoline prices are much higher.
At the far bottom end of the gasoline pricing spectrum, the $0.04 per gallon gas price in Venezuela is because of an economic situation resulting from the outcomes of a failed political regime. With embargoes, crippling corruption, and a dictatorial regime dependent on oil production, the government seems to have no choice but to let the people have cheap oil, because that is one of the few commodities it can afford to appease them with.
Gasoline Prices By Country
View information as a:
List
Chart
| | | |
| --- | --- | --- |
| 1 | Norway | 9.26 |
| 2 | Turkey | 8.44 |
| 3 | Hong Kong | 8.31 |
| 4 | Italy | 8.11 |
| 5 | Netherlands | 8.07 |
| 6 | Israel | 7.76 |
| 7 | Denmark | 7.64 |
| 8 | UK | 7.33 |
| 9 | Portugal | 7.18 |
| 10 | Belgium | 7.15 |
| 11 | Finland | 7.13 |
| 12 | Switzerland | 7.10 |
| 13 | Greece | 7.06 |
| 14 | Ireland | 6.98 |
| 15 | Germany | 6.94 |
| 16 | New Zealand | 6.89 |
| 17 | Malta | 6.77 |
| 18 | Slovenia | 6.73 |
| 19 | Sweden | 6.73 |
| 20 | Slovakia | 6.69 |
| 21 | France | 6.52 |
| 22 | Austria | 6.44 |
| 23 | Spain | 6.32 |
| 24 | Cyprus | 6.30 |
| 25 | Czech Republic | 6.26 |
| 26 | Croatia | 6.19 |
| 27 | Romania | 6.14 |
| 28 | Chile | 5.93 |
| 29 | Argentina | 5.88 |
| 30 | Lithuania | 5.88 |
| 31 | Hungary | 5.80 |
| 32 | Luxembourg | 5.80 |
| 33 | Japan | 5.79 |
| 34 | Poland | 5.66 |
| 35 | Latvia | 5.56 |
| 36 | Brazil | 5.50 |
| 37 | China | 4.68 |
| 38 | South Africa | 4.65 |
| 39 | Canada | 4.50 |
| 40 | India | 4.32 |
| 41 | Russia | 3.24 |
| 42 | U.S. | 2.93 |
| 43 | Malaysia | 2.48 |
| 44 | United Arab Emirates | 1.77 |
| 45 | Iran | 1.42 |
| 46 | Saudi Arabia | 0.45 |
| 47 | Venezuela | 0.04 |