Travel
Fairy Pools, Isle of Skye, Scotland - Unique Places around the World
This place is akin to a scene out of a fanatasy novel.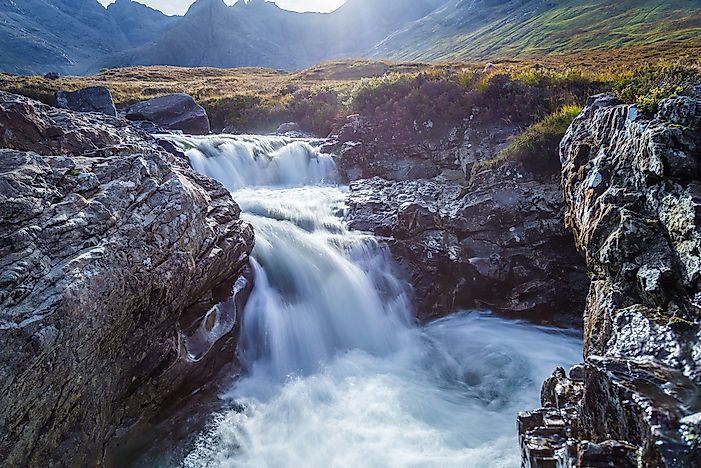 Description
The Fairy Pools are located on the Isle of Skye in Scotland, part of the Inner Hebrides, where North Atlantic currents keep temperatutres fairly mild and peasant all year round. They are a collection of pools, streams, and a waterfall that create a beautiful scenery in the middle of the Glen Brittle forest. The Fairy Pools are said to contain a certain amount of magic, hence their name. Ultimately, we can attribute the stunning photos of the pools and the scenery around it to such a "magical" air. The pools are swimmable, and make a great place to spend time with family and friends. Due to their natural beauty, they attract a large number of hikers to the area. To get to the Fairy Pools, one must walk about twenty minutes into the wild beauties of Scotland.
Tourism
There is a fair amount of tourism around the Fairy Pools area. The closest town is Carbott, and they are located in the Glen Brittle area of Scotland. The area is perfect for hikers of all levels, due to a variety of walks that range considerably in terms of degree of difficulty. Nearby to the Fairy Pools is a variety of other beautiful scenery, such as Cuillins, which the largest mountain in the region. There is a youth hostel and a campsite situated close to the area. In addition to the mountains and the scenic glen, there is a beach situated close by as well. The region is home to a large amount of Scottish wildlife, which is perfect for those who want to take a vacation and immerse themselves in the natural beauty of Scotland.
Uniqueness
The Fairy Pools are definitely a unique feature of Scotland. As the name suggests, this is due to the supposedly magical powers that they can exert over the people who find themselves at this spot. The Fairy Pools find themselves snuggled into the Scottish scenery, and provide a relaxing respite from the urban life of such not-too-distant locales as Edinburgh and Glasgow. Due to their natural beauty, one will be hardpressed to find somewhere as magical or beautiful in any other part of Scotland. The cascading Glen in which they call home provides a perfect place to take photos worth boasting of to your friends and family.
Habitat
The habitat of the Fairy Pools hosts a variety of animals, such as red deer, rabbits, and, of course, sheep. The area is also host to a large number of birds, which will piqueany bird enthusiast's curiosity. Large flocks of crows, ravens, and gulls are present in the area, as well as such smaller birds as meadow pipits, turnstones, common ringed plovers, grey herons, dunlins, and curlews, just to name a few. The physical landscape is predominately rocky, with some boggy areas here and there. The water in the area is typically cold. Therefore, if one is thinking about swimming in the pools, bringing a quality wetsuit along might be a good option to consider.
Threats
There are not many natural threats present to visitors of Fairy Pools. Although it is still advised for comers to exercise caution if it is raining, as it may make the terrain harder to navigate. The temperature is generally moderate for much of the year, which is a typical feature of most Scottish weather. There are no dangerous animals located in the area. In fact, the most annoying feature may very well be the presence of highland midges, which are a small, biting insect native to the Glen Brittle area, similar to a mosquito. They are not dangerous, and regarded more so as a "pest" than they are as a legitimate threat to one's health. Apart from the highland midges, the area is quite safe for humans, and visitors are, or course, asked to not litter or unnecessarily disturb the environment there in any way.
This page was last updated on April 25, 2017.
Citations
Your MLA Citation
Your APA Citation
Your Chicago Citation
Your Harvard Citation
Remember to italicize the title of this article in your Harvard citation.