Travel
Dunnottar Castle, Scotland - Unique Places around the World
Once the site of a bloody siege led by William Wallace during the Wars of Scottish Independence, this medieval castle is now a popular and accessible tourist destination.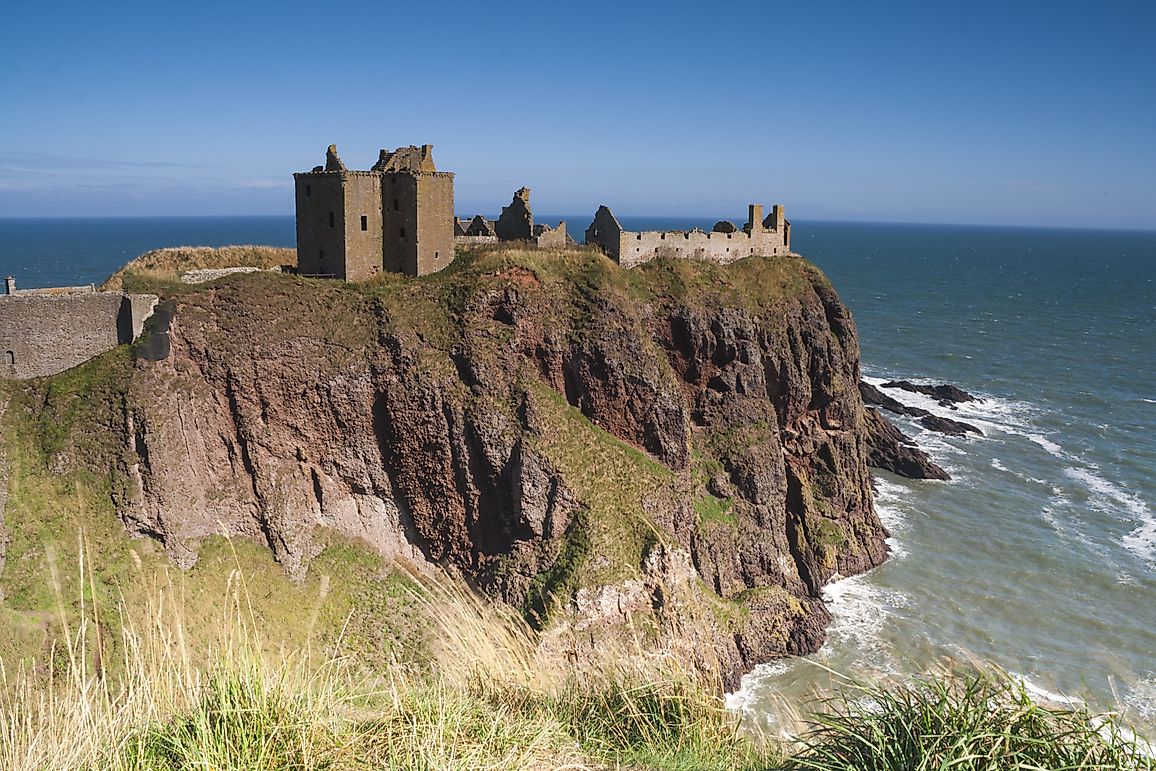 Description
Dunnottar Castle is a ruined medieval fortress, located upon a rocky headland in the coastal regions of northeastern Scotland. It lies around 2 miles south of Stonehaven. The surviving buildings were mostly constructed in the 15th and 16th centuries, but the site is believed to have been first fortified well before then, in the Early Middle Ages. The ruins of the castle are spread over 1.4 hectares, surrounded by steep cliffs that drop to the North Sea shore 50 meters below. A narrow strip of land joins the headland to the mainland, along which a steep path runs up to the gatehouse. Dunnottar Castle is a protected monument site, and twelve structures on the site feature on the United Kingdom's and Historic Scotland's Statutory List of Buildings of Special Architectural or Historic Interest.
Tourism
Dunnottar Castle is a very popular place to visit in Scotland. The castle is accessible by way of a footpath from the nearby Castle car park, and can also be approached from the Coastal Path, which begins at Stonehaven Harbour. The best way to get there for most visitors, however, is by driving. Meant to protect itself from outside attack, the natural pathway across the Fiddlehead was deliberately hacked away, and a new access route was cut into the cliffs. This plunging, narrow entrance, which in the past was used to its attackers' dismay, today still creates challenges for tourists trying to get in.
Uniqueness
Dunnottar Castle not only has the most spectacular surroundings of any castle in Scotland, but is also historically significant as well. It has played a crucial role in numerous important moments in Scottish history, one of which was during the Wars of Scottish Independence. In 1297, William Wallace led the Scottish rebellion against the English Invasion, and besieged Dunnottar Castle and ransacked it, burning alive those English troops within. Later on, in the 17th Century, Dunnottar Castle held all of the treasures of Scotland and protected the Scottish Crown jewels from being taken away by the English.
Habitat
Due to its steep cliffs and the area's rocky nature, no particular animal or plant life serves as a major attraction to the site. As a protected ruined castle, there are not any particular products that visitors are allowed to take away from it either. In fact, the landscape and the architecture themselves are the main attractions. The site is, however, located proximate to the aquatic and semi-aquatic habitats of the flora and fauna of the Carron and Cowie Rivers, as well as that of Stonehaven Beach.
Threats
As a guarded historical site, Dunnottar Castle does suffer from many significant threats, nor do humans prove to be a major source of danger to the castle either. It is also not dangerous for humans, although its narrow entrance might be challenging for some people to get into. Located several miles from Aberdeen and on the verge of quiet Stonehaven, it escapes many of the hazards and disasters brought on by urbanization and excessive human activities, and remains to be a relatively serene location as a result. Stonehaven, which is a harbor city located at the confluence between two rivers, is thus prone to flooding following heavy rains, and nearby Dunnottar Castle may sometimes be threatened by water damage itself, as well as erosion from wind and saltwater spray from the nearby sea.
What is Dunnottar Castle?
Dunnottar Castle is a ruined medieval fortress, located upon a rocky headland in the coastal regions of northeastern Scotland. It lies around 2 miles south of Stonehaven.
This page was last updated on April 25, 2017.
Citations
Your MLA Citation
Your APA Citation
Your Chicago Citation
Your Harvard Citation
Remember to italicize the title of this article in your Harvard citation.