Dry Counties of the United States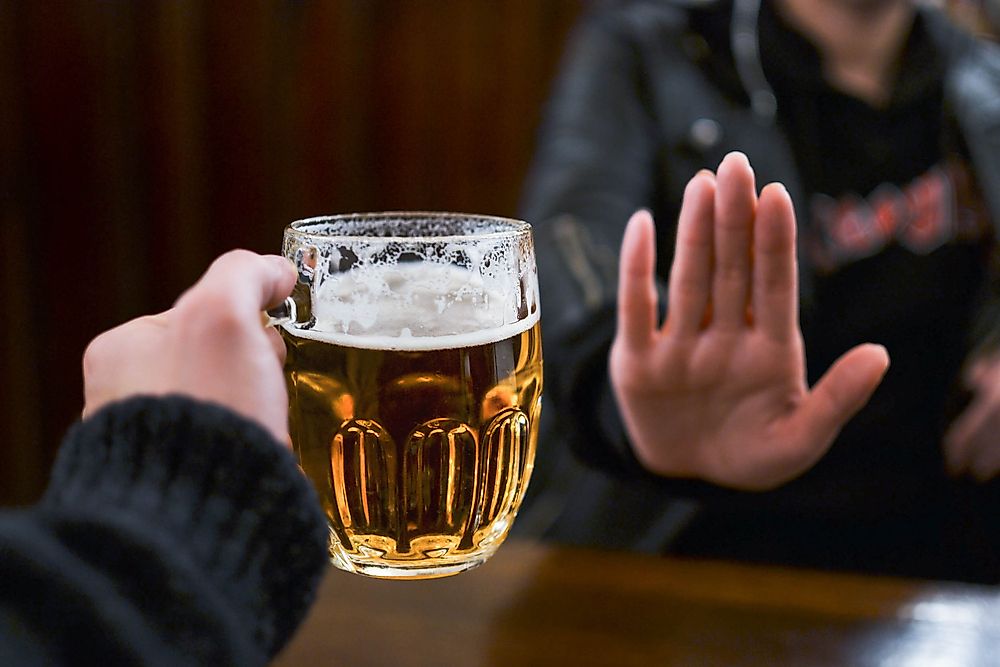 A dry county is a US county with a government that prohibits any sale of all alcoholic beverages. Some governments forbid selling of alcohol off-premises, others forbid on-premises sale while others forbid both. There are many dry counties in the US, and most of them are in the South. There exist other smaller jurisdictions that forbid the sale of alcoholic beverages such as townships, cities, and towns which are known as dry townships, dry cities or dry towns. Currently, there are about 18 million people living in the dry area of the US, which is about 10% of the total area of the US. After the repeal of the prohibition in 1933, a huge proportion of the population persistently supported the prohibition. While some states chose to maintain their prohibition, others allowed local counties to decide is they wanted to continue with prohibition within their borders.
Dry Counties of the United States
History of Dry Counties
Before and after the repeal of nationwide prohibition, some of the states in the US passed their own local laws that accorded municipalities and counties, through ordinance or either popular vote, the right to decide on their own whether to prohibit or allow the selling of alcoholic beverages. Most of the dry jurisdictions do not forbid alcohol consumption since there is a probability that it could result in loss of taxes and profits from the sale of alcoholic beverages to their residents in non-prohibited areas.
Reasons Behind Dry Counties
The idea of continued prohibition of alcohol is mostly because of religious attributes since many Christian denominations condemn the consumption of alcohol by their followers. Although state law does not acknowledge dry counties, there are laws designed to inhibit the sale and use of alcohol.
The Geography of Dry Counties
According to a survey done by the National Alcohol Beverage Control Association in 2004, 500 municipalities in the United States are dry including 83 in Alaska. Three of the 67 counties in Florida are dry and are all located in the northern region of the state. The north region of Florida has close cultural ties to the Deep South. In Mississippi 36 of the 82 counties are either dry or partially dry. Despite Moore County found in Tennessee is interestingly enough also the home of Jack Daniel's, a chief distillery of whiskey which is operational. In the United States, the states with the highest number of dry counties include Arkansas, Georgia, Kansas, Kentucky, Mississippi, South Dakota, Tennessee and Texas. Kansas, Mississippi, and Tennessee are the three states that are wholly dry by default.
The Advantages and Disadvantages of having dry counties
The main advantage of having a dry county aside from moral code is that crime rates are lower compared to wet counties. According to research 10% increase in drinking enterprises is associated with an increase in violent crime of between 3% and 5%. One of the main issues related to a dry county is that the county is a loss of tax revenue since alcohol consumers are prepared to drive for miles to procure alcohol. Most counties in the state of Texas have experienced loss of tax revenue promoting them to vote for going wet for their towns to thrive commercially. Despite the idea of a thriving economy being appealing religious institutions still strongly oppose. Another disadvantage to dry counties is that residents have to travel a long distance to purchase or consume alcohol which increases the risks of impaired driving. Dry counties are claimed to have higher rates of driving while under the influence of alcohol.
Dry Counties of the United States
| Rank | State | Dry Counties |
| --- | --- | --- |
| 1 | Kansas | Jewell, Sheridan, Doniphan, Clay, Elk, Rice, Stafford, Gove, Wallace, Wichita, Lane, Gray, Haskell, Meade, Clark, Stevens, Morton, Stanton, Cherokee |
| 2 | Kentucky | Adair, Allen, Ballard, Bath, Breathitt, Butler, Carlisle, Casey, Clinton, Crittenden, Cumberland, Elliott, Estill, Fleming, Hancock, Hart, Hickman, Jackson, Knott, Knox, Larue, Lawrence, Lee, Leslie, Lincoln, McCreary, McLean, Martin, Menifee, Metcalfe, Monroe, Morgan, Ohio, Owsley, Powell, Robertson, Rockcastle, Russell, Webster |
| 3 | South Dakota | Oglala Lakota County |
| 4 | Mississippi | Tate, Benton, Tippah, Tishomingo, Prentiss, Pontotoc, Itawamba, Calhoun, Webster, Choctaw, Smith, Clarke, Franklin, Walthall, Greene, George |
| 5 | Tennessee | Benton, Bledsoe, Cannon, Claiborne, Crockett, Dekalb, Fentress, Grainger, Hancock, Hawkins, Hickman, Houston, Jefferson, Johnson, Lake, Macon, McNairy, Meigs, Morgan, Pickett, Rhea, Scott, Stewart, Union |
| 6 | Texas | Borden, Collingsworth, Hemphill, Kent, Martin, Roberts, Throckmorton |
| 7 | Georgia | Coweta, Decatur, Dodge, Franklin, Murray |
| 8 | Arkansas | Ashley, Bradley, Clay, Cleburne, Craighead, Crawford, Faulkner, Fulton, Grant, Hempstead, Hot Spring, Howard, Independence, Izard, Johnson, Lafayette, Lawrence, Lincoln, Little River, Southern Logan, Lonoke, Madison, Montgomery, Newton, Perry, Pike, Polk, Pope, Randolph, Scott, Searcy, Southern, Sebastian, Sevier, Stone, Van Buren, White, Yell |