Countries Who Are Doing the Most to Combat Climate Change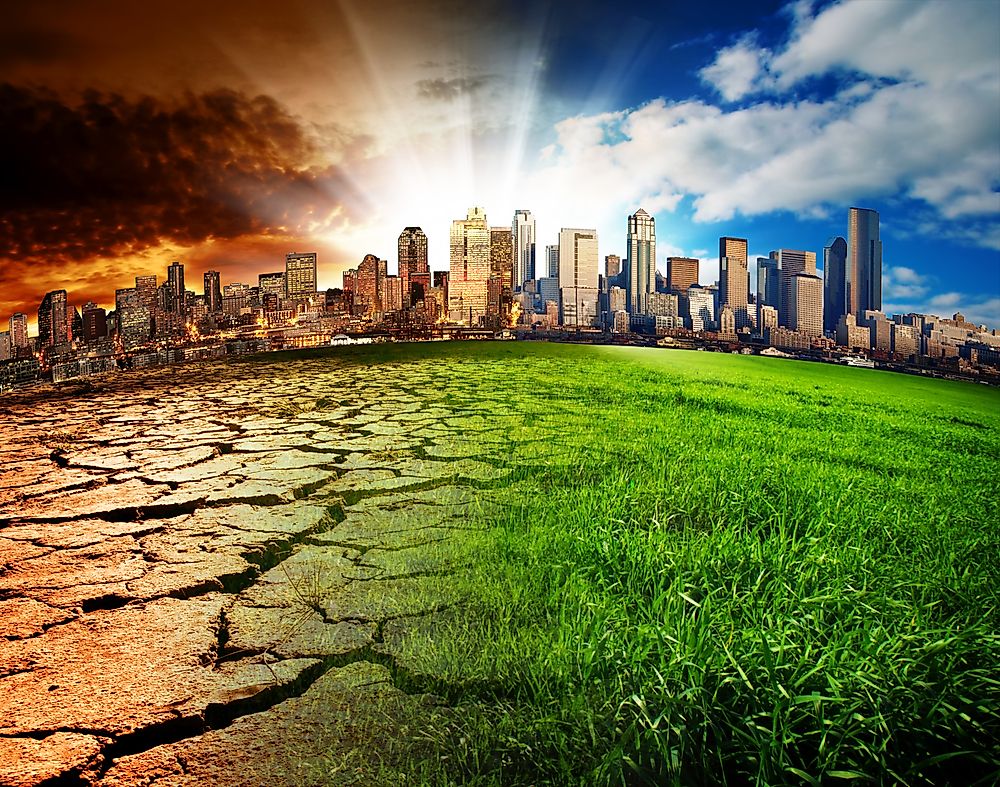 The Climate Change Performance Index is an international tool that provides transparency in global climate policies. It uses standardized measurements to identify the climate protection efforts of the 58 countries that are responsible for 90% of the world's carbon dioxide, a greenhouse gas, emissions. The majority of this index, 80%, looks at measurable emissions levels, while 20% of the index considers national climate policies. This article takes a closer look at how countries score according to the Climate Change Performance Index of 2016. It is important to note that none of the 58 countries achieved a "very good" status, leaving the top 3 positions empty.
15. Romania - 60.39
Romania is listed as having a moderate approach to climate change prevention. It has a score of 60.39 according to the index with its strongest criteria coming from the level of emissions. Its ranking as number 18 is an improvement over previous years, although some experts believe that is due to the decline of other countries. However, Romania has one of the lowest levels of greenhouse gas emissions as a result of deforestation and ranks 19th in terms of renewable energy use.
14. Hungary - 60.76
Hungary occupies the 17th position on the index with a score of 60.76. Like Romania, it has a moderate approach to climate change prevention. Its strongest indicators were in level and development of emissions. The government of Hungary does not consider its economy to be a high-carbon producer, which is true when compared to other countries. However, this perception prevents the country from achieving high climate change prevention performance. One of its poorest areas of performance is in the residential buildings sector. Currently, 60% of energy production here comes from nuclear energy, which is a low-carbon technology. Hungary expects this percentage to grow.
13. Latvia - 61.38
Latvia is number 16 on the list and has an index score of 61.38. Its approach to fighting climate change is considered good, making it the only Baltic country with a positive assessment. The strongest indicator is its relatively low emissions levels. In fact, Latvia has the lowest emissions from deforestation in the world. In terms of renewable energy use, this country ranks number 8.
12. Malta - 61.82
Malta ranks number 15 with an index score of 61.82. Of the various indicators measured, its best performance was in its relatively low emissions levels. The government of this country has been making a significant effort toward fighting climate change for the last few years. In fact, it was the first country to bring up the topic at the UN General Assembly. Malta also has a higher rating of renewable energy use than the previously mentioned countries and is one of 7 members of the EU to have eliminated coal powered energy plants.
11. Switzerland - 62.09
Switzerland holds the 14th ranking and has an index score of 62.09. This position actually represents a decrease in its efforts against climate change; it ranked number 10 in 2014. Some experts believe this downward movement is due to other countries increasing their efforts at a rapid rate. Despite this ranking, Switzerland does have lower emissions levels than any other country with a higher index score (with the exception of Morocco). One of the factors that takes away from its overall score is that this country has one of the highest levels of air travel emissions in the world.
10. Luxembourg - 62.47
Number 13 on the list is Luxembourg with an index score of 62.47. The strongest factor contributing to this score is the country's development of emissions and its national climate policies. It established the strictest objective to decrease CO2 emissions of any UN member, committing to a 20% reduction by 2015 as opposed to 2020. In order to meet this goal, this country has invested in renewable energy and worked to double its number of wind farms. It experienced a 4% emissions reduction from 2015 to 2016.
9. Ireland - 62.65
Ireland occupies the 12th position on the index with a score of 62.65. This country has a relatively strong in its development of emissions, perhaps due to its October 2016 decision to ratify the 2015 Paris Climate Agreement. It has committed to a 40% reduction of 1990 in greenhouse gas emission levels by 2030. Over the last few years, emissions levels in this country have actually been rising and it was not expected to meet the 2020 EU goal of a 20% reduction. In addition to developing low-carbon emitting technologies and new technologies designed to store carbon, this country is also dedicated to assisting developing countries around the world in the fight against climate change.
8. Italy - 62.98
Italy has been ranked as the 11th most active country in the global commitment to prevent climate change. This country has an index score of 62.98 with a significant percentage of this score coming from its emissions levels and development of emissions. This country has experienced a number of natural disasters related to changing climate patterns, including floods, landslides, and desertification. In response, it has committed itself to improving its environmental practices and policies. For example, at the end of 2015, the Italian Ministry of Environment signed an agreement with the Ministers of the Caribbean Community, promising to help these nations achieve improved approaches to combat climate change. In another attempt to fight environmental damage, this country hosted a conference to share the best technological practices in areas like infrastructure and ecosystem management.
7. Morocco - 63.76
Morocco holds the number 10 spot in climate change prevention with a score of 63.76. It has the best rating in the world in the area of national climate policies. This country still relies on nonrenewable fossil fuels for its energy needs, but the government has expressed its commitment to developing renewable energy infrastructure, such as hydro, wind, and solar.
6. Cyprus - 65.12
Cyprus ranks number 9 on the Climate Change Performance Index with a score of 65.12. It has the top position in development of emissions. The government of this country has made a significant commitment to reducing its output of greenhouse gases. This action has primarily been motivated by the recent experience this country has endured with drought as a result of global climate change. On average, Cyprus has decreased its emissions by 3% annually since 2008.
5. France - 65.97
France is in the 8th position on this list and has an index score of 65.97. This country has taken a significant stance in the global fight against climate change and has hosted the recent Paris climate accord. During this international meeting, the President of France reiterated the country's commitment to surpass the goals set by the 2015 Paris Climate Agreement. The government of this country is collaborating with the government of India to hold the first International Solar Alliance, with the objective of providing some of the poorest countries around the world with solar energy infrastructure.
4. Belgium - 68.73
Belgium holds the 7th highest ranking for its efforts to combat climate change. It has an index score of 68.73, primarily supported by its environmentally friendly climate policies. The government of Belgium has stayed consistent in its dedication to make a 20% cut in 1990 carbon emission levels by 2020, an objective established by the European Union. In keeping with this commitment, this country closed its last coal-fired power plant in 2016.
3. Sweden - 69.91
Sweden is number 6 for its efforts to combat climate change. This country has an index score of 69.91 and is known for a number of environmentally friendly policies and practices. In fact, Sweden was the first country in the world to establish an environmental protection agency (in 1967). Examples of its commitment to environmental health and climate change prevention include its successful recycling program and the fact that more than half of its energy comes from renewable resources. The government of this country is working toward its goal of 0 net carbon emissions by 2050 as part of the broader EU goal of reducing emissions to 80% 1990 levels by 2050.
2. United Kingdom - 70.13
The United Kingdom is in 5th place for its fight against climate change. It has an index score of 70.13; the strongest factors here are its national climate policy, development of emissions, and emissions levels. In an effort to reduce its emissions per the EU goal of 20% by 2020, the UK has been phasing out coal-powered energy by organizing periods of coal-free energy production since 2016. In April of 2017, it reached its very first 24-hour period since the Industrial Revolution. Current plans for the UK include closing the last existing coal-powered plant in Britain by 2025. Despite this progress, experts point out that the UK still needs to work on decarbonizing its transportation and buildings.
1. Denmark - 71.19
Denmark holds the 4th ranking, which is the best position in the world. It has an index score of 71.19 that, although high, has actually dropped from its prior scores. This decreased score is the result of recent political decisions to change previously established environmentally friendly regulations. One example of this is the government's decision to invest in its highway infrastructure rather than an electric train.