Countries Who Spend The Most Money Shopping Online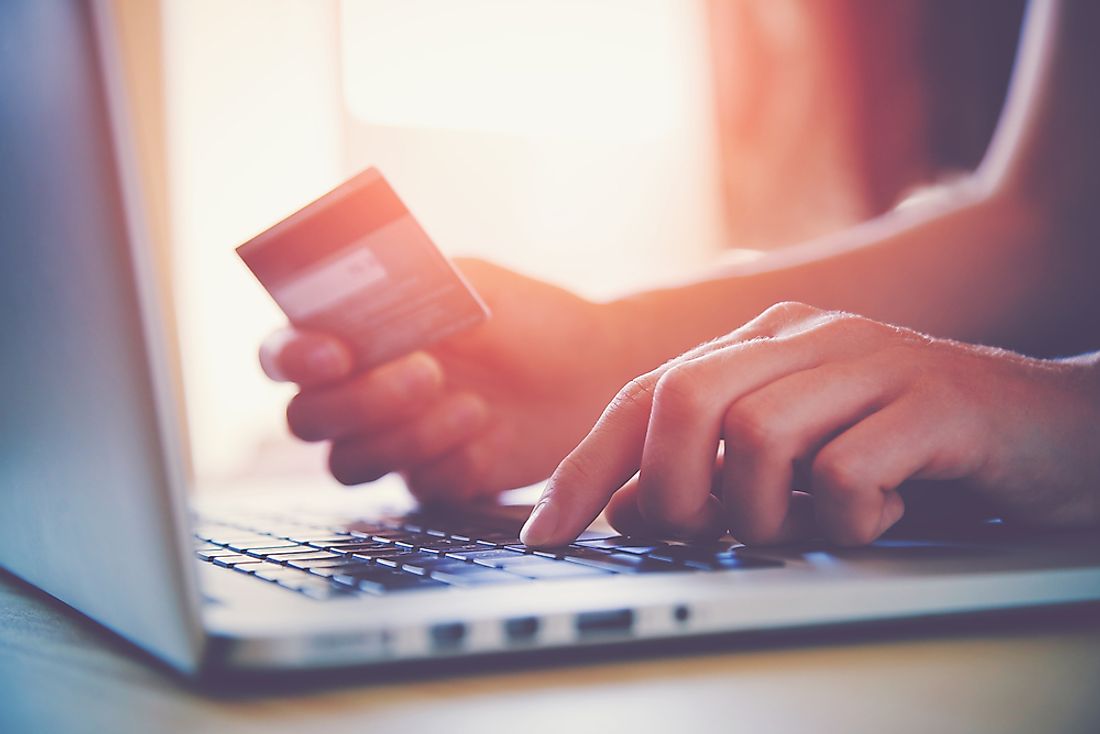 The Growing Popularity Of Online Shopping
Online shopping gives customers the ability to purchase goods and services from a provider without ever going to the "brick-and-mortar" location. Instead, customers simply visit the provider or seller's website and place and pay for their order. The product or service is delivered to the customer's home. Online shopping can be done via computer, tablet, or smartphone. The largest online shopping websites are Amazon (since 1995), eBay (since 1995), and Alibaba (since 2003). Online shopping has changed the buying patterns in many countries and is quickly becoming popular in others. This article takes a look at which countries spend the most shopping online.
Changing Shopping Habits
Since the internet was first introduced to the public, it has become part of everyday human life. As more and more individuals are being born after the introduction of the internet, doing tasks online will become commonplace in more countries around the world and things like online shopping will cease to be a novelty or convenience. As the internet and its available services continue to grow, economic experts predict that it will soon reach $4 trillion in value.
Countries That Spend The Most Shopping Online
Over 70% of the adults in the United Kingdom, Japan, and Germany spend money at online shopping sites. The Asia-Pacific area increased international sales by 30% in 2012 and China and Brazil have been significantly increasing their online shopping habits as well.
1. United States
The US has the highest total revenue from online shopping in the world, reaching $364.66 billion in 2012. Additionally, this country leads the world in online shopping spending. In 2015, the average amount spent per online shopper was $1,804. Research has shown that approximately 96% of the adult US population participates in online shopping. The average shopper here spends about 5 hours per week and allocates around 36% of their shopping budget to online shopping. The top 3 most popular online shopping sites used in the US are Amazon, eBay, and WalMart - each one offers a wide assortment of household goods, personal items, and services.
2. United Kingdom
The second highest spending average around the world is found in the UK, where online shoppers spend $1,629 per year. In a 2016 poll of consumer habits, researchers found that 81.2% of shoppers in the UK first look at product prices in physical retail locations and then compare the prices available online. Additionally, more than 50% of consumers here purchase electronics (things like televisions, cellphones, tablets, and computers) from online sites rather than in shops. Another finding reflects that 30% of clothing shoppers research prices online prior to trying the clothes on in-store. Respondents also reported that Sunday is the most popular day for online shopping, while Friday is the least popular.
3. Sweden
Consumers in Sweden spend the third highest amount at online stores annually. In 2015, online shoppers in this country spent an average of $1,446. Additionally, online shopping activity, in general, has been increasing here over the last few years. For example, 2015 saw a 40% increase in the sale of food products over 2014 numbers and consumers reported that 20% of their purchases were done online. Additionally 26% of Swedes shop from online shops located abroad. The majority of these purchases are made from online shops in the UK (32%) and Germany (28%).
The chart published below offers a more in-depth look at the countries that spend the most shopping online.
Countries That Spend The Most Shopping Online
| Rank | Country | Average e-commerce revenue per online shopper, 2015 (in US dollars) |
| --- | --- | --- |
| 1 | United States | 1,804 |
| 2 | United Kingdom | 1,629 |
| 3 | Sweden | 1,446 |
| 4 | France | 1,228 |
| 5 | Germany | 1,064 |
| 6 | Japan | 968 |
| 7 | Spain | 849 |
| 8 | China | 626 |
| 9 | Russia | 396 |
| 10 | Brazil | 350 |