Costa Rica's Most Beautiful Birds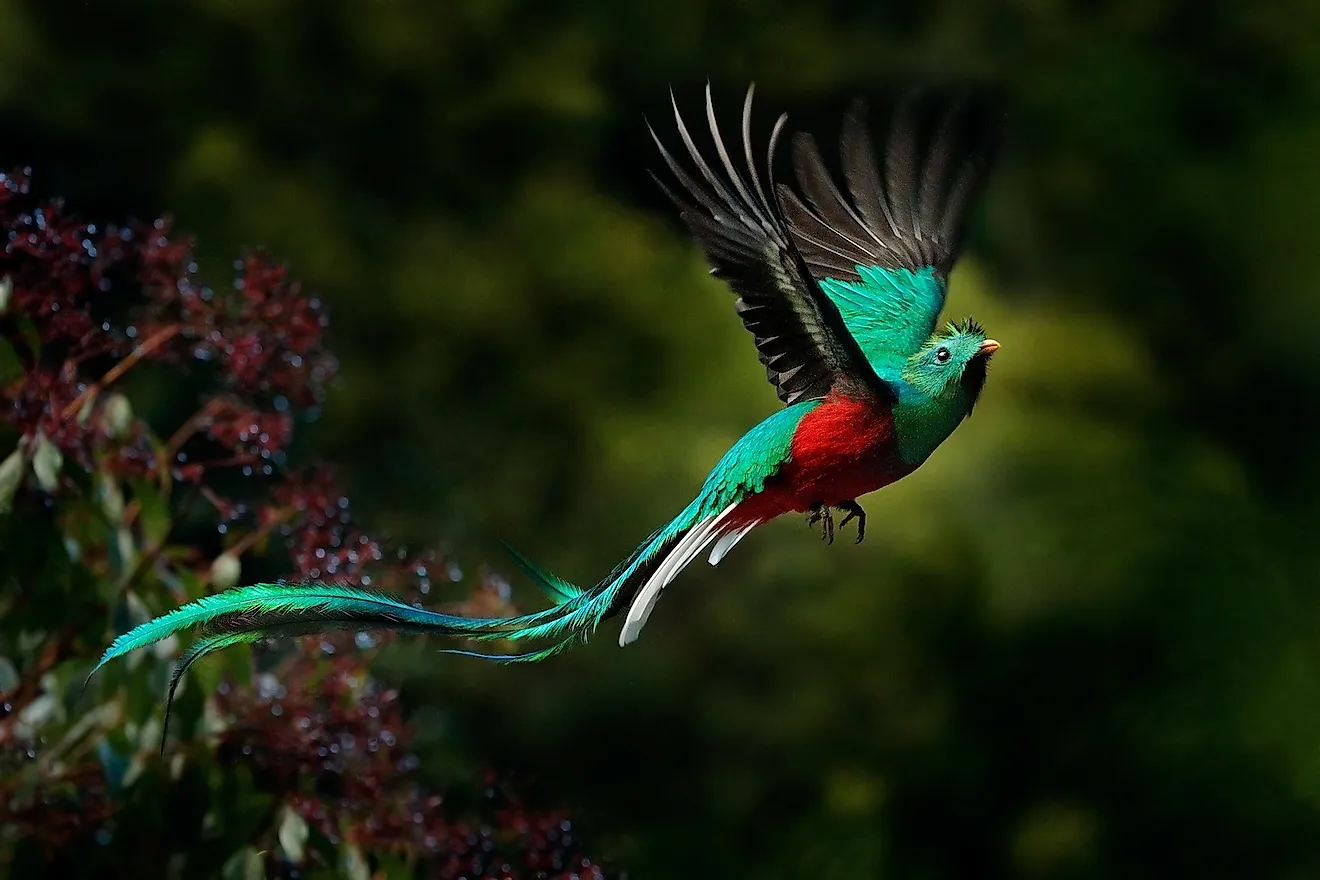 Costa Rica has almost five percent of the world's biodiversity, and is home to 10 percent of the world's total bird species.
Also called Finsch's Parakeet, the Crimson Fronted Parakeet is actually a small parrot. Its most distinguishing feature is a small group of bright red (crimson) feathers on its forehead.
Called "splendid" and "spectacular" by bird-lovers, the White Necked Jacobin is on the medium-to-large size as far as hummingbirds go, at about four to five inches
The Central American country of Costa Rica is awash in - and is encircled by - natural beauty. It is surrounded by Panama in the south, Nicaragua in the north, the Pacific Ocean, and the Caribbean Sea. Its tropical climate encourages an abundance of tropical plants, volcanoes, beaches, and forests. Approximately 25 percent of the land consists of protected jungle, providing a backdrop for a proliferation of wildlife, including a stunning variety of animals and birds.
Costa Rica has almost five percent of the world's biodiversity, and is home to 10 percent of the world's total bird species. Approximately five million birds migrate through Costa Rica each year, and there are many species here worth pulling out your binoculars for. Here are some of the most breathtaking birds that call Costa Rica home.
10. Keel-Billed Toucan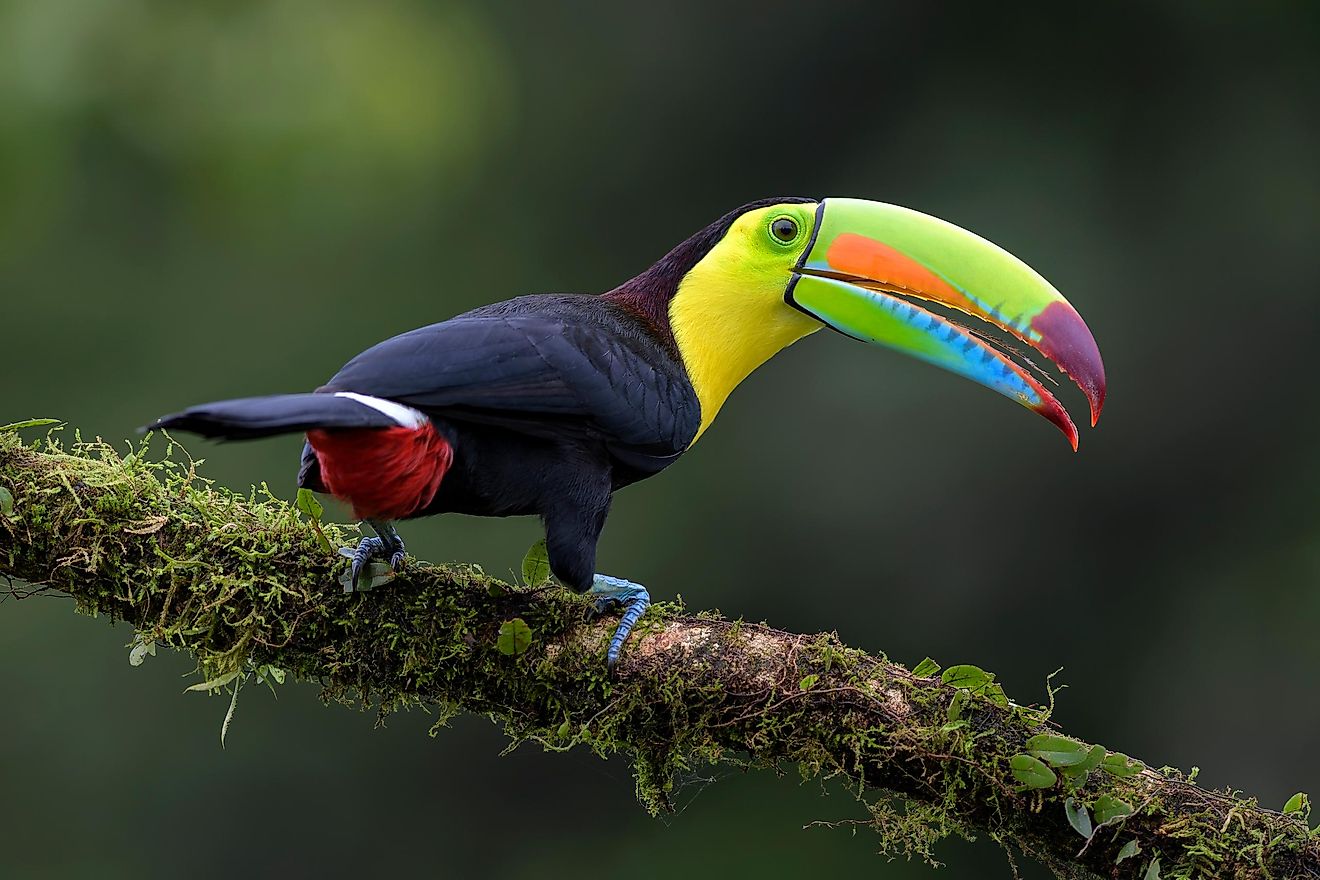 Toucans are a familiar tropical bird. Their huge beaks make them easily recognizable, and these birds were the inspiration for "Toucan Sam," the Fruit Loops cereal mascot. There are six different species of this bird found in Costa Rica, and one of the most stunning is the Keel-Billed Toucan. These feathered creatures have dark bodies, yellow necks, green rings around their eyes, and oversized, rainbow-colored beaks. They measure about 17 to 22 inches, and their bills average about one-third of this, at 4. To 5.9 inches! Keel-Billed Toucans can be found in the country's inhabited and forested areas.
9. Emerald Toucanet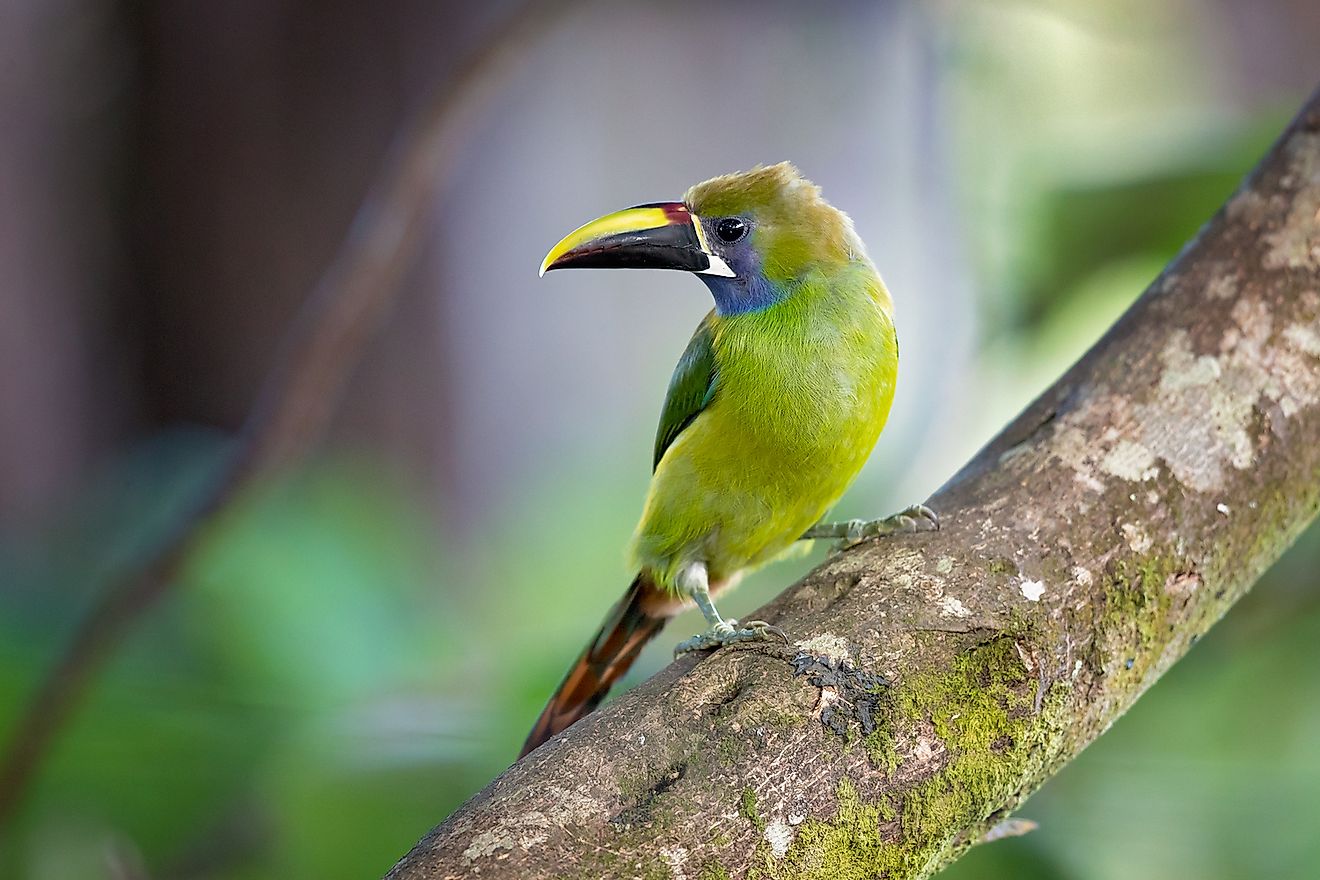 This smaller toucan has a deep green breast and belly, and a royal blue patch surrounding the bottom of its beak. Its sharp, longish beak is blue on the bottom and yellow on the top.  It likes spending time in Costa Rica's mid-level montane wet forests, and is quite sociable. Visitors can spot them at feeders, as long as they are in the right habitat.
8. Resplendent Quetzal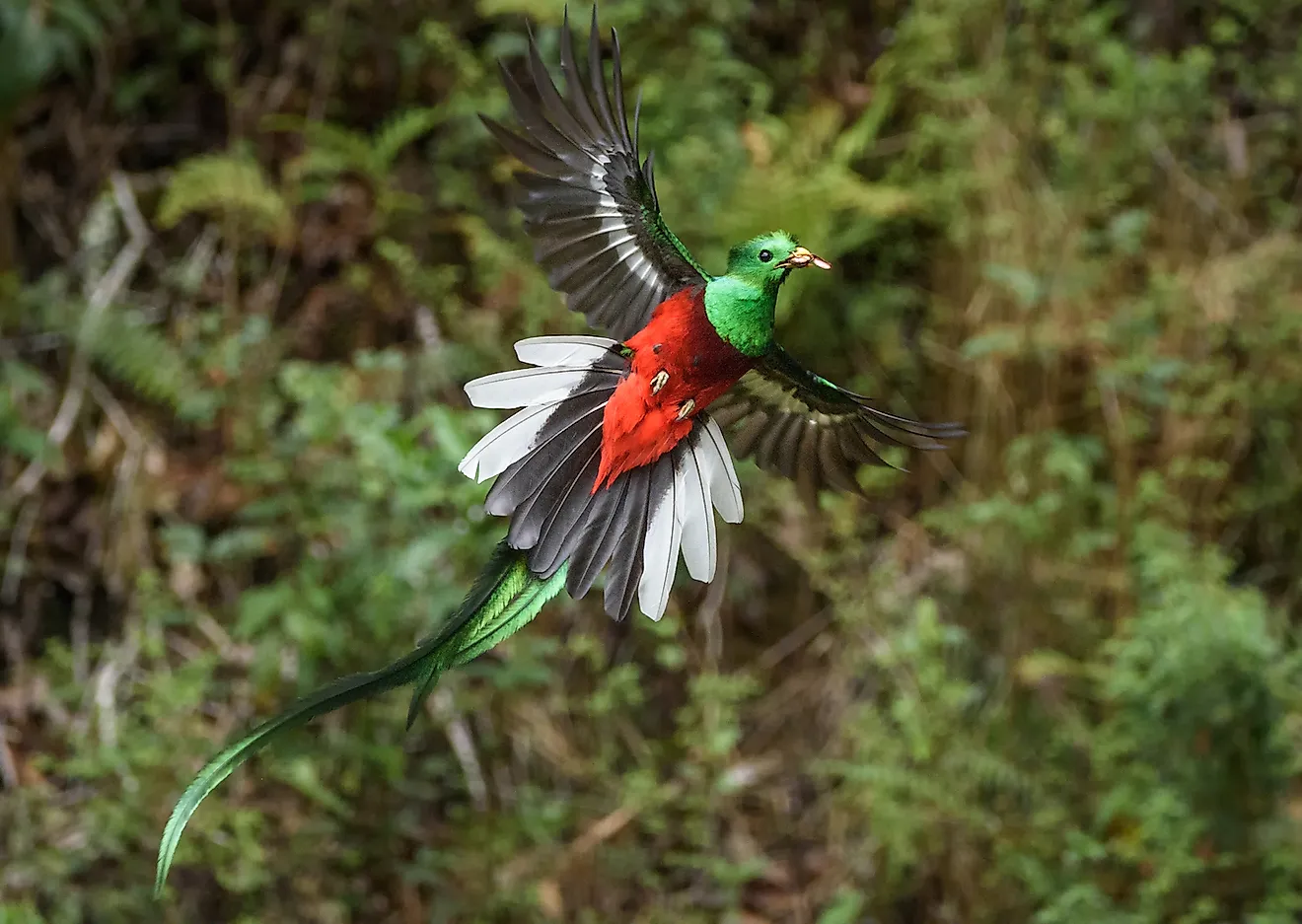 This stunning specimen belongs to the trogon family of birds, which has fossil records dating back 49 million years. Aptly named, this bird is actually brown, but light reflects off its feathers, resulting in a deep emerald-hued body. Its mating season runs from mid-February to May, and during this time the males grow twin tail feather trains to attract females. These trains can be as long as three feet! The Resplendent Quetzal can be found in Costa Rica's cloud forests, including Monteverde.
7. Collared Aracari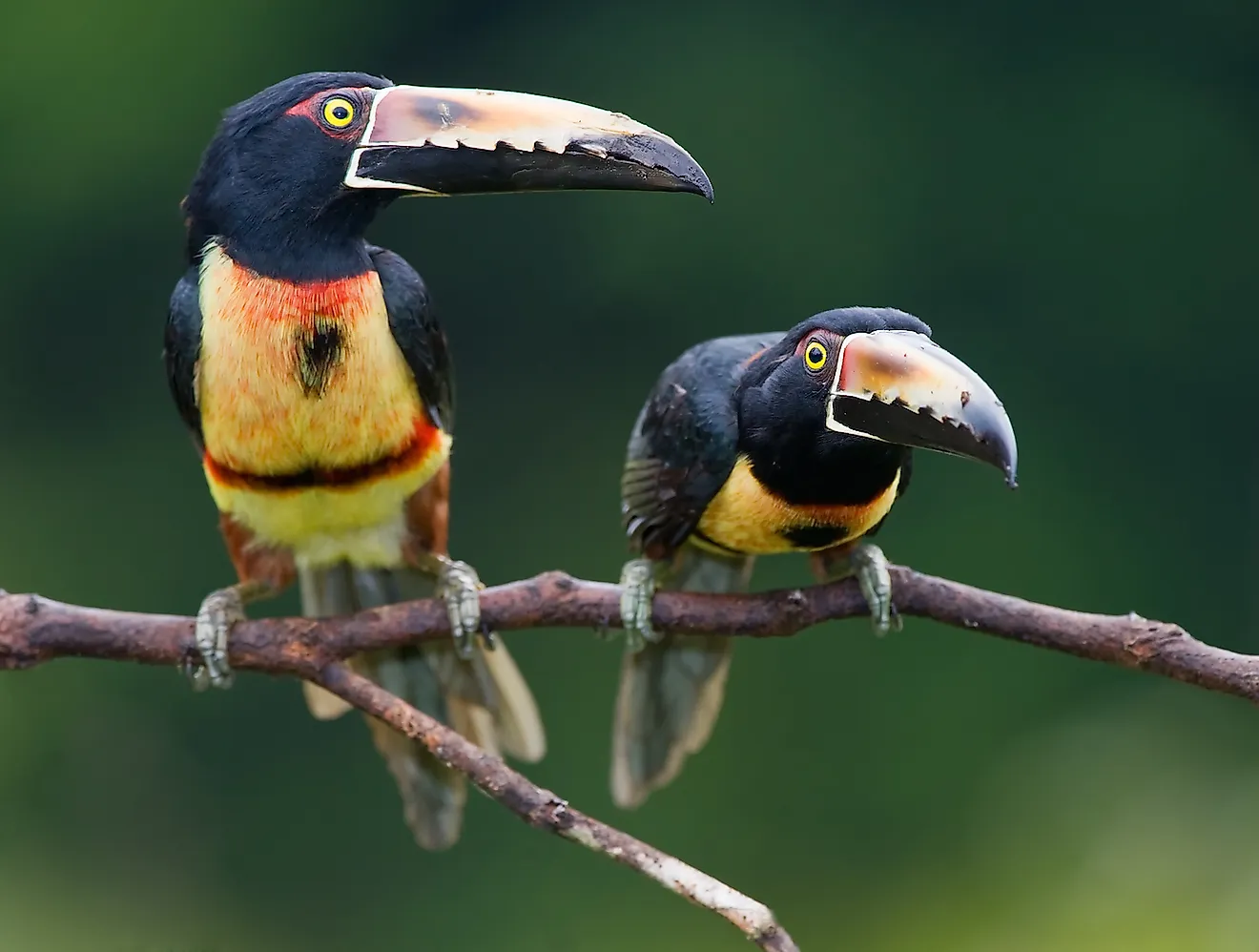 With a large, multi-colored beak and distinctive yellow eyes, the Collared Aracari ("ara-sorry") resides mostly in wet lowland forests. They have slim, medium-sized bodies, short, rounded wings, and long tails. The Collared Aracari likes to eat fleshy fruits, snakes, lizards, and insects with their serrated beaks. Look for them in Santa Rose National Park, Tortuguero National Park, and around the Nicoya Peninsula, and listen for their loud, "cheep-eep" shrieks when they fly by.
6. Scarlet Macaw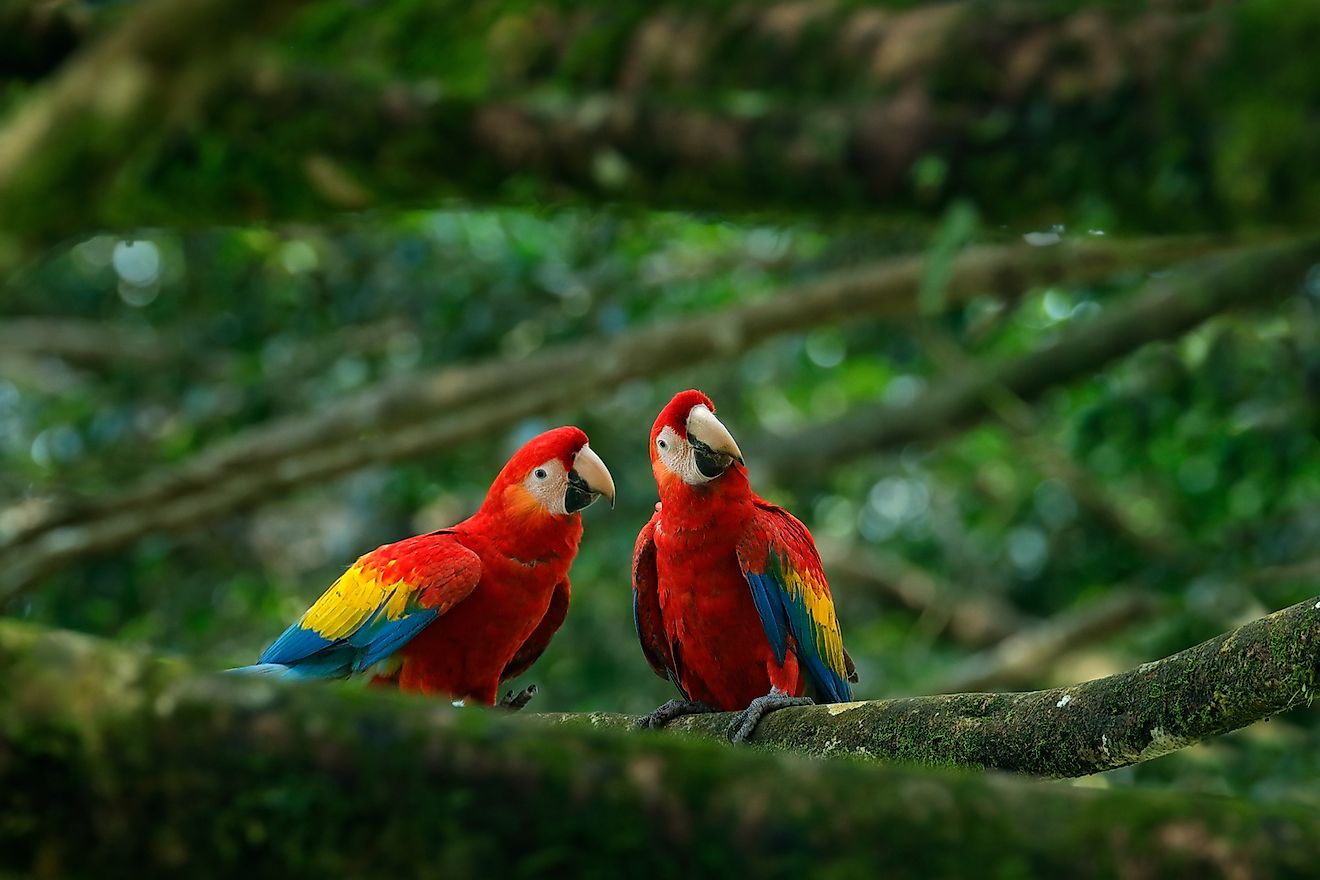 These socially-inclined birds also have a familiar look, with a friendly face and rainbow-colored feathers. Macaws are actually parrots, and are the largest in the world. Their bodies, measured from tail to beak, can extend out to 33 inches. They have white faces, bright red upper bodies, yellow, and blue feathers, and white, hooked beaks. Some people have them as pets, and they can be taught to talk.  Unfortunately, macaws are often stolen from their natural habitats and sold on the black market.
5. Crimson Fronted Parakeet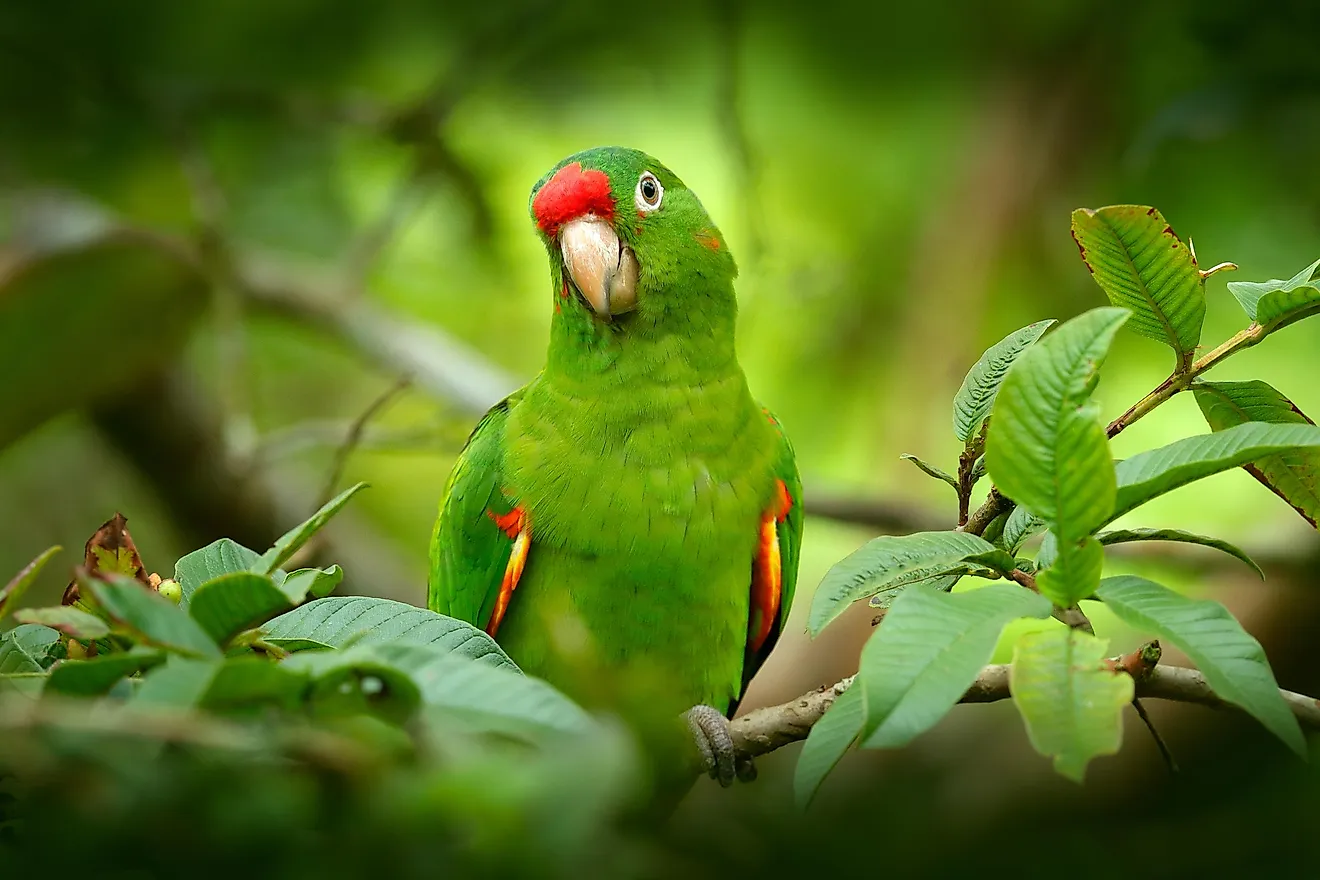 Also called Finsch's Parakeet, the Crimson Fronted Parakeet is actually a small parrot. Its most distinguishing feature is a small group of bright red (crimson) feathers on its forehead. Other than that, both males and females have green bodies, a bit of red in their wings, orange beaks, and white-ringed orange eyes. Their tail feathers are long and pointed, and they average about 11 inches and 4.8 to 6.2 ounces. These parakeets/parrots are not shy, and are known for their loud calls, squawks, and high-pitched whistles.
4. Fiery-Throated Hummingbird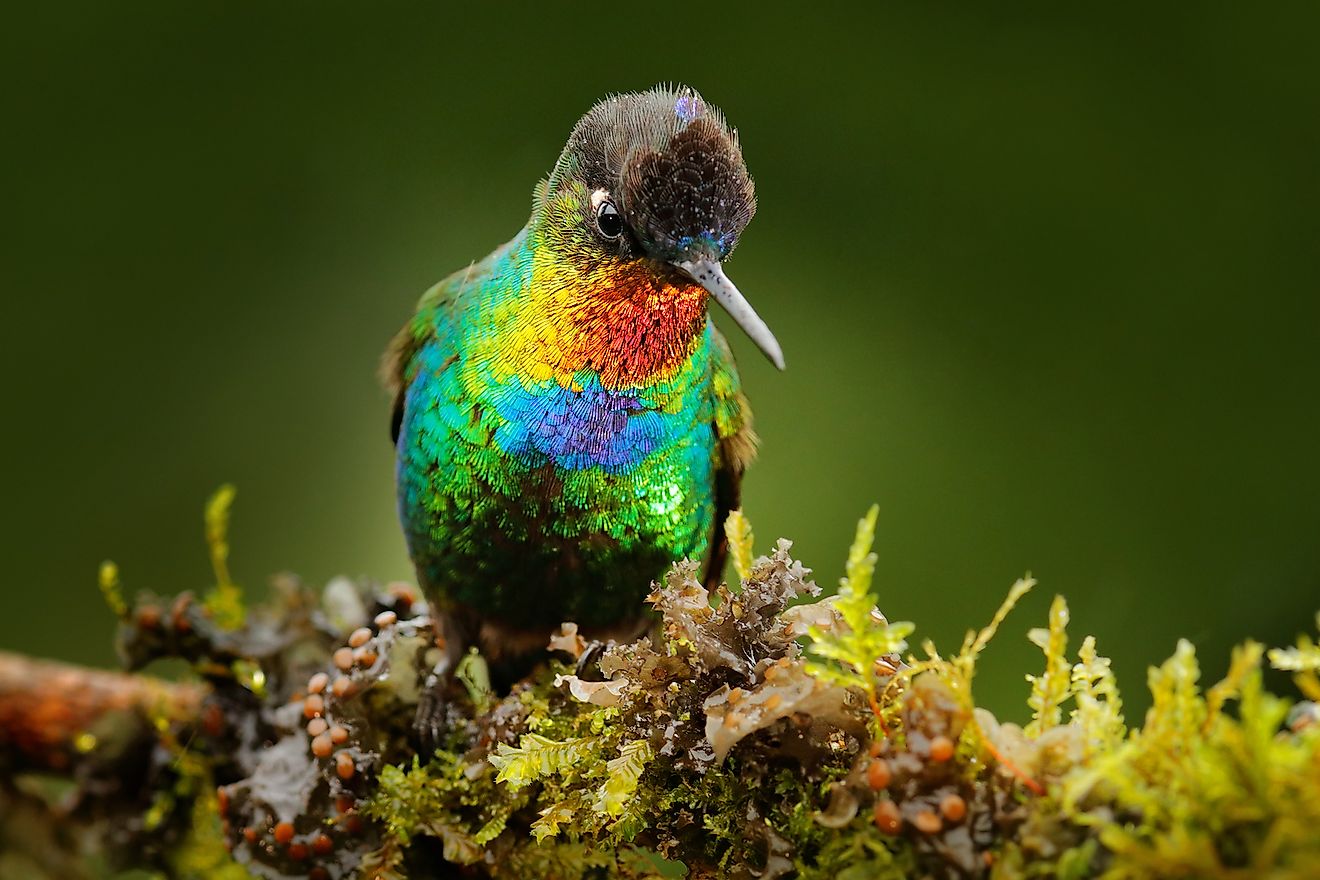 These pretty little birds have dark blueish-black tails, and small bodies covered with luminous blue and green feathers. They frequently visit feeders, and can be seen in Costa Rica's mountainous regions and cloud forests. When mating season arrives, the males gather around flower patches, and only permit females in to drink nectar. This is how they attract their mates!
3. Scintillant Hummingbird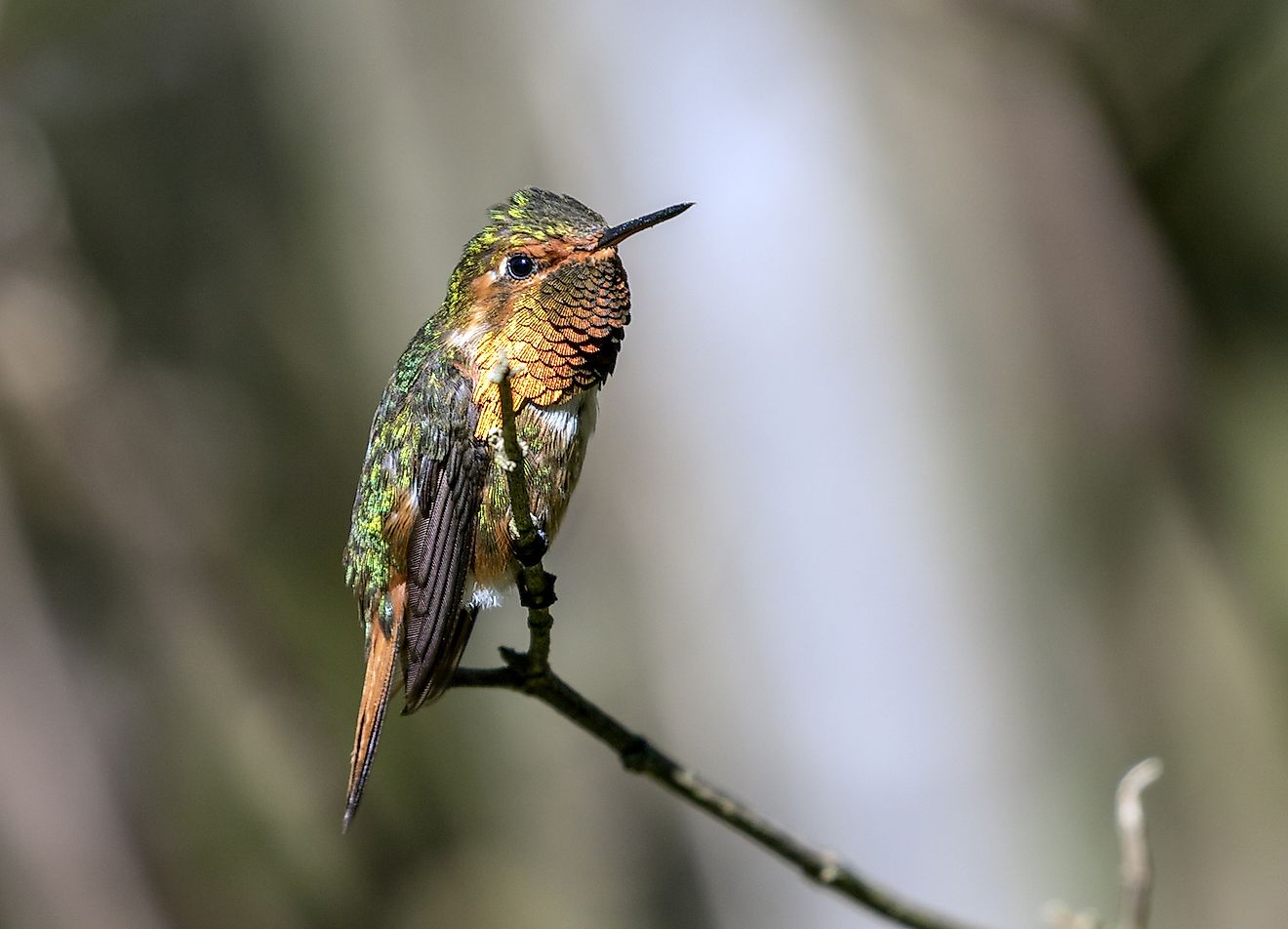 As the smallest hummingbird in Costa Rica, Scintillant measures about three inches and is not as easy to spot as its larger counterparts. Adult males have black-striped tails, bronze-green upperparts, bright orange/red throats, and white neck bands. The even smaller females have brownish-red flanks, and small green spots on their necks. Both have short, straight, black bills. These teeny hummingbirds are seen in coffee plantations and at brush forest edges.
2. Bay-headed Tanager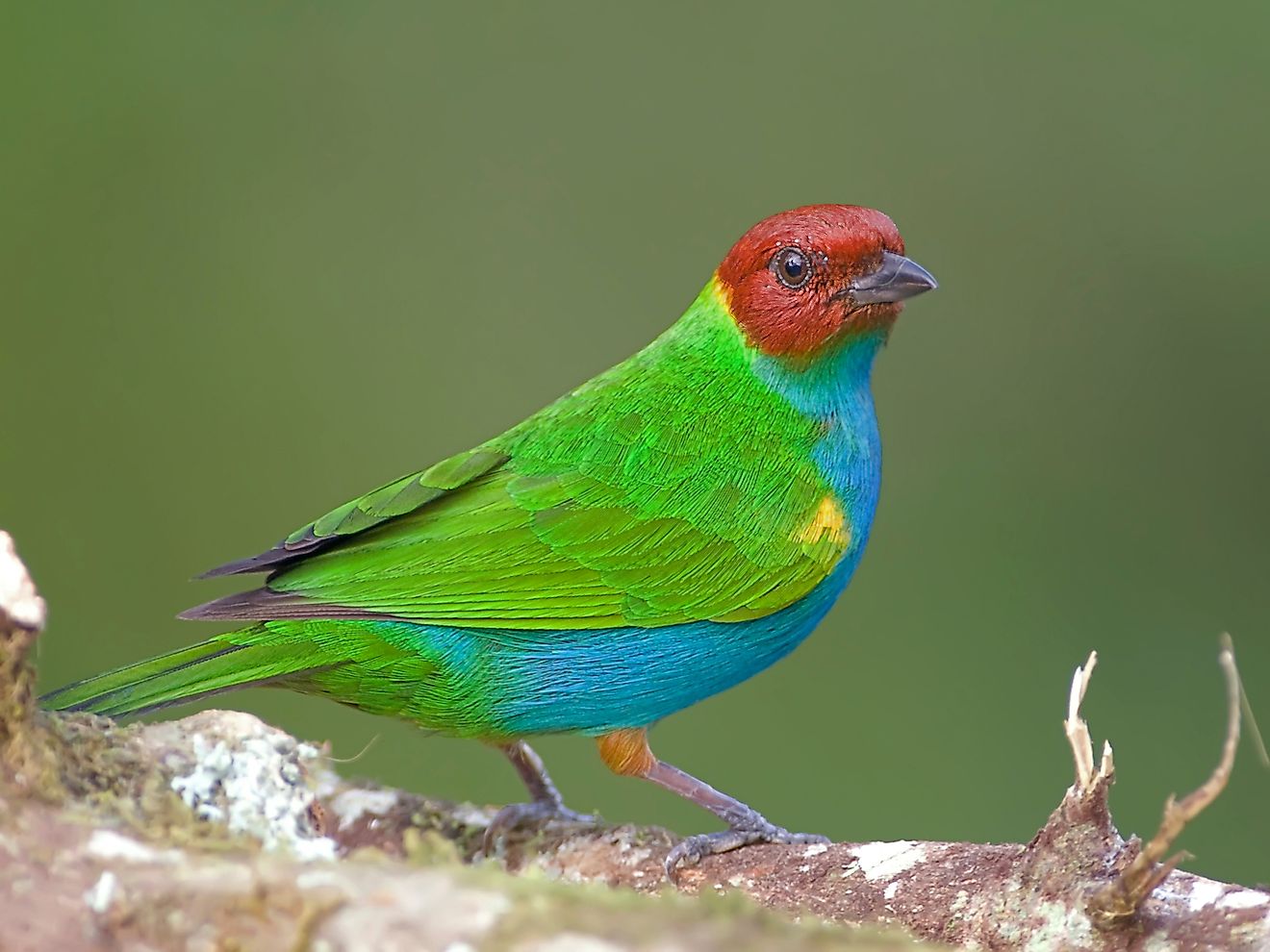 These exquisite birds can be spotted in Costa Rica's tropical rainforest canopy layers. They measure about 5 ½ inches, and have sky-blue bellies, vibrant green wings, thin yellow collar on the back of their necks, and bright red heads. Male and female Bay-headed Tanagers look alike, although some ornithologists believe that they have slightly different head shapes. They enjoy eating insects and fruit, and are considered to be very social.
1. White Necked Jacobin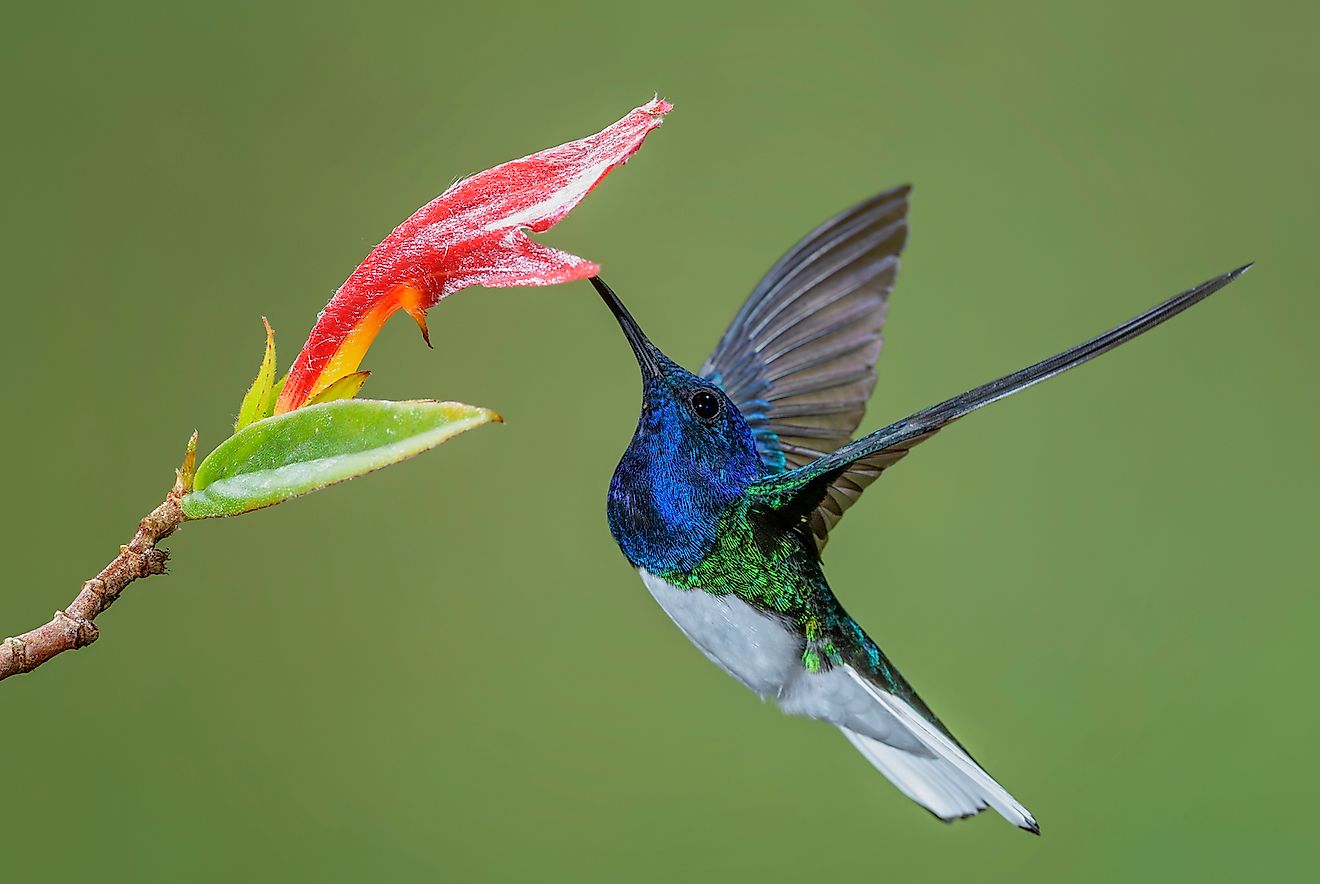 Called "splendid" and "spectacular" by bird-lovers, the White Necked Jacobin is on the medium-to-large size as far as hummingbirds go, at about four to five inches. The males have gorgeous, deep blue heads, pure white bellies, white tails, and green upperparts. The females come in a variety of colors, with some sporting green tails with white tips. Jacobins hang out on the Pacific and Caribbean sides of Costa Rica, in the foothills and wet lowlands.