Travel
Chittorgarh Fort, India - Travel Destinations
This UNESCO World Heritage site is an important part of a series of forts in the Hills of Rajasthan in Northern India.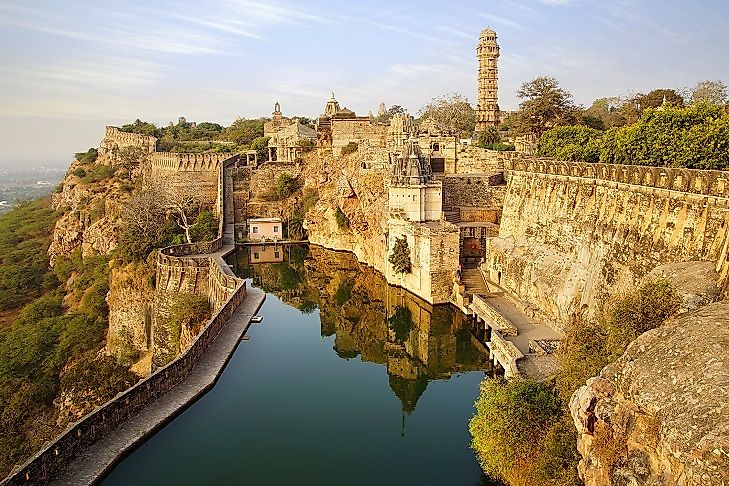 Description
The fort in Chittorgarh, Rajasthan, India can be easily accessed from most places in India. It is dominantly situated atop of a 180-meter-high hill, and it is considered to be the largest fort in India, sitting upon 700 acres of land. The tourist visiting the fort have to go through seven gates in order to enter the main fort structure. The design of the fort, which is exemplary of classic Indian architecture, has over time seen many additions. It was for a long time a strategically important military fort, and the defenses that stood their ground there have made Fort Chittorgarh an Indian national symbol of patriotism, valor, and chivalry. As it stands today, it is a majestic complex, with temples, monuments, battlements, towers, and water ponds alike.
Tourism
Those tourists planning to visit this monumental fort should come during the months of October to March, when weather is most favorable. Chittorgarh, Rajasthan, where the fort is located, also offers its tourists many sightseeing trips and city tours well beyond the fort. Festivals and celebrations abound in the area from October to March. Otherwise, the hot summer months only have locals celebrating parties and occasions inside the fort. A tourist can easily get to Chittorgarh by car or by bus from any major Indian city. It is especially close to Udaipur, and may serve as a daytime destination for those staying there. Several airlines serve the closest airport at Udaipur, and there are also trains to the city from most major cities in India. Accommodations vary from hotels to hostels, but in most of them the local Indians are traditionally warm and friendly to tourists. After a day in the sun amidst nature, and back in Chittorgarh or Udaipur, avid shoppers can browse the many bazaars displaying handicraft items. Restaurants for every budget can also become important parts of the experience.
Uniqueness
Chittorgarh Fort has a special place in Indian history. It evokes a time of romance and chivalry. Although its history shows much blood has been shed and sacrifices made for its occupants and invaders. Its monuments and towers are also a reminder of past victories and celebrations. Worship was also an important part of daily life inside the fort. As such, exquisite carvings of deities and temples can be found all around attesting to such practices. Visitors to the fort could experience several centuries of Indian history in one place. Chittorgarh Fort is composed of many architectural styles from a number of diverse Indian groups that united to defend this region from foreign invaders.
Habitat
The area around Chittorgarh Fort is mostly barren, arid land, but here and there one can find strips of forest cover. Once surrounded by numerous small bodies of water, many of these have went dry. Under the cover of trees, there are the birds and indigenous plants that form the most notable parts of the area's flora and fauna. The animal- and plant-lover will find even more variety at the Bassi Wildlife Sanctuary, near the Bassi village. Inside the sanctuary are panthers, boars, elephants, antelopes, and native birds that can be found roaming freely.
Threats
Once inside the huge fort complex, visiting tourists should not stray too far from travel companions, as it can be easy to get lost among the structures on the site. Monkeys are aplenty, and they can become rowdy as well, so always keeping them at a safe distance is a wise practice. The heat can be especially stifling in the summer months in the region, so visitors should stay hydrated and use sunblock. A good pair of walking shoes will also be necessary. Unfortunately, maintenance of the fort is often neglected, and some of the locals add to the problem by urinating on the site and throwing trash upon the grounds. Cars are allowed inside the complex, and automobile pollution has thus become a threat to the site's structures as well.
Where is Chittorgarh Fort?
Chittorgarh Fort is a UNESCO World Heritage Site that is an important part of a series of forts in the HIlls of Rajasthan in Northern India.
This page was last updated on April 25, 2017.
Citations
Your MLA Citation
Your APA Citation
Your Chicago Citation
Your Harvard Citation
Remember to italicize the title of this article in your Harvard citation.