Environment
Biggest Contributors To Global Warming In The World By Country
Nation-by-nation contributions to global CO2 emissions.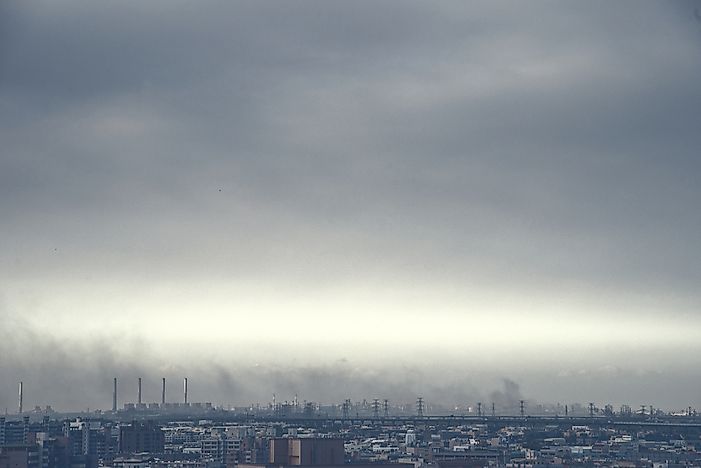 Approximately two-thirds of all industrial methane and carbon dioxide released into the atmosphere since 1854 can be traced to burning fossil fuels and producing cement. Over the decades, scientists have succeeded in confidently tracing how much of climate change can be directly tied to human activities, particularly the burning of fossil fuels. Sadly, the carbon dioxide emissions from human activities are now higher than at any point in human history, further worsening the 'greenhouse effect' contributing to global warming and the consequences of climate change. In fact, recent data shows that global carbon dioxide emissions were 150 times higher in 2011 than they were in 1850.
Since burning fossil fuels is usually a sign of heavy industry, carbon dioxide emissions can also serve as method of measuring a country's economic growth. Nonetheless, a reduction in global greenhouse gas emissions is an important objective of not only environmentalists but of every humanitarian-oriented and environmentally conscious state in the world. At the moment, 192 countries have adopted the Kyoto protocol which, among many other objectives, aimed to reduce greenhouse gas emissions by 55% from the 1990 levels by 2012.
In the world today, established economies have large, but waning, carbon emissions, while new economic giants in the developing world are increasing their emissions rapidly.
China
China emits almost twice the amount of greenhouse gases as the US, which it surpassed in 2006 as the world's top contributor to atmospheric carbon dioxide. Today, the country accounts for approximately 23 percent of all global CO2 emissions. The United States government estimates project that, barring major reform, China will double its emissions by 2040, due to its heavy reliance on fossil fuels for steel production and electricity. Until recently, China was hesitant to establish targets for emissions, which continue to increase, although at a slower rate.
United States
The US has never entered into any binding treaty to curb greenhouse gases, but has cut more carbon dioxide emissions than any other nation nevertheless. The country is on pace to meet a 2009 pledge by the Obama administration to reduce CO2 emissions by 17% from 2005 levels by 2020.
Unfortunately, CO2 emissions have gone up in recent as the country fights to recover back from the recession that began in 2008. President Obama's administration has not always gained Congressional support, as means to balance making progress economically and reducing emissions do not always go hand in hand, and different political factions propose markedly different strategies concerning how to best do so. Most "clean air" legislation in this country has focused on improving automobile fuel economy and cutting carbon pollution from existing and new power plants.
India
In coming years, India plans to double its coal production to feed a national power grid that suffers from increasingly frequent blackouts. The nation faces the difficult challenge of curbing its greenhouse gases even as its population and economy continues to grow. In 2010, the country voluntarily committed to a 20-25 percent reduction in carbon emissions from 2005 levels (relative to economic output) by 2020.
In summary, when it comes to pure carbon dioxide emissions today,
China emits more carbon dioxide than 2nd Place US and 3rd Place India combined.
The US has reduced its CO2 release for two years in a row despite bipartisan political conflicts.
India has become the world's third biggest emitter of carbon dioxide, pushing Russia down to the fourth position on our list.
Biggest Contributors To Global Warming In The World By Country
View information as a:
List
Chart
| Rank | Country | share of global CO2 emissions |
| --- | --- | --- |
| 1 | China | 23.43 % |
| 2 | U.S. | 14.69 % |
| 3 | India | 5.70 % |
| 4 | Russian Federation | 4.87 % |
| 5 | Brazil | 4.17 % |
| 6 | Japan | 3.61 % |
| 7 | Indonesia | 2.31 % |
| 8 | Germany | 2.23 % |
| 9 | Korea | 1.75 % |
| 10 | Canada | 1.57 % |
| 11 | Iran | 1.57 % |