The Most Devastating Tornados By Fatalities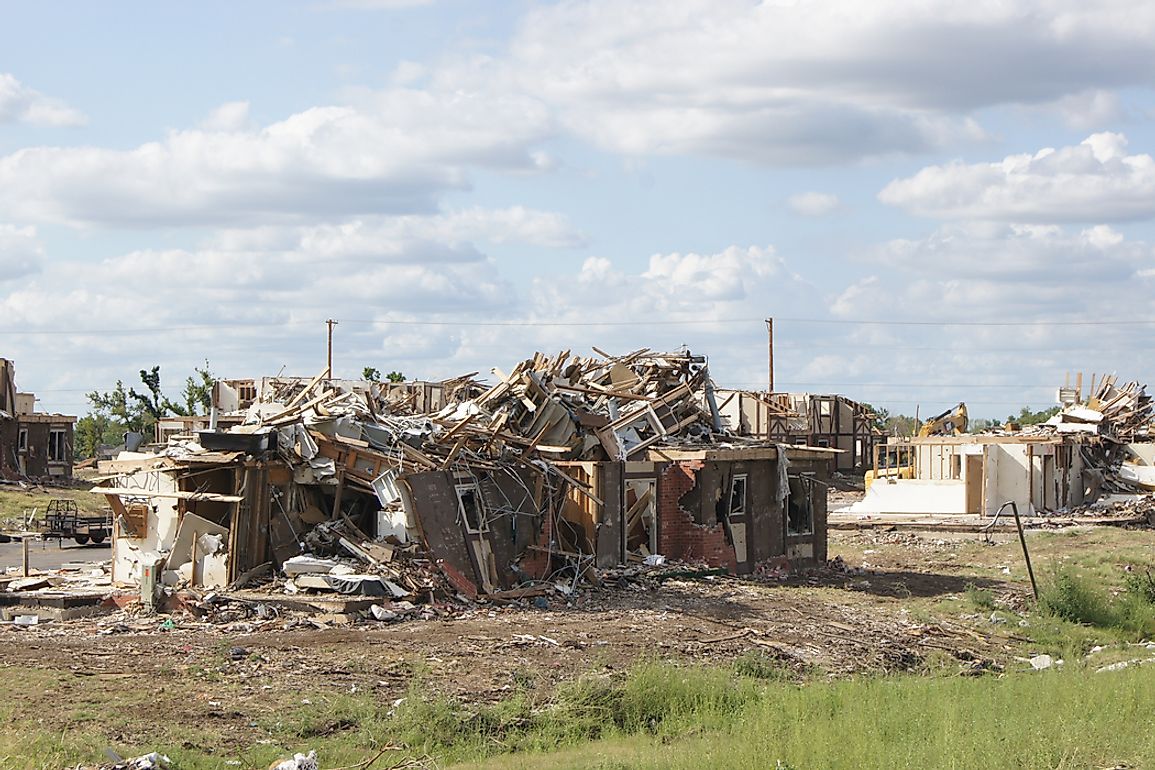 The United States has witnessed more tornadoes than any other place in the world. The 10 deadliest tornadoes to have hit the United States so far are discussed herein. With as many as 1,200 tornadoes occurring in the country each year, America's knowledge of such storms may have improved significantly, but a lot of research still needs conducting in regards to what exactly causes these destructive, spiraling torrents of wind. Tornadoes typically occur on warm, humid days, when strong thunderstorms are already present in the atmosphere. Such whirlwinds tend to form in areas where the air is rising at a quick pace. If the conditions are right, the air will begin to rotate as it rises, at which point the storm clouds form into a funnel cloud or a tornado. Storm spotters look for certain signatures on radar imagery to determine whether or not tornadoes are likely to be present. Tornadoes can form wherever there are strong, rising motions of air. Spotters can see the possibility of a tornado irrespective of what kind of storm it is through radar velocity data, which offers important information about the direction of winds. Winds blowing towards the radar appear green while those blowing away from the radar appear red. Places where green and red intersect suggest the possibility of a tornado, or at least the precursors to one forming. Tornadoes can occur in any season and at any time, which is why it is important to follow local weather advisories. A tornado watch is issued when weather conditions are favorable for a tornado while a tornado warning is issued when spotters have sighted at least one tornado or seen indications of one on radar. That said, some are far more powerful and destructive than others. The 10 deadliest tornadoes to have hit the United States are listed below:
10. Flint, Michigan, June 8, 1953, 115 Killed
For a long time thereafter, the devastation that took place in Flint, Michigan in 1953 was the latest tornado to have killed over 100 people. After traveling two miles north of Flushing, this tornado hit the northern part of Flint, before stopping north of Lapeer. The half-mile-wide whirlwind destroyed the mile-long stretch of Coldwater Road in Flint, and this is where most of the deaths occurred.
9. New Richmond, Wisconsin, June 12, 1899, 117 Killed
This tornado started in a waterspout on Lake St Croix before causing massive devastation in the town of New Richmond, Wisconsin. Initially hitting areas east of Hudson, the storm eventually passed through New Richmond, where at least 1,000 people had gathered for a circus. The tornado mostly impacted the center of the town, with a fatal combination of bad timing and poor luck causing a tragedy that claimed more than 100 lives. However, high visibility of the funnel allowed storm spotters to alert surrounding areas and in turn prevent even more deaths.
8. Amite, Louisiana and Purvis, Mississippi, April 24, 1908, 143 Killed
This tornado started in Louisiana and kept moving eastwards while tearing down every town on its way to Mississippi. Even though the worst affected area at the start of the devastation was Amite, where the two-mile-wide whirlwind killed 29 people, things worsened as the tornado reached Purvis, killing 55 more people there. Most of the town was wiped out by the tornado as it ran through a rail yard and tossed boxcars where workers had sought refuge.
7. Joplin, Missouri, May 23, 2011, 161 Killed
The town of Joplin, Missouri unfortunately lay in the path of this massive tornado as it managed to crush three square miles of residential area. With whirlwinds moving at a speed of 200 mph, the tragedy swept away approximately 1,000 buildings, including houses, stores, restaurants, a school and even a hospital. In a town where basements are not usually common, seeking refuge underground was not even an option for most victims. To make things worse, the tragic tornado was accompanied by a violent hailstorm that hindered immediate rescue efforts, thus leading to a death toll totaling 161 people.
6. Woodward, Oklahoma, April 6, 1936, 181 Killed
This tragedy was actually caused by a group of tornadoes that came together to form one giant funnel, before striking Kansas, Oklahoma, and Texas all on the same day. The devastation and death toll was highest in Woodward, where 107 people residing in the northern half of the town were killed within a span of 100 city blocks.
5. Gainesville, Georgia, April 6, 1936, 203 Killed
Only a day after another deadly tornado hit Tupelo, Mississippi, two twisters spun toward Gainesville, Georgia, hitting buildings in both residential as well as commercial downtown areas at the beginning of the workday. Eventually merging into one big funnel at Grove Street, the two tornadoes managed to tear a four-block-wide downtown area down into a pile of rubble and debris. While the Cooper Pants Factory lost 70 employees after the tornado hit its multistory facility, Gainesville's mail was reportedly blown away as far as Anderson, South Carolina.
4. Tupelo, Mississippi, April 5, 1936, 216 Killed
The residential area of Tupelo, Mississippi suffered the worst that this tornado had to offer. Over 200 houses, ranging from high-end residential bungalows on the western fringes of the town to low-rent tenement structures on the eastern side, were destroyed, just as a movie theater was morphed into an impromptu hospital that had been set up by caregivers for the town's injured. As is the case with many events in the history of the Jim Crow-segregated state, the official death toll failed to reflect the gravity of the real devastation, as only the names of white civilians were recorded after the tornado came to a halt.
3. St Louis, Missouri, May 27, 1896, 255 Killed
With more than a mile of whipping whirlwinds, this tornado started approximately six miles west of Eads Bridge in St Louis, before sweeping over densely populated areas. Residential buildings, industrial complexes, hospitals, churches, and the whole of Lafayette Park alike were all destroyed before the tornado eventually crossed the Mississippi River and moved into Illinois, where it continued to bring more damage still.
2. Natchez, Mississippi, May 6, 1840, 317 Killed
After touching down approximately 20 miles southwest of Natchez, Mississippi, this whirlwind quickly created a path over the Mississippi River, typically flooded with daily boat traffic, itinerant boatmen, and transients, thus further contributing to the massive death toll. The tornado was reported to be one-mile-wide, and it is believed to have impacted the shores in both Natchez and across the river in Concordia Parish, Louisiana.
1. The Tri-State Tornado, March 18, 1925, 695 Killed
The most deadly tornado in U.S. history killed more than twice as many people as the second place 1840 Natchez event as it rampaged through Missouri, Illinois, and Indiana alike. This twister, lasting four hours and moving at a speed of 62 mph, started northwest of Ellington and went on to set several records as it laid a 219 mile-long track of devastation at a width of three-quarters of a mile. The tornado swept through Illinois, having the worst impacts in the towns of Gorham, and Indiana, where it wiped out a string of mining settlements along the way. The shocking death tolls included hundreds of students who were either returning home from school or trapped inside one of the three school buildings that were caught in the center of the tornado's path. It was also part of one of the largest tornado outbreaks ever as, on the same day, 12 tornados spun a web of death and destruction across Kansas, Missouri, Alabama, Kentucky, Tennessee, Missouri, Illinois, and Indiana, and severe thunderstorms stretched across an even greater portion of the country still.
The Most Devastating Tornados By Fatalities
| Rank | Tornado | Deaths |
| --- | --- | --- |
| 1 | Tri-State Tornado (MO, IL, IN), 1925 | 695 |
| 2 | Natchez (MO), 1840 | 317 |
| 3 | St. Louis (MO), 1896 | 255 |
| 4 | Tupelo (MO), 1936 | 216 |
| 5 | Gainesville (GA), 1936 | 203 |
| 6 | Woodward (OK), 1936 | 181 |
| 7 | Joplin (MO), 2011 | 161 |
| 8 | Amite (LA) and Purvis (MS), 1908 | 143 |
| 9 | New Richmond (WI), 1899 | 117 |
| 10 | Flint (MI), 1953 | 115 |