The most common bird in the world is the domestic chicken, but we presume that is not why you are asking this question. You are probably wondering what the most common wild bird in the world is, and the answer is the red-billed quelea. It is a small, sparrow-like bird that is native to Sub-Saharan Africa. It belongs to the weaver family Ploceidae, and it is believed that there are about 1.5 billion of them in the wilderness.
These birds are extremely social, and some flocks can be in the millions. That is always an impressive sight; millions of birds are flying together in unison; it is not something you see every day. However, due to their large numbers, these birds can destroy crops.
The Red-billed Quelea
The red-billed quelea is also known as the red-billed weaver, and it is a species of extremely small migratory birds. They grow up to 4.7 inches in length and weigh about 0.53 to 0.92 oz. They are native to Sub-Saharan Africa and belong to the weaver family Ploceidae. They were named by the famous Swedish zoologist Carl Linnaeus in 1758, and he originally considered the bird a bunting. However, Ludwig Reichenbach, another famous ornithologist, assigned the red-billed quelea to the new genus, called Quelea. This is how the entire species got its name.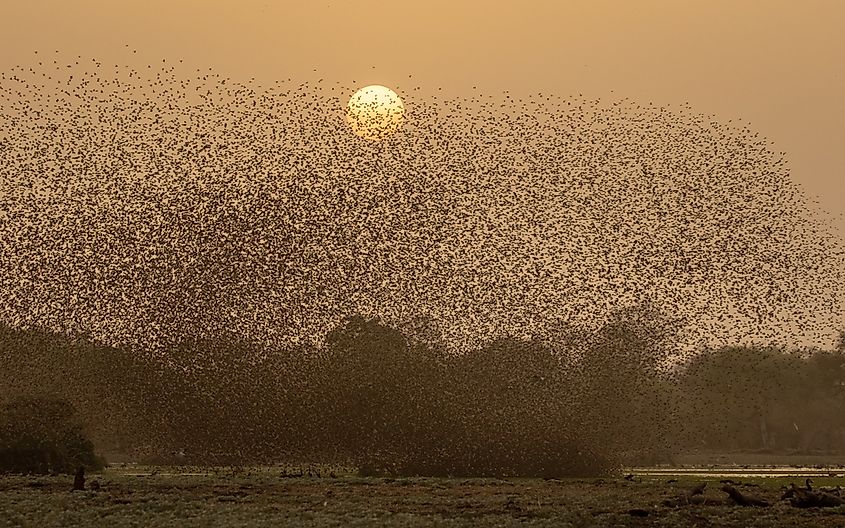 There are three subspecies among the red-billed quelea, and these are the Quelea quelea quelea, found near Senegal, the Q. q. Aethiopica found predominantly around Sudan and Tanzania, and finally, the Q. q. Lathamii, which resides mostly in the south of the African continent.
The birds are recognized by several characteristics, depending on their sex and whether they breed or not. The red-billed quelea that do not breed have brown upperparts, often in stripes, yellow feathers, and a red bill. Breeding females change the color of their bill to yellow, while the breeding males develop a black facial mask.  
Africa's Feathered Locust
These birds mostly avoid deserts, forests, and areas that are too cold, for example, those at higher altitudes. The nests constructed by the red-billed quelea are oval and have a roof, and they weave them from various strips of grasses that they find on tree branches—the red-billed quelea breeds in extensive colonies, whose numbers are sometimes in the millions. 
They feed mostly on different seeds but are known to cause severe damage to cereal crops. People sometimes refer to the red-billed quelea as the feathered locust of Africa. Farmers use standard pest control measures to combat this, such as avicides or firebombs. These bombs are most often detonated during the night among the larger colonies of these birds. 
However, these methods do not help in the long run. Many other attempts have been made to control these birds but have proved to be unsuccessful. These birds are extremely efficient when it comes to exploiting food sources. Once they run out of food at a certain area, they migrate to other locations that have had plentiful rainfall in recent times. This goes to show how smart they can be, which is especially impressive given the size of their flocks.