Environment
10 US States With The Biggest Cuts In Their Environmental Budgets
In the last decade, most states in the US have reduced funding to their respective environmental agencies.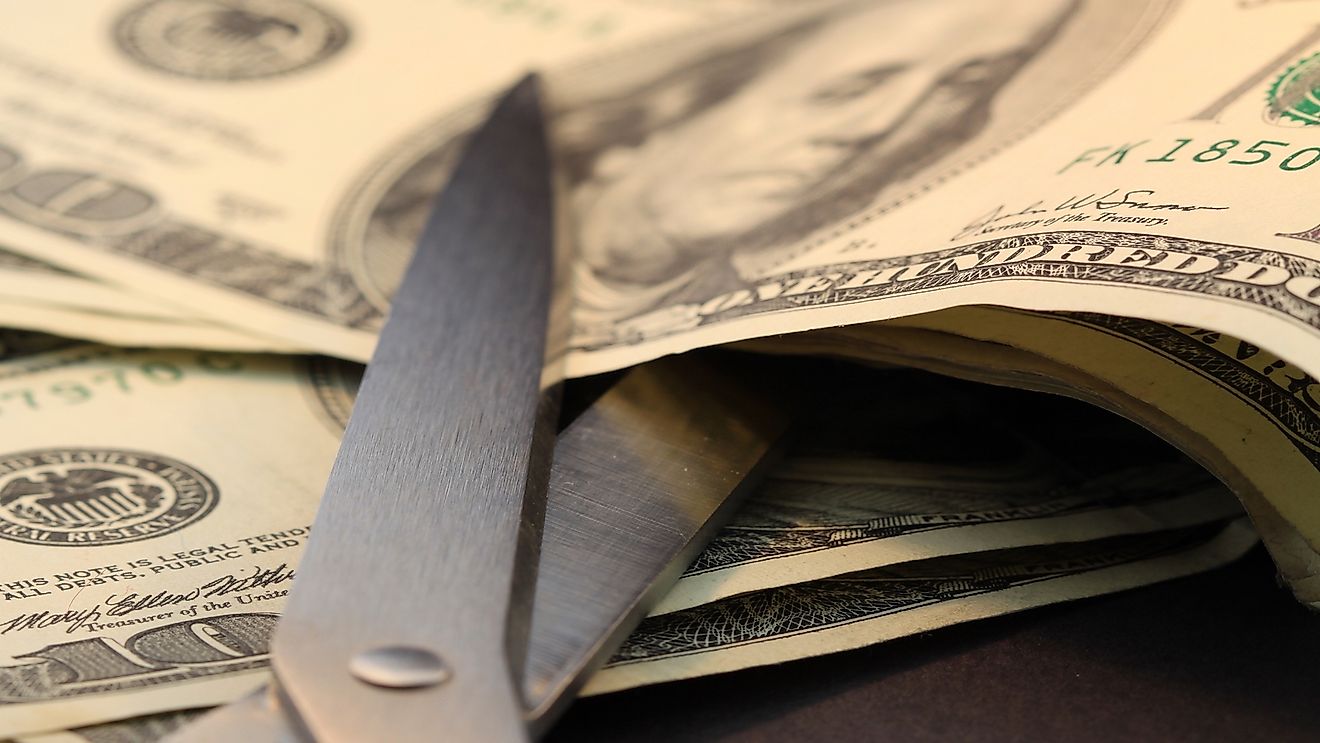 In the last decade, most states in the US have reduced funding to their respective environmental agencies. The White House and Congress have also trimmed financing to the US Environmental Protection Agency by 16% and cut 2,699 jobs in the same period. A report by the Environmental Integrity Project showed that some 30 states had reduced funding aimed at pollution control programs, with 16 of them cutting funding by more than 20%. Meanwhile, 40 states have reduced staffing at environmental agencies, with half of them having cuts of at least 10%. The reduction in staffing and funding occurred despite evidence showing that a significant number of environmental violations were going on unpunished. California was the only state whose environmental agency had a budget increase of 75% and a staff increase of up to 1,255 employees.
States With The Biggest Cuts In Their Envionmental Budgets
Wisconsin 
Wisconsin had the largest cuts in funding to pollution control programs in the last decade. In 2008 the State of Wisconsin allocated $91 million to its environmental agency ($107 million when adjusted for inflation in 2018) compared to $69 million allocated in 2018, representing a 36% reduction. Today reduction is a concern since the Wisconsin Department of Natural Resources depends on federal funding for up to 15% of its budget. Budget cuts at the US Environmental Protection Agency (EPA) could mean that Wisconsin's environmental programs could suffer a $51.2 million budget deficit, further jeopardizing public health. The cuts are likely to hinder the agency's ability to monitor and, in some instances, clean up pollutants like the elevated lead levels that have been found in the state's drinking water. Budget cuts could also hinder efforts to control and manage areas that contain hazardous materials such as the Laurier Sanitary Landfill and the Ashland/Northern States Power Lakefront site, potentially exposing residents to toxic chemicals. Interestingly the cuts occurred amid a growing economy where polluting industries were rapidly expanding. 
Texas 
Texas has the second-highest cuts at 35%. In 2008 the state allocated $494 million ($578 million when adjusted for inflation in 2018) to its environmental agency compared to $374 million in 2018. Texas staff reductions at its environmental agency are, however, less dramatic compared to other state agencies. The state only experienced 9% of staff cuts. Budget cuts to pollution control programs in Texas were particularly acute with the Texas Commission of Environmental Quality (TCEQ) Pollution Prevention Planning program suffering a 70% decline in funding from 2008 to 2018. The waste-assessment and planning program suffered a 61% budget decline in the same period. Environmental groups in the state have criticized the cut given the prolific industrial activity being experienced in the state. Texas is ranked as the top natural gas and crude oil producer in the country. The state has been witnessing the Permian Basin boom that has led to a rise in fossil fuel-related construction. Despite the boom, Texas has inadequate air monitoring capability to measure hydrogen sulfide, sulfur dioxide, and ozone levels. The TCEQ is also unable to respond to complaints and concerns from the community. In West Texas, excessive flaring in the oil and gas industry is producing dangerous levels of sulfur dioxide into the air that is affecting the growing community around Odessa and Midland. Two-thirds of Texans currently live in areas with unsafe air quality. A third of the waterways in the state are also classified as unsafe for fishing and swimming. 
Louisiana
A similar trend has been observed in Louisiana. The last decade in Louisiana was marked by a drastic increase in the number of newly built and expansion of existing petrochemical plants. At the same time, the state's environmental agency suffered some of the largest budget and staff cuts. The Louisiana Department of Environmental Quality experienced a 35% budget cut and a 30% staff cut, prompting criticism from environmental activists. In 2008, the state allocated $164 million ($192 million when adjusted for inflation in 2018) compared to $125 million allocated in 2018. The state's environmental agency also lost 296 employees in the same period due to staff cuts. According to EPA records, the state currently has 12 major wastewater plants and industrial facilities that are in noncompliance with the federal Clean Water Act, including two that have been in continuous violation for at least three years. The state also has 72 industrial plants classified as "high priority" violators of the Clean Air Act by the EPA, with 49 of them violating hazardous waste laws. 
North Carolina, Delaware, New York
North Carolina had the fourth largest environmental budget cuts between 2008 and 2018. Funding dropped from $136 million to $90 million when adjusted for inflation. The report also indicated that the state cut its staff levels by 35% creating worrying deficiencies in monitoring and management of the environment. Drew Ball, the Director of Environment in North Carolina, confirmed that the state conducted less water and air quality tests across the state and relied more on the EPA for testing. Interestingly, the state budget increased by 8% in the same period. The state of Delaware is ranked 5th with environmental budget cuts of 33%. State funding to its environmental agency dropped from $54 million to $36 million when adjusted for inflation between 2008 and 2018. The state also made a 21% staff cut in the same period. Other states in the Chesapeake Bay region, such as New York, which sits behind Delaware also, made significant cuts. New York had a 31% budget cut, and a 29% staff cut to its environment agency between 2008 and 2018. In total, 690 positions were lost, and funding dropped from $381 million ($446 million when adjusted for inflation) in 2008 to $307 million in 2018. 
Arizona, Massachusetts, Rhode Island, And New Mexico
Budget and staffing cuts have also affected Arizona's state environmental protection agencies significantly to the detriment of the quality of air and water used by residents. Between 2008 and 2018, the Arizona Department of Environmental Quality suffered a 29% budget cut and a 32% staff cut. In Massachusetts, bacterial testing in rivers and lakes and inspection of contaminated properties has been significantly curtailed in the last decade due to budget cuts. Since 2008, Massachusetts's environmental agency has witnessed a funding reduction from $59 million ($69 million when adjusted for inflation) to $50 million in 2018, representing a 28% budget cut. The Rhode Island Department of Environment Management has suffered a 27% budget decline similar to the New Mexico Environment Department fuelling a growing threat to the health of children and families in the states. In addition to the budget cuts, Rhode Island has also had significant staff cuts. Since 2006, the staff at the Rhode Island Department of Environmental Management has decreased from 531 to 400, severely limiting its capacity. In New Mexico, the Environmental department is seemingly unable to deal with the level of water and air pollution. According to the American Lung Association, seven counties that are home to 60% of the state's population have code orange days when children and people with asthma have to stay inside due to poor air quality.
Slashing Federal Support
The revelations made by the report are particularly disturbing, given that the Trump administration seeks to offload a significant amount of environmental responsibility borne by the federal government to the states. The report comes at a time when environmental and advocacy groups are highlighting the deficiencies of President Donald Trump's plan to roll back federal oversight and regulations to make it easier for businesses to operate. The Trump administration has argued that rolling back some environments regulation and cutting funding to the EPA can be done without harming water and air quality. Critics, however, believe that such a policy is misguided. The states and the EPA lack sufficient funding to enforce the Clean Water Act, the Clean Air Act, and other laws meant to protect public health and the environment from pollution.
10 US States With The Biggest Cuts In Their Environmental Budgets
| Rank | US State | %cuts to environmental agency funding (2008 to 2018) |
| --- | --- | --- |
| 1 | Wisconsin | -36% |
| 2 | Texas | -35% |
| 3 | Louisiana | -35% |
| 4 | North Carolina | -34% |
| 5 | Delaware | -33% |
| 6 | New York | -31% |
| 7 | Arizona | -29% |
| 8 | Massachusetts | -28% |
| 9 | Rhode Island | -27% |
| 10 | New Mexico | -27% |
About the Author
Benjamin Elisha Sawe holds a Bachelor of Arts in Economics and Statistics and an MBA in Strategic Management. He is a frequent World Atlas contributor. 
This page was last updated on January 7, 2020.
Citations
Your MLA Citation
Your APA Citation
Your Chicago Citation
Your Harvard Citation
Remember to italicize the title of this article in your Harvard citation.